31 May 2007 Edition
OPINION : Questions raised by election must be debated openly and honestly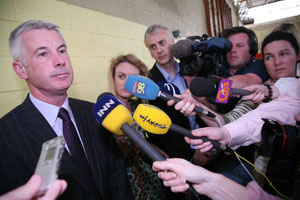 Serious analysis needed to plan the way forward  
Mícheál Mac Donncha offers a personal assessment of the outcome of the General Election

Calm reflection and serious analysis is now needed in the wake of a General Election that has been a deep disappointment to republicans. We should not avoid the tough questions about our own performance. We should also view that performance in the overall political context and avoid looking exclusively inward or indulging in recrimination.
While there was a statistical increase in the votes cast for Sinn Féin there is no use pretending this was anything other than a bad election for the party. Our Dáil strength was reduced from five to four. The loss of Seán Crowe's seat in Dublin South West was a bitter blow for such a hard-working TD in an area of strong support for Sinn Féin. None of the expected breakthroughs were made and in some key constituencies the vote decreased.
The biggest winners in the General Election were undoubtedly Fianna Fáil and Fine Gael. The latter party recovered from the catastrophe of 2002 and gained 19 seats. Amazingly no other party had a net gain of seats. Fianna Fáil were down by only one seat, defying all predictions of far greater losses. Despite their protestations that they knew they were going to do this well, their performance surprised even themselves.
Despite the best efforts of large sections of the media, Enda Kenny and Pat Rabbitte failed to convince enough voters that they were a coherent and competent alternative to a Bertie Ahern-led government. But Kenny did enough in the presidential style media battle to win back a large section of the electorate and to restore the two-party domination of 26-County politics. Yet again the Labour Party facilitated the Fine Gael revival, breathing life into that party with the prospect of power in a Fine Gael/Labour coalition. And again Labour reaped no electoral reward, returning with 20 TDs, one fewer than in the last Dáil.
Throughout the campaign the media avoided the obvious point that for a FG/Labour Coalition to be possible, even with Green Party support, the Labour Party, as well as Fine Gael, would have to make seat gains. It was impossible for both parties to gain in sufficient numbers. Fine Gael hoovered up much of the anti-FF/PD Government vote, reducing the PDs and the Independents to two and five seats respectively.
On the other side of the equation, many of those voters who were unhappy with the FF/PD Government were not sufficiently so to risk letting the Kenny-led alternative in. There was a stampede back to Fianna Fáil and in that stampede Labour, Sinn Féin and the Greens were shaken. They were squeezed between the two conservative parties. Much of the blame for this goes to Labour for fuelling the Fine Gael bandwagon.
We in Sinn Féin have to ask ourselves why we were not in a position to withstand the storm better
Did we appear too eager to go into Government after the election? The strategy of keeping our options open lest we be dismissed as irrelevant was correct. However, we may have taken it too far. It was clear that there was only one coalition option even remotely possible and that was with Fianna Fáil who repeatedly and insultingly spurned us during the campaign. We may have lost out in two directions. Anti-FF/PD government voters may have suspected our intentions after the election. Voters we had previously won from Fianna Fáil may have reverted to that party as 'the real thing' if they thought we might go in with them anyway.
The election also revealed that there is still a persistent resistance to voting Sinn Féin among large sections of the electorate. This is being fuelled daily by the lies peddled by media outlets, especially the Independent group. It is not enough to dismiss this as the expected grunt from the pig. Equally the lies thrown at Gerry Adams by Michael McDowell on the RTÉ Prime Time leaders' debate cannot simply be dismissed either. They have their effect and we need to devise a more concerted strategy to deal with this.
We need to address voters directly and not only through our candidates, excellent as they are. We need to explain what Sinn Féin stands for nationally and combat anti-republican propaganda.
I believe that in the constituencies the work was done in spades and candidates and activists could not have done more. Each constituency will of course have to be examined in detail. But the bigger questions are about where we position ourselves nationally, how we manage our party nationally and how we present our case.
We are back to two-party domination in the 26 Counties. This is the political terrain Sinn Féin must now traverse. Sinn Féin is part of the left in Irish politics, the left which is divided and now diminished in Dáil numbers. What alliances must we now build to combat the conservative domination of politics?
How do we build on our still very strong base throughout the 26 Counties? Because while we might have weathered the storm better, weather it we did. We have excellent candidates, most of them young, and we have dedicated activists. This election has seen organisational growth in previously weak areas. All the work has not been in vain. Far from it. Above all, our republican and socialist message is correct.
We should debate all these questions openly and honestly and then move forward together on the basis of an agreed strategy.

An Phoblacht Magazine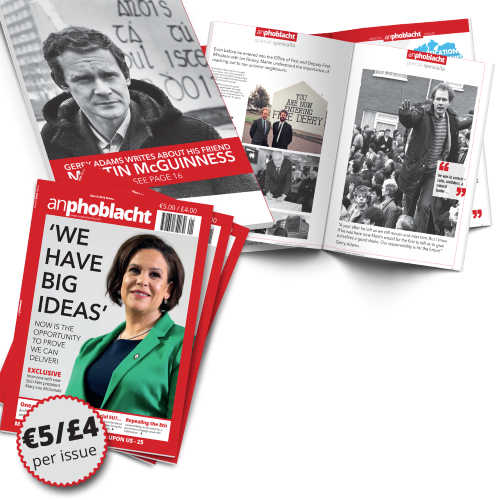 AN PHOBLACHT MAGAZINE:
The first edition of this new magazine will feature a 10 page special on the life and legacy of our leader Martin McGuinness to mark the first anniversary of his untimely passing.
It will include a personal reminiscence by Gerry Adams and contributions from the McGuinness family.
There will also be an exclusive interview with our new Uachtarán Mary Lou McDonald.
test