31 May 2007 Edition
A fight to the finish in Dublin South Central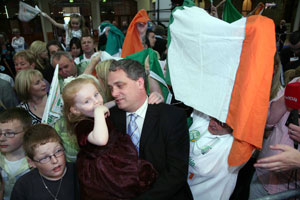 BY JUSTIN MORAN
As Sinn Féin activists watched the Dublin South-Central boxes open in the RDS on Friday morning, it quickly became clear the party was going to have a fight on it's hands to re-elect Justice spokesperson Aengus Ó Snodaigh TD.
Fianna Fáil's two sitting TDs Seán Ardagh and Michael Mulcahy, the latter of whom had been expected to be at risk, were polling extremely well and would, eventually be elected on the first and second counts. As Ó Snodaigh's team digested the figures, a ripple of dismay went through Sinn Féin members in the RDS as word filtered through of the fate of Seán Crowe in Dublin South-West.
The Sinn Féin vote, despite an intensive ground campaign and the election of three councillors in 2004, had dipped with a number of voters clearly choosing Fianna Fáil in the hopes of keeping Fine Gael out. The heretofore unimaginable possibility of losing the seat was suddenly all too real.
The party vote had also suffered damage from two independent left candidates who between them polled 4,000 votes following an extremely dishonest campaign where Sinn Féin's record on the bin charges, a major issue still in the constituency, was deliberately misrepresented on the doors.
Despite this, once the first count was complete, Ó Snodaigh was fourth in this five-seat constituency, but was always going to be in danger from the second Labour party candidate, Cllr Eric Byrne, over whom he had a relatively narrow lead of just under 800 votes.
On the fifth count, by which stage the count had moved into Saturday, and the elimination of a number of minor candidates the gap had narrowed by a hundred votes and Fine Gael's Catherine Byrne had gone ahead of Ó Snodaigh to push him into fifth place.
While substantial transfers from the two independent left candidates extended his lead to over 1,200 votes, the seat was thrown into jeopardy following a staggering transfer rate of over 57% from defeated Green party candidate Cllr Tony McDermott, to the two Labour candidates.
This was enough to re-elect Labour's Mary Upton with a surplus of just over a thousand votes and to bring her running mate within less than 700 votes of Ó Snodaigh.
Following the distribution of Upton's surplus, Sinn Féin held a narrow lead of 69 votes and Labour instantly called for a re-check, and possibly a full re-count.
As activists returned to the barriers to watch the votes, there was nervousness on both sides. In 1992, Eric Byrne had lost his seat by a margin of five votes after ten days of recounts and his team was determined not to let it happen again. On the Sinn Féin side, there were many veterans from the Dublin Central re-count where Nicky Kehoe had narrowly lost out in 2002 and though the party was on the right side of the margin, there were no guarantees.
Throughout the day local activists, headed up by the party's Director of Elections Louise Minihan, were joined by Sinn Féin members from right across the city who had come to lend their support, including Dublin North East candidate Cllr Larry O'Toole whose years of experience were a steadying influence.
After re-checks of the votes for three of the main candidates, including Ó Snodaigh, Labour accepted that they were not going to take the seat and conceded, finally giving the scores of Sinn Féin supporters in the RDS something to cheer about.
It hadn't been the election Sinn Féin in Dublin South-Central had expected and while supporters were rightly in celebratory mood as they left, there was also a sense that it could never be this close again.