31 May 2007 Edition
General election 2007 : George Michael, Sinn Féin and Faith
BY BRENDAN KERR
As I had my last sup of tea and bite of toast to sustain me for what would inevitably be a long Friday at the Dublin City election counts at the RDS, I heard a radio trailer for George Michael's gig next month also at the RDS. George was singing: "I gotta have faith." How right you are, George.
Still listening to the radio coverage on the DART to Sandymount, I heard the RTÉ exit polls suggest things were not great for Sinn Féin. Ah, so what? The polls often underestimate Sinn Féin. Besides, no one 'exit polled' me when I cast my vote. What class of poll do you call that?
I got off the DART and walked across from Bewley's Hotel to the RDS Concert Hall. Those exit polls were gnawing at me. Anticipation was giving way to trepidation. I glanced skywards. George Michael stood astride a huge advertising poster, looking down on me, god-like. I could hear his refrain: "I gotta have faith."
Sing it to me, George. Louder, George. Louder!
BALLOTS
The mood was subdued in the adjoining rooms of the Concert Hall where the boxes were being emptied and the ballot papers sorted. The South City counts were in the first hall, the Northsiders were at the back. The exit polls were looking like they might be uncomfortably accurate. Tony Blair's New Labour used to sing "Things can only get better." There was hope.
The hours dragged by. The news didn't get better as time drew on. Jack Crowe lost his seat in Dublin South-West. Other areas where we thought we could cause upsets brought in very good votes – Larry O'Toole in Dublin North-East, Dessie Ellis in Dublin North-West among the leading contenders – but not enough to halt the Fianna Fáil juggernaut.
Speaking to other left-wing candidates and campaign workers – Independents, People Before Profit and Labour – others were taken aback at the strength of the Fianna Fáil machine. I settled down by the Dublin Central count. This is where we would really be up against it.
BATTLING BERTIE
The Taoiseach, Brian Cowen and PJ Mara and the Fianna Fáil big-wigs remember all too well that Nicky Kehoe missed taking a seat off FF's Dr Dermot Fitzpatrick by just 74 votes. Now they were standing Dermot's daughter, Mary, as a blocking candidate on two fronts – as someone from the Cabra end of the constituency, in Nicky's heartland, and a woman, thereby hoping to neutralise the 'female factor'.
The opening tally of 3,000 first preferences was disappointing.
One Belfast-based press officer reminded us: "Remember, we've been here when we used to count Sinn Féin votes in the South in hundreds." He was right. That cheered me up. For 30 seconds.
I circled the other Northside counts, searching for more comfort. As I stood, taking in the scenes, Mícheál Mac Donncha, a former editor of An Phoblacht, now Caoimhghín Ó Caoláin's PA and a campaign worker with Larry O'Toole, stopped by my side. He looked at me and laughed. My subconscious juke box had changed its tune. I was singing Rod Stewart: "I don't wanna talk about it, how you broke my heart..." And that was before the first counts had even been officially declared!
Christian Solidarity Party candidate Paul O'Loughlin, dressed like a Cromwellian-era pilgrim, joined party agents scrutinising dubious ballots, perhaps hoping that the odd vote for him might be turned into 600 or 6,000 by a miracle and propel him from 260 first preferences to victory. They say God loves a trier.
SCRAMBLES
The day was broken up with media scrambles surrounding the arrival of various candidates and personalities.
The biggest media melee was for Gerry Adams and Mary Lou McDonald. As republicans waited with reporters outside for Gerry to arrive, Mícheál Mac Donncha appeared at my side again. He harked back to my musical interlude earlier and tried to cheer us up. He suggested we should all greet Adams with a chorus of "Always look on the bright side of life." Given the fact that comrades were battling against the odds and might misunderstand our 'blitz' humour, we thought better of it.
The media scrum almost crushed trade union official Anne Speed underfoot as they engulfed Gerry, Mary Lou, Daithí Doolan, Aengus Ó Snodaigh and Christy Burke.
The interviews over, a blinding barrage of camera flashes ushered the Sinn Féin leaders and supporters through the doors of the RDS.
The entrance hall was jammed with people. RTÉ's visiting American poll pundit Frank Luntz was in the thick of it too, quizzing us on what went wrong.
To get ahead of the posse, I slipped through the side door, up the stairs, along the balcony above and down the other side... only to run into the backs of half a dozen photographers and TV cameras blocking the staircase. A female reporter almost had her eye taken out with a flailing microphone by a radio hack bulldozing his way through the phalanx of press people to get to Sinn Féin.
One grizzled print journalist from the Irish Independent turned to me and chuckled: "Just imagine what it would have been like if they'd done well." I did imagine. I did. But we didn't.
ROTTWEILER RESIGNS
The counts dragged on, interminably.
PD leader Michael McDowell's arrival at the RDS at 8.35pm and his announcement of his retirement from public life after losing his seat was greeted by chants of: "Cheerio, cheerio, cheerio."
I wasn't on the spot so I don't know if it was Shinners, People Before Profit supporters, or a mixture of both. Fine Gaelers smirked and gloated at McDowell's demise from the sidelines but Lucinda Creighton's Dublin 4 debs are too posh to do anything but pout.
Fianna Fáil's Pat Carey described the chants as "insulting". Pat wasn't so visibly upset when his government's 'Rottweiler' – the Justice Minister, no less – was busy insulting and slandering political opponents and leaking confidential Garda files to the Irish Independent.
Like I said, some people found it distasteful. Make your own mind up.
THE BEAUTIFUL SOUTH CENTRAL
The formal announcement of the first count for Dublin South Central was scheduled for 8.10pm; it actually came just after 9pm – a full 12 hours after the boxes were opened. The vote would go on the following day, Saturday, before Aengus Ó Snodaigh would be returned as Sinn Féin TD. Note to Santa: please bring us a credible system of electronic voting.
11pm came and went. Sinn Féin Councillor Killian Forde joined the press office team on the wrought-iron balcony overlooking the dwindling bands of party people waiting for their candidate's results. Killian was Mary Lou's prospective replacement in the European Parliament if she'd taken a seat in the Dáil.
"I've cancelled the last 11 CDs from my 12-week 'Teach Yourself Flemish' course," Killian laughed.
THE MIDNIGHT TRAIN
Just before midnight, I left the RDS to catch the last DART to town. Going out the door, I said goodnight to Independent Finian McGrath, outside, getting some fresh air and still waiting to see if he would win the tussle against Fianna Fáil's Ivor Callely.
I walked back to the DART station the way I'd come 12 hours earlier, on this long and not very good Friday.
I saw George Michael's figure up ahead, still giving it large. He's still not afraid to speak out for what he believes in. And he's still singing...
Yes, I've gotta have faith...
Mmm, I gotta have faith
"Cause I gotta have faith, faith, faith,
Mm "cause I gotta have faith-a-faith-a-faith."
An Phoblacht Magazine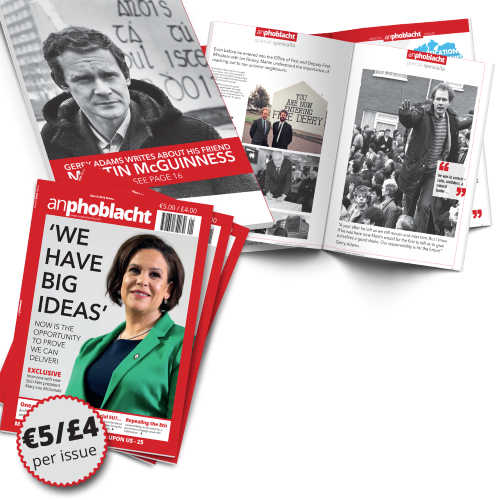 AN PHOBLACHT MAGAZINE:
The first edition of this new magazine will feature a 10 page special on the life and legacy of our leader Martin McGuinness to mark the first anniversary of his untimely passing.
It will include a personal reminiscence by Gerry Adams and contributions from the McGuinness family.
There will also be an exclusive interview with our new Uachtarán Mary Lou McDonald.
test