24 May 2007 Edition
Adams calls for balanced regional development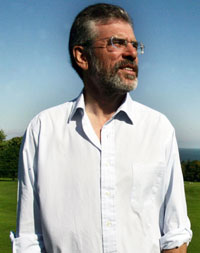 On the general election campaign trail in Sligo this week, Sinn Féin President Gerry Adams said that job creation and balanced regional development were key priorities for Sinn Féin.
"Ireland is now a more prosperous country than ever before. The positive changes of recent years in the peace process and as a result of our growing prosperity have opened up the possibility of this country finally reaching its full potential. But if this is to happen there has to be a shift in government policy. We have to ensure that all counties, including those in the north west and the border counties, have the capacity to compete on a level playing field", Adams said.
"According to the National Competitiveness Council, in the five years to March 2006 manufacturing industries lost over 32,000 jobs. Many of the jobs lost in rural areas are not being replaced – with devastating local effects. Many of the new jobs cited by the Government as replacing those lost are only part-time.
"A key problem is that infrastructure and service provision is still poor in many parts of the state and this is undermining the efforts of those who are trying to establish new hi-tech industries", he said.
"Job creation and balanced regional development are key priorities for Sinn Féin and during this election campaign we launched a major document 'Equality for Rural Communities' which we are committed to implementing in government.
"We would invest in infrastructure including transport and broadband roll out across the state, we would introduce a package of measures aimed specifically at supporting and developing indigenous enterprise. We would intervene to bring down business costs in key areas such as energy and insurance. We would continue to encourage more Foreign Direct Investment but give the same type of supports to small and medium businesses", the Sinn Féin President said.
Adams said Sinn Féin would also support agriculture which provides 20% of all jobs outside of the public sector. Other measures the party would introduce include investment in Research and Development, proposals to pre-emptively up-skill workers vulnerable to future jobs-losses and a specific Redundancy to Entrepreneurship scheme to assist workers who have become redundant to establish their own businesses. The party also proposes a single currency, a single labour market and a harmonised tax regime for the island.