24 May 2007 Edition
Media View
Sunday Independent — PDs weekly
The media consensus on the two party leaders' debates on RTE television last week was almost uniform: firstly, Enda Kenny had stopped Bertie in his tracks, forcing a creditable draw and second, Gerry Adams had been put in his place by that masterful barrister and justice Minister, Michael McDowell.
Wrong on both counts, not merely because this modest scribbler says so but because the polls immediately following the debates showed Sinn Féin's vote stabilising (down 1% in two polls and up 3% in the Red C poll) and Adams himself topping the poll in the leaders' satisfaction rating in the Sunday Independent. Meanwhile, Fianna Fáil soared up the polls, due largely, according to the Irish Times poll, to the debate with kenny. The PDs were down to just 2% in the Irish Times poll last Monday, less than one quarter of the Sinn Féin tally.
Adams' poll rating so enraged the Sindo's political correspondent, Joseph O'Malley (brother of Dessie, wouldn't you know) that he inserted a diatribe against Adams into an otherwise sober, analytical article. O'Malley fulminated against Adams for not even living "in this state" and argued that the Sinn Féin leader's popularity "defies easy, not to mention rational explanation. There's partitionsim, there's hard line unionism and then there's the Sunday Independent. The same newspaper, incidentally, has been abusing its competitor, the Mail on Sunday, recently for being a British paper, in a crude style of attack that would embarrass SF, RSF and even this hack on his sixth pint!
O'Malley's genuinely perplexed reaction to the enduring popularity of Adams and Sinn Féin is a good example of the media's continuing remoteness from the people who buy their product and the reason why they have completely misread the election campaign - again.
If an Irish establishment politician had raised the serious question of drug problems in the community, as Adams did in the RTE debate, glib unproven smears from an opponent about Colombia would hardly be tolerated by pundits or other politicians. Adams' efforts to persist with a sensible debate about drugs produced a cartoon response from McDowell and general applause from the media's Greek Chorus.
Interestingly, when Adams pointed out, twice, that McDowell had initially opposed the peace process  – something McDowell failed on both occasions to deny – none of the media judges of the debate felt it worthy of comment. The issue of Colombia has produced no charges, much less convictions, of Adams and the Colombian judicial system that convicted the Colombia Three is a bad joke. However, the record shows that McDowell obstructed, in his sometimes Jesuitical and often hysterical style, the peace process at its earliest and most difficult period. But let's not allow facts to get in the way of a put-down of a republican.
The other main aspect of establishment media coverage of Sinn Féin has been the charge that the party and in particular those 'Northerners in the leadership' know nothing about economics. What this actually means is that Sinn Féin refuses to accept the as cited by right wing commentators and politicians who argue that private profit is the only imperative in economics. Historically and politically, the title, Sinn Féin actually represents everything that such people fear and detest, namely a self confident Irish people who can assert control over our own lives and our own economy. The fear factor in Irish society and the bowing down to powerful private interests and globalised economics is something the establishment parties use to whip Irish people into line. Repatriation of profits, tax breaks for the rich, lousy wages for working people, the erosion of trade union rights, poor public services - all these things and more – are supposedly, sane economics. The defence of working people, the right to a living wage and decent living conditions are, according to the same experts, 'mad economics'.
Standing up to this consensus of free market greed is not easy in the media or in the political forums dominated by the champions of big business. But what the media forgets is that a growing proportion of people in urban and rural communities "in this state" are paying less heed to this message as time goes by.
The most undemocratic, even grotesque aspect of the last government is that a tiny number of wealthy professionals, barristers, consultants, business people and the like dominated a spineless Fianna Fáil administration with just 4% of the vote. That's now down to 2% and declining each day while Sinn Féin has a vote four and five times this size. And they lecture us about democracy?
"The Sunday Independent is preoccupied with returning the FF/PD government to power and predicted, wishfully, its return last Sunday. At the same time, their eminently justified fear of Sinn Féin produced a stream of abuse against the party last weekend. Most amusing of all was an article oozing sympathy for Independent TD, Tony Gregory, who apparently has to battle all alone against the big battalions of the main parties, including Sinn Féin in Dublin central. Gregory is an honourable politician with a decent record whose politics are a million miles from that of Eoghan Harris and company. His main attraction for the newspaper on this occasion would seem to be that he is not Mary Lou McDonald.
Hopefully, both will be in the next Dáil. What is certain is that the working class of Dublin Central will not return a candidate from the PDs – the Sindo's favourite party.

An Phoblacht Magazine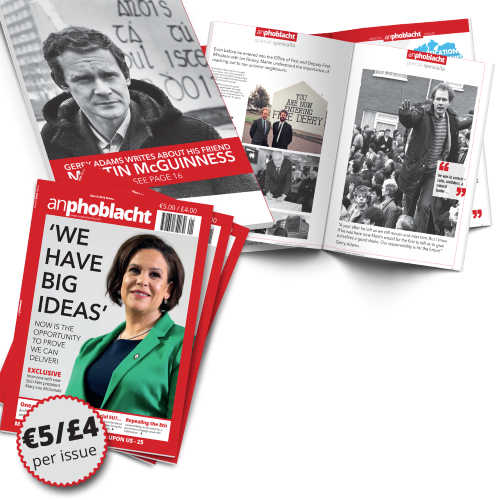 AN PHOBLACHT MAGAZINE:
The first edition of this new magazine will feature a 10 page special on the life and legacy of our leader Martin McGuinness to mark the first anniversary of his untimely passing.
It will include a personal reminiscence by Gerry Adams and contributions from the McGuinness family.
There will also be an exclusive interview with our new Uachtarán Mary Lou McDonald.
test