24 May 2007 Edition
Antrim GAA launches Casement historical society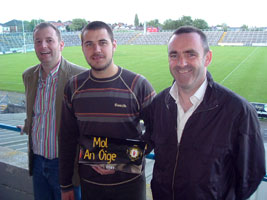 The launch took place on Friday, 18 May of the Roger Casement Historical and Cultural Society, a major initiative to promote history and the Irish language among Antrim Gaels.
The event which took place at the headquarters of Antrim GAA, Casement Park saw Gearóid Robinson the County Antrim Cultural Officer and South Antrim Cultural Officer Harry Connolly promote the plan to remember Casement and his role in Irish History.
A native of Antrim, Casement's name has always been associated with Antrim GAA. His family roots are in the scenic North Antrim Town of Ballycastle and the executed republican leader wrote with affection of the spectacular coastline of North Antrim, particularly Murlough Bay.
While the general thrust of this cultural initiative is aimed at Gaels in general both Robinson and Connolly emphasised the need to involve young Gaels in the project.
Both men also outlined plans to promote the Irish language through the Casement Society and launched an essay competition for Gaels attending the Gaeltachts.
Said Connolly, "we are particularly keen to get young GAA players involved in the Irish language. The GAA helps young Gaels with a grant when they attend the Gaeltacht courses. This year we have organised an essay competition so the winner will get their full fees paid. We hope it attracts a lot of young people in the use of Irish and in Irish history in general."
Meanwhile Gearóid Robinson has praised the efforts of the County Antrim board and it's commitment to promoting the Irish language and the Roger Casement Historical and Cultural Society.
"It is important that in this new political era that the rights of Irish speakers are respected and with the GAA promoting the language then it demonstrates the interest there is in Irish within our communities which will ensure the growth of the language".