24 May 2007 Edition
The search for justice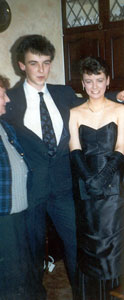 John Carthy was shot dead by Gardaí outside his home in Abbeylara, County Longford on Thursday, 20 April 2000. Last month saw the publication of In Search of John, a book written by his sister Marie in tribute to a brother she describes as cheerful, intelligent and full of fun despite the fact that he suffered from depression since the death of their father in 1990. Here MARIE CARTHY talks to ELLA O'DWYER about her brother, the circumstances surrounding his death and about how the Gardaí got it wrong from start to finish.
A two-day stand off between the Gardaí and a young Longford man suffering from depression, began around 4pm on Wednesday, 19 April. It ended at around 6pm the following evening with John Carthy's untimely death at 27 years of age. Marie Carthy describes her brother John as a "a great character, very witty, very intelligent and fun to be around. He had a keen interest in handball, fishing and game shooting – that's why he had a licensed gun. He used to go clay pigeon shooting. He enjoyed socialising with his friends. He was great fun. He always had to have the last word. But he did suffer from depression. He was bipolar, meaning he'd have extreme highs and extreme lows and also periods where he'd be somewhere in between. I think when he took a gun that day and fired two shots that it was a cry for help.
"I was in Galway when the incident started on the Wednesday and the Guards brought me from there to Abbeylara. John and I were very close and anytime he was down or depressed he'd come to me for help. I would have calmed him down but they wouldn't let me talk to him. They said I was drunk! That was so embarrassing – it was all over the front pages of the newspapers. I couldn't have been drunk. I just finished work at 7pm that day in the Montessori school where I teach when the guards collected me to take me to Abbelara where I arrived at 11pm. There was no possibility of my getting drunk."
Asked what she thought triggered John's distress on the day Marie says: "There were a few things bothering him at the time. My mother was moving to a new house. The old house would have to be knocked and that home was in the family for generations. He'd have been worried about getting money together to have the new house furnished and things like that. He was depressed and I believe it was a cry for help. My father – who also called John – died in 1990 when John was 17 and I was 16. That was the first time my brother showed signs of depression. In the beginning we thought it was part of the normal grieving process but when it went on for longer than a few weeks we got worried."  
"The media were negative towards John and myself. The papers portrayed it that they had a row and that John threw my mother out of the house which wasn't true. He got agitated in himself that day and he told my mother to go to her sister's house. He never threw her out of the house. He'd never be aggressive towards anyone. When he fired the two shots he was just looking for attention because he was depressed. One of the radio stations actually named John before he came out of the house and of course he could hear that on the radio. It was shortly after he was named that he came out of the house."
Marie believes that the presence of Gardaí that Wednesday made matters worse. "John had allegedly been mistreated in the Garda station in Granard in 1998. The local football team in Abbeylara had a goat mascot and two lads in the village burnt it and John got the blame even though he knew who the two guys were but he wouldn't tell the Guards. He was mistreated in the Garda station both physically and verbally. After that John wouldn't have trusted the Guards. And some of the Guards from Granard were there that day at the house and he could see them and it would have made things worse.
"They just handled it totally wrong from start to finish. There was carelessness and a lack of understanding of someone suffering from depression. You shouldn't really confront people suffering from depression – even with the cigarettes they were bargaining with him. They wanted him to do something in return before they'd even give him cigarettes. When John came out there was a load of unarmed guards there just talking and chatting and they kind of panicked then – they weren't prepared for John coming out. John had the gun with him when he came out but when he was walking along over rough ground he broke the gun open and the guards said he got one of the cartridges and threw it away and that he had one left. But we don't know if he'd any left at all. One of the guards shot him twice and then another guard shot him. But expert evidence shows that he was already falling when the last bullet was fired so there was no need for the last bullet."
The Garda appointed a Chief Superintendent Culligan to carry out an investigation into what happened. Marie believes that this report smeared her brother's name – "They said he was a loner and a gambler and that his only outlet was drinking. The Gardaí got a lot of things very wrong on the day as was exposed in the Barr Tribunal."
The Barr Tribunal, a public inquiry, established in April 2002 to investigate the shooting concluded that there were many mistakes made by Gardaí but that it was not an unlawful killing. It recommended changes to training and procedures for sieges and negotiations to prevent similar occurrences.
"Justice Barr in his report concluded that John's death shouldn't have happened and there was a catalogue of systematic failures on the part of the Gardaí. The judge made a series of recommendations, for instance that the guards should be trained in how to deal with people suffering from depression and that they should liaise with psychiatrists in incidents of this sort", Marie said.
Asked how she and her mother had coped she said: "For the last seven years we've done nothing only look for justice for John. It was difficult getting the tribunal established in the first place but we had a lot of support from Amnesty International and The Irish Council for Civil Liberties – they were a great support in getting the enquiry established. The neighbours also rallied around – there were two in particular – Peter Reilly and Vincent Quinn. Even while we were at the funeral they went to the local guards and said they were going to get to the bottom of this and they wanted answers."
For Marie the important thing now is to see the recommendations of the Bar Report implemented; "We'd like to see all the recommendations in the report implemented – that's the main thing – particularly around the issue of handling incidents when a depressed individual is involved." Marie has dedicated her  book – In Search of John – to her brother and to people suffering from depression.
• In Search of John is available in leading book shops and can be ordered from the Sinn Féin Book Shop 58, Parnell Square, Dublin 1.
www.sinnfeinbookshop.com
An Phoblacht Magazine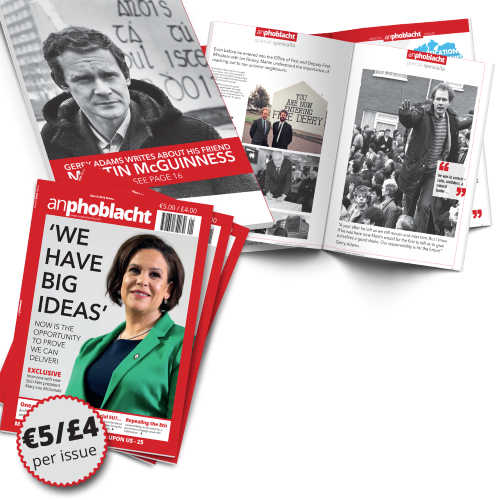 AN PHOBLACHT MAGAZINE:
The first edition of this new magazine will feature a 10 page special on the life and legacy of our leader Martin McGuinness to mark the first anniversary of his untimely passing.
It will include a personal reminiscence by Gerry Adams and contributions from the McGuinness family.
There will also be an exclusive interview with our new Uachtarán Mary Lou McDonald.
test