24 May 2007 Edition
Window of opportunity in deportation case welcomed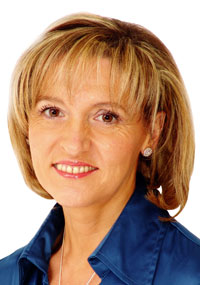 Sinn Féin Human Rights and Equality spokesperson Martina Anderson MLA has welcomed a delay in the planned deportation of a mother and baby from the Six Counties to Cameroon.
Lordorice Djountso arrived in Belfast in August 2005. Already pregnant, her daughter Imelda was born there in early 2006. She fled from her home in Cameroon following her brutal rape and the murder of her brothers as part of a bitter dispute with a powerful local chief. She was forced to leave her partner behind, who was also attacked and has subsequently disappeared.
Following an unsuccessful claim for asylum, Lordorice and her daughter were picked up by Immigration Officers and imprisoned for two months awaiting deportation. At the time of her detention Lordorice was receiving treatment for post-traumatic stress disorder. Since being in detention she has received no treatment  for her condition.
Lawyers acting on behalf of the mother and child took the case all the way to the Court of Appeal but were unable to prevent the Removal Order. Lordorice and her daughter were due to be deported to Cameroon on 23 May. Martina Anderson had appealed to the British Home Office to halt Wednesday's deportation until there can be a full review of the case.
A delay in the deportation, announced by the British Home Office on Tuesday was welcomed by Martina Anderson as "a positive window of opportunity".
"This Home Office U-turn is a response to political pressure and people power and has resulted in a stay for Lordorice until 30 May. This should give the authorities time to review and assess the case.
"This case is a human rights issue, and Lordorice and Imelda should be allowed to return home to South Belfast where they belong. Lordorice has faced grave danger in her homeland and I again appeal for compassion in this case. "Lordorice is a hard working community activist and a welcome addition to the community. My party colleague Martin McGuinness and myself have written to the Home Office and have given our full support to this campaign."
Anderson raised the issue with the Human Rights Commission when she met them on Wednesday.