24 May 2007 Edition
The Mitchel McLaughlin Column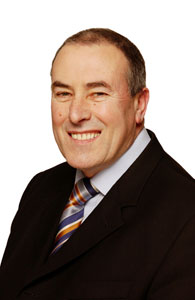 Where now?
I have no doubt that when the votes in the general election are counted, Sinn Féin will once more have increased our political strength. Whatever political permutation makes up the next government one thing is for sure – Sinn Féin will be better placed to influence the political future of this country, North and South.
Prior to the election, parties in government and those who aspired to be, made much of the claim that they would not co-operate with Sinn Féin. In order to put the lie to these claims you only have to look at the progress of the peace process and the political process in the North. All of the main political parties in the 26 Counties have dealt directly with the Sinn Féin leadership and dealt with Sinn Féin Ministers as equals on the All-Ireland Ministerial Council. Once the election results are settled all of these parties will come back into the real world and realise that it is not political parties that decide who they will deal with – it is the electorate who decide. And if the people so decide then, like it or not, they will deal with Sinn Féin.
In the coming weeks, the first meeting will take place in Armagh of the new all-Ireland Ministerial Council and Dublin Ministers will once again be dealing on the basis of equality with Sinn Féin Ministers of the Northern Executive. The difference this time is that it will be a greatly strengthened Sinn Féin team of Ministers – five in all – that they will face in formulating policies and strategies that will affect the lives of every person on this island.
I am confident, that in Leinster House also, whichever parties occupy the government benches will face stiff scrutiny from a significantly increased Sinn Féin bloc of TDs. And I can assure the government that Sinn Féin TDs will not be there as mere spectators. Our Dáil team will hold whatever government to account in the delivery of a proper, equality-based social and economic programme. We will oppose attempts to use public assets for the purpose of private profit. We will continue to demand proper investment in public health delivery and in both the education system and provision of modern teaching facilities.
Sinn Féin will also fight against any further sell-off or give away of our natural resources and government approved vandalism of our national heritage and environment.
In or out of government we will continue to prosecute out political agenda, which is to deliver the best quality of life in all its aspects for everyone on this island while building through political persuasion, a consensus for Irish unity. Our project is progressing and by refusing to be distracted by the political meanderings of others we will hasten the day when we achieve our ultimate goal.
An Phoblacht Magazine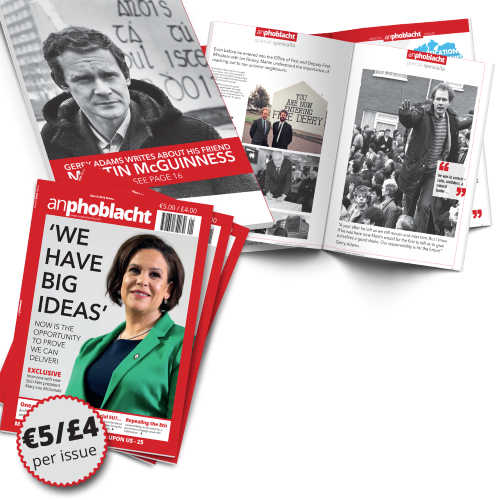 AN PHOBLACHT MAGAZINE:
The first edition of this new magazine will feature a 10 page special on the life and legacy of our leader Martin McGuinness to mark the first anniversary of his untimely passing.
It will include a personal reminiscence by Gerry Adams and contributions from the McGuinness family.
There will also be an exclusive interview with our new Uachtarán Mary Lou McDonald.
test