24 May 2007 Edition
'Drop McAliskey extradition demand'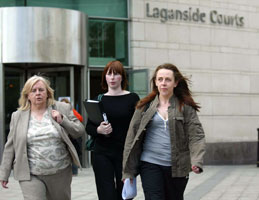 Deputy First Minister in the Six Counties, Martin McGuinness has called on the German authorities to abandon their latest attempt to extradite Roisin McAliskey. McAliskey (35) is the daughter of civil rights campaigner and former Westminster MP Bernadette McAliskey. She was arrested at her home in Coalisland, County Tyrone, on Monday on foot of a European arrest warrant accusing her of involvement in an IRA mortar attack on the British army barracks in Osnabrück in Germany in 1996.
McAliskey's extradition was first sought in November 1996 when she was arrested in Coalisland and taken to Holloway Prison in London to await a decision over her extradition to Germany. She was later transferred to Belmarsh high-security prison, then back to Holloway. She gave birth to a daughter in custody.
McAliskey returned to the Six Counties with her then 10-month-old daughter in April 1998 after spending more than 15 months in custody in England. While in prison she was treated for post-natal depression and "deep post-traumatic disorder". Jack Straw halted her extradition, saying it would be "unjust and oppressive" to send her to Germany because of her medical condition.
This week, the German authorities again sought her extradition. Their lawyer, Stephen Ritchie, said she was wanted "for attempted murder in conjunction with the initiation of explosives".
McAliskey's lawyer, Barry MacDonald QC, who said she would challenge the extradition, asked why it had taken until Monday to issue the arrest warrant. "There's obviously been a substantial delay in the prosecution of this matter," he said.
Judge Tom Burgess fixed the extradition hearing, which must take place within 21 days, for 6 June. McAliskey was released on bail totalling £2,500 (€3,660).
Sinn Féin's Martin McGuinness called on the German authorities to drop the "petty and vindictive" proceedings against Roisin McAliskey.
"Over ten years ago these matters had more than adequate hearing in a succession of British Courts. The arrest of Roisin McAliskey on the foot of an extradition request from German prosecutors will be seen by many as petty and vindictive," said McGuinness.
"Roisin is the mother of two young children and she has lived openly in her home town in the ten years since her release from prison in England the last time the German authorities attempted to have her extradited. She has always maintained her innocence," said McGuinness.
"The German authorities should take note of the tremendous progress we have achieved in Ireland in the course of recent years and immediately drop the demand for Roisin's extradition and allow her to return home immediately to her young family."
"Sinn Féin has already spoken to the British government on this matter and we would expect the Irish Government to back calls for Roisin's immediate release," said McGuinness.