24 May 2007 Edition
Sinn Féin continues forward march
As voters go to the polls across the 26 Counties today, one thing is clear – when the votes are counted the republican party will once again have increased its political representation and strengthened its mandate.
A major feature of the general election campaign has been the repeated claims of the establishment political parties that they will not negotiate with Sinn Féin in relation to the formation of a government. The reality however, is that whoever is in government following the election, they will be dealing with Sinn Féin. For example the new Government will soon meet with a greatly strengthened Sinn Féin team of Ministers in the All-Ireland Ministerial Council to formulate policies that will affect the lives of people throughout Ireland. It is the electorate who will dictate the composition of the next government and what parties will have to deal with each other. Whatever the various party leaders may have said about Sinn Féin during the course of the campaign, realpolitik will apply once the Dáil arithmetic become clear.
The real question is not whether establishment political parties will share power with Sinn Féin but whether any of these parties are willing to engage with Sinn Féin's agenda for building equality, ending poverty and delivering public services to all.
Whether in Government or in Opposition after this election, Sinn Féin will be strengthened, will represent even more people and will pursue its objectives in an even more effective and determined manner. Sinn Féin will continue to be the main engine for political change on this island, building broad support for its agenda of pursuing the unity and independence of Ireland and the delivery of equality and social justice for all citizens.
A strengthened team of Sinn Féin TDs in Leinster House will vigorously pursue practical measures in the Oireachtas to prepare for the  reunification of Ireland; the right of political representatives from the Six Counties, nationalist and unionist, to participate in the political institutions of the 26 Counties; the delivery of a proper healthcare service providing equal access for everyone based on need alone; housing as a right for all; a properly resourced education system that helps to tackle social inequality and allows all students to reach their full potential; an Ireland that opposes war and global exploitation and through a policy of positive neutrality, and that works for international peace and justice; and an economy that serves society and not the reverse.
Sinn Féin's ideals are attracting increasing amounts of voters throughout Ireland. The party is changing the political landscape in Ireland North and South. This week Sinn Féin takes another step in its forward march.
An Phoblacht Magazine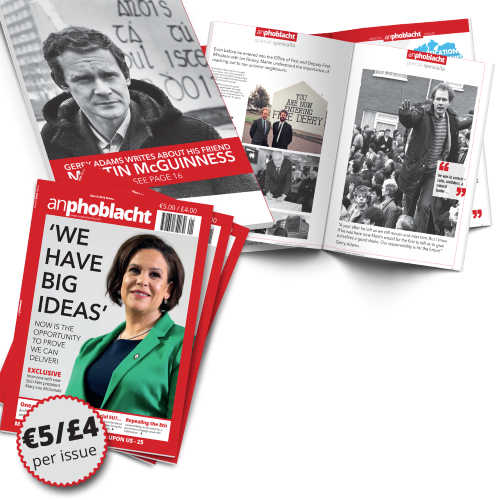 AN PHOBLACHT MAGAZINE:
The first edition of this new magazine will feature a 10 page special on the life and legacy of our leader Martin McGuinness to mark the first anniversary of his untimely passing.
It will include a personal reminiscence by Gerry Adams and contributions from the McGuinness family.
There will also be an exclusive interview with our new Uachtarán Mary Lou McDonald.
test