24 May 2007 Edition
General election 2007 : Cracking pace maintained in last week of campaigning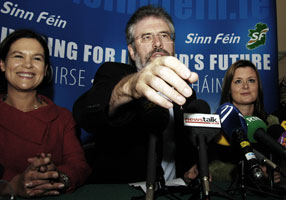 Sinn Féin's general election campaign continued at a cracking pace across the 26 Counties in the past week with doors being knocked and people canvassed by the party in 40 different constituencies.
Last Thursday, 17 May, speaking from the Sinn Féin bookshop on Dublin's Parnell Square, where the party launched a five-point plan for Dublin and unveiled a massive 20 foot by 30 foot election banner, general election candidate and MEP for Dublin Mary Lou McDonald said Sinn Féin was well on track to significantly increase its number of TDs in Dublin.
The following day, Bairbre de Brún MEP and Aengus Ó Snodaigh TD and Dublin Mid West candidate Joanne Spain launched a major manifesto for the Irish language at the Round Tower in Clondalkin. Bairbre de Brún had just completed a tour of Gaeltacht areas in Meath, Waterford, Kerry, Galway, Mayo and Donegal.
Among the key proposals in the Irish language policy document are a development plan focusing on the preservation and advancement of the language over the next decade, the putting in place of a monitoring programme for the Gaeltacht and a mechanism to officially recognise 'Breac-Ghaeltachtaí' throughout the island, the retention of the Irish language as a core subject at post primary level and the teaching of a second subject, for example PE or drama, through Irish at primary school level.
Sellafield
On Saturday, Sinn Féin TD Arthur Morgan said that in government Sinn Féin would pursue a vigorous legal and diplomatic campaign to close the Sellafield nuclear plant in Britain. Cancer rates in Louth are running at an alarming rate – 20% above the state average. Deaths in the county from cancer are now running at 20%. Morgan said he believed this was directly linked to the Sellafield nuclear reprocessing plant. The party's Environment spokesperson was speaking at a press conference which announced the Sinn Féin's proposals on the Environment and Hertitage.
Arthur Morgan said Sinn Féin had consistently said that the threat of a disaster resulting from a fire at Sellafield was a real and immediate danger and that the next Irish Government "must make it clear to the British Government that nuclear reprocessing at Sellafield has to cease".
He also said that Sinn Féin would prioritise the resolution of the current water contamination crises on an urgent basis and adequately fund an All-Ireland Safe Water Strategy to bring all water supplies up to the highest EU standard.
Speaking at the same press conference, Aengus Ó Snodaigh TD said that in government Sinn Féin would seek to have the controversial section of the M3 motorway diverted away from the Hill of Tara and for the introduction of legislation to stop the sale of important heritage items, such as those items connected to the easter Rising and the Tan War which were recently auctioned in Dublin.
On Sunday, outlining Sinn Féin's 'Charter for Senior Citizens', Mary Lou McDonald called for an Ombudsman for Older people. She also said that if it was in Government after the general election, Sinn Féin would seek to abolish the means test for carers and substantially increase the Carers' Allowance.
Neutrality
On Monday, at the launch of Sinn Féin proposals on Neutrality and International Affairs, Aengus Ó Snodaigh TD said that Sinn Féin seeks to have neutrality enshrined in the 1937 Constitution, and that the party wants an immediate end to the use of Irish airports by US troops en route to Iraq or for illegal 'extraordinary rendition' flights.
Mary Lou McDonald MEP said that the Irish Government's decision to reduce Overseas Development Assistance commitment to just 0.5% by 2007 was unjustifiable, and constituted "a betrayal of the world's poorest people". In Government Sinn Féin would incrementally increase this to 1% of GNP by 2010. The party intends to make the reduction of poverty and inequality key goals of Irish development policy.
On Monday night last, Sinn Féin President Gerry Adams made a direct appeal to those eligible to vote for the first time and others who have not used their vote in the past, and those who are thinking of not voting at all to come out on 24 May and make a choice. Adams issued his appeal through the internet on bebo, YouTube and MySpace, Rock the Vote and Sinn Féin's election website.
Ready to deliver in government
Speaking at Sinn Féin's final press conference of the general election campaign on Tuesday, Gerry Adams said Sinn Féin's priorities in government would be a strong and vibrant economy, the delivery of efficient public services and preparations for Irish re-unification.
"Over the last four weeks I have travelled the length and breadth of the state asking the electorate to endorse Sinn Féin's role in the peace process and give us the strongest possible mandate so that we can deliver equality for all and a united Ireland", Adams said.
"Our message is strightforward. Sinn Féin worked with others to deliver peace in Ireland. Our representatives work hard every day of the week in local communities. With the same commitment Sinn Féin will deliver on other huge challenges in the economy and  public services", he said.
"Sinn Féin is a party of government. We are sharing power with the DUP in the North and are ready for government in the South after the general election.  Sinn Féin will use its mandate wisely and to maximum effect to end the two-tier health system and provide a medical card to all children under the age of 18", Adams said.
"We will fund the building of 14,000 social housing units a year.  We will reduce class sizes for under-nines. We will bring forward a major anti-poverty programme. We will invest public money in public services. We will support agriculture and balanced regional development. We will do these things while ensuring a strong and vibrant economy.
"We will also invest in mental healthcare including a suicide prevention programme and in a nationwide road safety campaign.
" In government we will immediately commence preparations for Irish re-unification, turning the aspiration for Irish unity into a reality.
"We are asking the electorate to give us a mandate to deliver all of this in government."
The Sinn Féin President appealed, in particular, to those eligible to vote for the first time and others who were thinking of not voting at all to come out and make a choice.
"Your vote can make a difference. I am asking people to vote Sinn Féin and join us in a historic movement for equality for all citizens in the country", the Sinn Féin President said.
An Phoblacht Magazine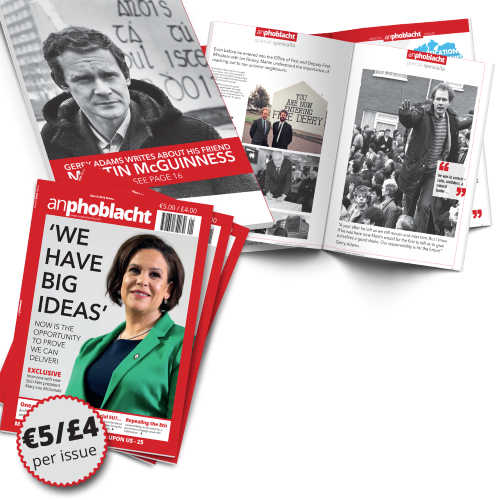 AN PHOBLACHT MAGAZINE:
The first edition of this new magazine will feature a 10 page special on the life and legacy of our leader Martin McGuinness to mark the first anniversary of his untimely passing.
It will include a personal reminiscence by Gerry Adams and contributions from the McGuinness family.
There will also be an exclusive interview with our new Uachtarán Mary Lou McDonald.
test