17 May 2007 Edition
Connolly and Hughes anniversaries marked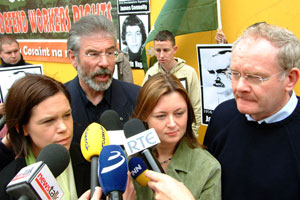 Last Saturday, 12 May, Sinn Féin leaders Gerry Adams, Martin McGuinness and Mary Lou McDonald marked the anniversaries of the death on Hunger Strike of IRA Volunteer Francis Hughes and the execution of James Connolly, signatory of the Proclamation of the Irish Republic and a leading participant in the 1916 Easter Rising. The event took place at Connolly's monument opposite Liberty Hall in central Dublin.
Gerry Adams said:
"Today we gather to remember two brave Irishmen who contributed so much to this country – James Connolly and Francis Hughes. Although they died 65 years apart they were united in their support for Irish freedom and justice. IRA Volunteer Francis Hughes died on this day 26 years ago after 59 days on Hunger Strike in the H-Blocks of Long Kesh.
"Ninety one years ago James Connolly left Belfast on Good Friday 1916 to travel to Dublin where he was in command of the GPO during Easter Week and was severely wounded. He was arrested and court-martialled following the surrender. At dawn on 12 May, Connolly was taken by ambulance from Dublin Castle to Kilmainham Jail, carried on a stretcher into the prison yard, strapped into a chair and executed by firing squad.
Connolly's values
"Connolly's core values and principles are what guides Sinn Féin today. Like Connolly, we believe that the measure of any society is in how it treats its most vulnerable citizens. Irish society, North and South fails this test miserably. One of the wealthiest states in the western world, the 26 Counties also holds the dubious distinction of having one in five children living in poverty and family homes being sold in order to provide proper care for elderly parents. Our hospitals are in chaos and many working couples in this city cannot afford to buy a home.
"Like Connolly, equality remains Sinn Féin's watchword. This means ensuring that all citizens have equality of opportunity and access to healthcare, education, housing and employment.
"Connolly was instrumental in the struggle for workerss' rights in Ireland and abroad. He was a committed anti-imperialist. A strong, progressive workers' rights framework is a fundamental part of Sinn Féin's vision and we want to work with others, particularly the Irish trade union movement, to achieve this. We also believe that those people who have arrived here in recent years must enjoy the same rights and entitlements as the indigenous population."
"Connolly was anti-sectarian and sought the coming together of Orange and Green in the construction of a new Ireland. Sinn Féin today seeks actively to implement these principles.
"The success of our party, and the test for all other parties in the general election, has to be about how much change they secure and how much progress they make in improving the lives of our citizens and in achieving Irish unity and independence.
"Connolly believed that a united, independent Ireland based on equality for all, could set an example and be 'a beacon' to the rest of the world. That remains Sinn Féin's vision."