17 May 2007 Edition
Hamill RUC anonymity ruling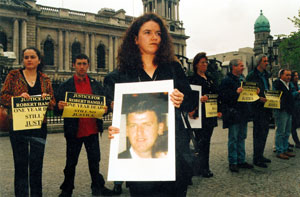 The British House of Lords will decide next week if 20 serving and former RUC officers will be allowed to give evidence anonymously at an inquiry into the murder of Portadown Catholic Robert Hamill. The inquiry follows a recommendation by Judge Cory after a probe into allegations of collusion.
Hamill (25) died in May 1997 after being beaten by a loyalist mob in Portadown town centre. The attack took place within view of four armed RUC officers in a Land Rover deployed in the area to thwart sectarian violence. A female companion of Hamill repeatedly banged on the Land Rover door pleading for help but the RUC did nothing.
Six men were initially charged in connection with the killing but charges against five were later dropped.  A sixth man stood trial but was acquitted of murder and sentenced to four years for causing an affray.
The DPP decided not to bring charges against the RUC officers at the scene of the killing. Three people, including a former RUC officer were later charged with preventing the course of justice after it emerged that a telephone call had been made to the home of a loyalist hours after the killing to warn him that he was a suspect. The charges were later dropped.
A public inquiry into the Hamill killing was opened in May 2005 but was immediately adjourned. Further delay has resulted after former RUC officers legally challenged a ruling by the inquiry that their evidence should be given without anonymity. The decision now rests with the British House of Lords.