17 May 2007 Edition
Falsely imprisoned : Derryman vindicated as all charges quashed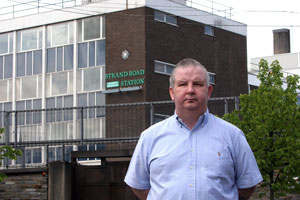 Waiting three decades for justice
Derryman Charlie McMenamin was falsely imprisoned in the late 1970s having been brutalised and intimidated into signing false statements. Last week, 29 years after his arrest, the High Court in Belfast quashed all charges made against him. McMenamin has waited almost three decades to be vindicated. Here he talks to ELLA O'DWYER about the history of the case, the treatment meted out to him in Strand Road Barracks in Derry and appeals to others who were falsely imprisoned to contact solicitors with a view to having their convictions challenged.
Charlie McMenamin was 16-years-old when, on Easter Sunday 1978, the door of his Bogside home was kicked in and the house surrounded by British soldiers and RUC men. Out the night before, he hadn't returned home until 2am – causing predictable tension with his mother.
"I'd been out until two o'clock in the morning. I had a row with my mother over it and sat on the stairs 'in the hump' and didn't go to bed until about 3am. About five in the morning I heard a lot of banging and noises outside – it was the Brits and the RUC."
McMenamin only had three hours sleep before being taken for interrogation to Strand Road barracks.
"It was very intimidating and scary – the whole area was surrounded, a lot of Brits. They searched the house – tore it apart. My mother was very distressed because they wouldn't let me be accompanied by either her or my father.
"I was taken in the back of an armoured British Army vehicle – we called it a 'pig' then – it was a big, big steel vehicle in the shape of a pig. On arrival I was taken to see a doctor, which was the usual process. My first interview was around 9am. I had hardly slept and the fear factor was there. When you'd have a mother or father with you you'd be perky enough but it was my first time arrested without either of my parents there and I never saw either them or a solicitor for the first 48 hours."
Charlie was interviewed  over a three-day period without the presence of a solicitor or parent, another breach of regulations. The RUC questioned him about the killing of a policeman the previous February.
"One of them slapped me about – a big heavy man – he took his coat off and rolled his sleeves up and told me he'd make my life very, very hard over the next few days."
The interrogator was true to his word and the 16-year-old ended up wishing to be anywhere – even in prison – other than in that barracks.
"I remember at one stage he knocked me off the chair and started kicking me on the ground. I was afraid and didn't want to rattle him so I tried to keep still, hoping he'd stop bothering me. But he lifted me by the hair back up onto the chair. That went on for about two hours and I kept saying I wasn't involved and that I knew nothing about the killing of the policeman. When I was brought up for interview in the afternoon it was the same thing. Then they said – "maybe you weren't involved in the murder but in other matters".
"I ended up admitting involvement in the hijacking of a car just to get them off my back. Then they came into the room and put two guns on the table and asked me which one I'd been in possession of. They asked me if it was the one with the horse's head on it and I said yes, just to get them to leave me alone. They wrote up the statement and I signed it. 
"At that stage, psychologically, I was broke. I just wanted to get out of that police station – whether I went to jail or I died, I didn't care. I went downstairs to the cell at one stage. I unscrewed a screw from a radiator and I self harmed. I tried to cut my wrists.  Had I had a knife I would have killed myself."
McMenamin saw a doctor who bandaged him and noted the stressed state he was in.
"I ended up with bandages on both my arms and I told the doctor about what had been going on upstairs. Within 15 minutes of me telling the doctor of being beaten up stairs I was being interviewed again."
From here things got worse and Charlie ended up admitting to two charges of conspiracy to murder policemen in 1976.
"In fact in 1976 when those incidents happened I was in St Patrick's training school in Belfast and couldn't have been involved and I proved that at the time and since."
McMenamin's legal representatives advised him that if he fought the charges he'd end up getting 25 years so they made a plea of guilty on his behalf. In the meantime the DPP had decided in early 1979 to drop the more serious charges but somehow McMenamin's legal team weren't informed and he went to trial in late 1979. Because of the guilty plea he was sentenced to Borstal for up to two years – of which he served one year because he'd already served two years on remand in Crumlin Road Jail. He should never have served a day.
"I ended up pleading guilty to things I could never have been involved with. It was my age that saved me. When these incidents were supposed to have happened in 1976 I was only 14."
Charlie recalls that the SDLP were contacted by his mother at the time and showed no interest stating after a week that there was nothing they could do for her.
In later years Johnny Walker of the Birmingham Six persuaded Charlie to appeal to the Criminal Cases Review Commission. The Commission is the independent public body set up by parliament in 1997 to investigate possible miscarriages of justice in England, Wales and the Six Counties to decide if they should be referred to the appeal courts. In 2006 Charlie did just that and the Commission referred the case to the High Court.
The High Court last week quashed the charges against McMenamin, which ranged from conspiracy to murder, possession of guns, membership of a junior wing of the IRA and collecting information that could be of use for illegal acts.
Within a day of the High Court decision to quash the carges against him, eight people have contacted Charlie about their own false convictions.
"You see this case I've taken – it's not about me. It's about helping other people to get the courage to come forward now and look for justice in their own cases," he said. Charlie McMenamin, like so many others, had his life badly hampered by a corrupt and ruthless police force but he's far from bitter in his outlook and says the experience made a very strong person of him. Asked, in view of his experience of interrogation, how he felt about recent developments on policing in the North he said: "I'm for policing  –  we need policing."

An Phoblacht Magazine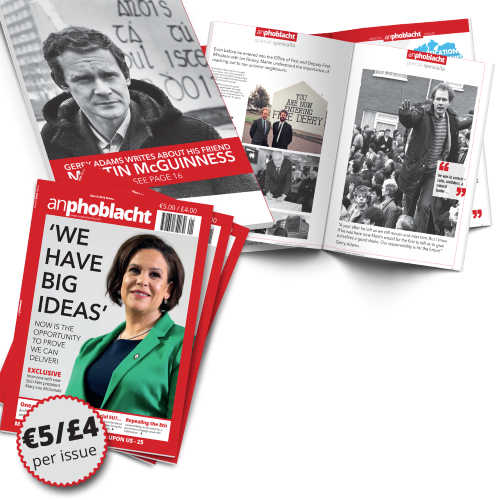 AN PHOBLACHT MAGAZINE:
The first edition of this new magazine will feature a 10 page special on the life and legacy of our leader Martin McGuinness to mark the first anniversary of his untimely passing.
It will include a personal reminiscence by Gerry Adams and contributions from the McGuinness family.
There will also be an exclusive interview with our new Uachtarán Mary Lou McDonald.
test