10 May 2007 Edition
Fifth Column
Fine Gael's bandwagon
Reminiscing on his RTÉ radio show on Monday night about memorable election campaigns in years gone by, and how large open-air meetings are indeed a thing of the past, Vincent Browne recalled the 1960s, when he was a member of Young Fine Gael in Dublin.
The Blueshirts used a flat-back lorry opposite The Oval Bar in Abbey Street, off O'Connell Street and near the old Irish Independent offices, from which Liam Cosgrave, Tom O'Higgins, et al addressed the masses during the 1966 presidential campaign. The lorry was supplied by someone Vincent said he knew well, one Christy Dunne.
Some members of the Dunne family were to achieve notoriety in the 1980s as being among the biggest drug-dealers in Irish history. The lorry used by Fine Gael, the self-styled law and order party, Vincent chuckled, "from which all these notables spoke had been improperly obtained".


Joe's soap
Producers of Fair City apparently want Labour TD Joe Costello's election posters for the RTÉ TV soap.
Costello says that the fictional suburb of Carrigstown is loosely based on part of the Dublin Central constituency "so I'm more than happy to facilitate them".
In the old days, one would have suspected a stroke by the anti-republican Workers' Party cadres in RTÉ who have since joined the Labour Party. To dispel any such misunderstanding, I'm sure the Montrose monitors will ensure that there is political balance and Mary Lou McDonald will be joining Joe on the telly.


Red flag to Fine Gael bull
On Sunday, some of Joe's would-be electors might have awoke after a night supping the vino collapse to think that they'd got a taxi to North Strand and ended up in North Korea. Red flags bearing Uncle Joe's name festooned every lamp-post, traffic sign and anything else that stood upright and stood still.
Joe's flagging campaign draws attention away from the fact that, as Labour's Europe and Defence frontbench spokesperson, he has been keeping quiet on US troops using Shannon for fear of upsetting the big guns in Fine Gael.
Labour in all but name
I wouldn't have been too upset if Fair City were looking to use another Labour candidate's posters.
Dublin North-East runner Tommy Broughan has supplemented his batch of official Labour posters with his own. They have everything: Tommy's mug-shot, his name and garish, circus-style colours.
The only thing they're missing, interestingly enough, is the Labour Party name. Just an oversight, I'm sure.


Cowen's borderline claim
Call me picky but Brian Cowen's claim at the Fianna Fáil election press conference on Sunday that Bertie Ahern is the most popular political leader "in the country" just isn't true.
Big Brian is obviously drawing on opinion polls as evidence, but those very same polls say that Gerry Adams is the most popular leader. Unless, of course, the man tipped as Taoiseach and the future leader of "Fianna Fáil, The Republican Party" doesn't consider the Six Counties part of Ireland.


Daily Mail spongers
The irony of the Irish Mail on Sunday's CD giveaway this week must have been lost on the dim young things in the Mail's marketing department.
The CD was by UB40, the reggae band that cut its teeth in the dark days of the Daily Mail's Page 3 tyrant, Margaret Thatcher, and took its name from the government code on the dole card. The band's early music highlighted the evils of racism and unemployment.
Included in the Mail selection was UB40's ground-breaking One in Ten, about the one in ten then unemployed in Britain, the jobless people so reviled and persecuted by the Thatcherite cheer leaders in the Daily Mail in London.


Payback time
The former president of Zambia has been ordered by the London High Court to pay back £23 million plundered from public funds to pay for his lavish lifestyle after the current Zambian government sued him.
Frederick Chiluba, who was president from 1991 to 2001, had a worldwide reputation as a smart and expensive dresser. He loved top-of-the-range, luxury shirts with his monogrammed initials.
Mr Chiluba and 19 of his cronies have 14 days to pay back 85 per cent of the money they've pocketed in their shiny suits.
Charles J Haughey must be turning his grave.


Celtic goalie saves family
Celtic goalkeeper Artur Boruc saved a heavily pregnant Polish woman from three racist goons who attacked her and her family with Doberman dogs.
Magda Kucko (27), her sister and brother-in-law were abused and assaulted by two men and a woman as they walked through a park on a Sunday afternoon in Glasgow's Govan district. Despite being obviously pregnant and within days of giving birth, Magda was kicked in the back after a beer can hit her on the head. Her brother-in-law had his ear bitten by one of the bigots and he was pummeled to the ground. Her sister was punched in the face.
Hearing Magda's screams, Celtic's Artur ran to their aid. When the 6-foot 4-inch goalie confronted the bullies, the three thugs fled. The Celtic hero insisted on taking Magda's family to hospital to make sure they were alright.
Magda had no idea who their rescuer was but she said afterwards:
"Artur is a very brave man, a hero. I cannot bear to think what might have happened if he had not been there for us. We will never forget his courage."
Artur (27) played down his bravery. "I am not a hero. I just did what any ordinary person would have done."
Fair play, Artur.


Celtic salute for anti-fascist fan
Two more veterans of the Spanish Civil War passed away in the past few weeks: Bob Peters, from Glamorgan in Wales, and James Maley, from Glasgow, who served with the International Brigades.
Bob Peters was wounded in Spain; James Maley was captured by Franco's forces. Both were repatriated and later saw service in the Second World War, Bob Peters with the London Irish Rifles.
As well as being a father of nine who still had the energy to remain a politically active trade unionist and tenants' rights campaigner, James Maley was a life-long Celtic fan.
In the days after James's death, two 30-foot-long banners were unfurled in his honour at Hampden Park during Celtic's Scottish Cup semi-final tie against St Johnstone. They bore the slogan used by the republican defenders of Madrid against the fascists, "They shall not pass." The banners said: "James Maley RIP. No pasarán."

An Phoblacht Magazine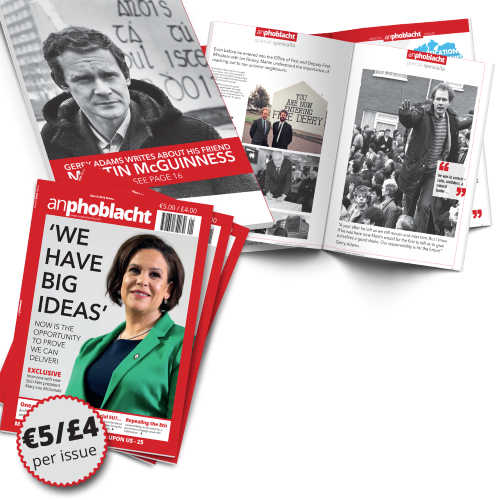 AN PHOBLACHT MAGAZINE:
The first edition of this new magazine will feature a 10 page special on the life and legacy of our leader Martin McGuinness to mark the first anniversary of his untimely passing.
It will include a personal reminiscence by Gerry Adams and contributions from the McGuinness family.
There will also be an exclusive interview with our new Uachtarán Mary Lou McDonald.
test