10 May 2007 Edition
The Matt Treacy Column
Fascinating summer ahead
As we eagerly await the start of this year's senior championship there has been some talk of whether the qualifier, or 'back door', system is working. Particularly as it applies to football. No-one seems inclined really to tamper with the hurling any more. Just content to hope that there will be a few games to remember before either Kilkenny or Cork win the All Ireland!
There have been some changes introduced to the football format which mean that teams playing in Division Four of the league in 2008 will no longer get a second chance if beaten in the first round. That will add a certain bite to some games but for most counties once the brief excitement, and fleeting illusions of grandeur, are past interest soon dies and there is little expectation that many of the back door fixtures will attract much attention or large crowds.
Sudden death potentially awaits Antrim, Clare, Carlow, London, Offaly, Tipperary, Waterford and Wicklow. In truth only Offaly could have any expectation of advancing much further but it will provide an added spice to their first round game against Carlow and their meeting with either Meath, Kildare or Dublin in the Leinster semi final. It will be interesting to see what effect the Sword of Damocles will have on a side that certainly has potential even if inclined to be erratic.
Sunday sees Cavan take on a Down team that is probably as poor a side to wear the black and red as any in 40 years. Cavan showed some potential in the league and must be fancied to advance especially with home advantage. Cavan have arguably the easy side of the draw and, despite my 'chequered' record of forecasts last year, are my each way tip at 18/1 for Ulster. The winner will most likely come from the other side and despite Donegal having won the league I am going to go for Tyrone to come through.
Leinster begins on Sunday with the clash of Westmeath and Longford in Pearse Park. Longford excelled themselves last year but seem to have lost some of that bite while Westmeath had a good league. Westmeath to advance and to provide us with an interesting game against Laois in June to decide who gets to be beaten by Dublin in the final!
I jest my friends, I jest. Dublin will have a marginally stiffer route to the final this year with an expected quarter final against the winners of Kildare and Meath and the winners of that meeting Offaly. I expect Meath to beat Kildare and that Meath will give Dublin a match but that Dublin at this stage have probably a bit more against a team that has good players in wrong positions and not enough good players to begin with. Offaly, as I said, will be a different proposition. Dublin, probably, to win Leinster but at 6/5?
Munster is not a betting proposition. Kerry will win it if it suits their schedule which is designed to peak on September 16 rather than the first of July. It won't bother Kerry if they have to follow the same route as last year. They are unlikely to meet any opposition of substance until the semi-final which, if both avoid the back door, could well be the long anticipated clash between Kerry and the Dubs. It probably says all you need to know about relative expectations that this would be regarded as the highlight of the year for ourselves while for Jack O'Connor it would most likely be seen as a colourful staging post on the way to another All Ireland.
The destination of the Connacht title will be decided, barring unforeseen shocks, on Sunday week in Galway when the hosts take on Mayo. Galway are a bit of an enigma. They were dreadful last year against Westmeath and seemed almost relieved that they would not be exposed in the harsh light of Croke Park and a peak viewing audience. They will be up for it against Mayo who are still jittery and possibly vulnerable to the loss of further key players as the Summer progresses. Still, they will probably beat Galway and retain the Nestor Cup, a feat they have not accomplished since 1997. Possibly a better bet than the Dubs at 6/5.
So there you go. Plunge the SSIA money on Tyrone, Dublin, Kerry and Mayo to win the provincials. Not much value individually but a reasonable 15/1 or thereabouts accumulator.
After that it becomes a tad more complicated! With the likes of Cork, Laois, Meath, Armagh, Donegal, Galway and others hovering around the qualifiers, there are bound to be some interesting encounters in the quarter finals. Connacht is seeded against Ulster and Munster against Leinster but that only becomes any assistance as a predictive tool if losing provincial finalists proceed through the qualifiers.
If that were to be the case then there is the possibility of Dublin meeting Cork at the quarter final stage. With some of the stronger provincial sides likely to exit prior to provincial finals there is an added element of unpredictability. So that when Armagh or Donegal go out they are likely to resurface against one of the other contenders.
So it all promises to make for a fascinating Summer and that is without even making allowance for a few major upsets along the way. Unfortunately, however, while a team like Longford last year, might pull off a surprise or two in reality the winner is only ever going to come from a select band.
My four predicted provincial winners are likely to be around in August and not surprisingly comprise the first four in the betting. Beyond that I will stick my neck out and say that the quarter finals will feature the above along with Armagh, Donegal, Cork and Cavan.
Happy punting. Next week. How to lose your home by following Mattie's tips for the hurling championship. Think of me as a kind of anti-Eddie Hobbs.

An Phoblacht Magazine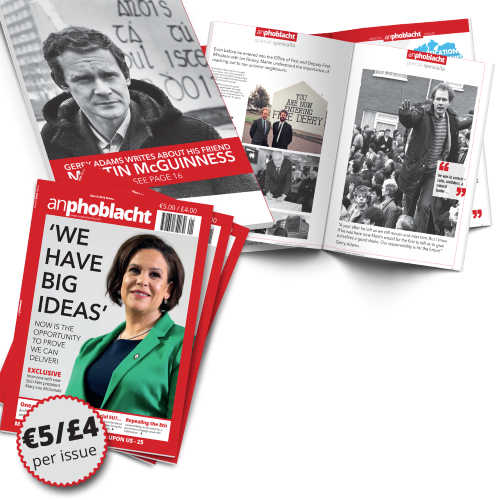 AN PHOBLACHT MAGAZINE:
The first edition of this new magazine will feature a 10 page special on the life and legacy of our leader Martin McGuinness to mark the first anniversary of his untimely passing.
It will include a personal reminiscence by Gerry Adams and contributions from the McGuinness family.
There will also be an exclusive interview with our new Uachtarán Mary Lou McDonald.
test