10 May 2007 Edition
General election 2007 : A view from the South
This week ROBBIE SMYTH profiles constituencies in Munster and South Leinster, two regions where today there is only one Sinn Féin TD, Martin Ferris in Kerry North, but by 25 May Sinn Féin support figures will show a very different picture as the party capitalises on gains made in the 2004 local and EU elections which brought the first Sinn Féin members onto Cork, Waterford and Wexford county councils, while growing representation on Cork City and Kerry County Councils. 
Munster and South Leinster
Carlow Kilkenny
          vote    % of poll
2002    2,078    3.42
Sinn Féin didn't field a candidate here in 1997 and in 2004 the party contested just one out of the five electoral wards in Carlow and two in Kilkenny, but there has been strong local growth organically over the last three years shown particularly in the impact of new candidate Kathleen Funchion.
Originally from Callan and currently living in Kilkenny city, Kathleen joined the party in August of 2003 and was very active in Kilkenny city during the 2004 local elections. Kathleen is 24 years of age and was selected as the general election candidate for the Carlow/Kilkenny constituency in June 2005.
Currently she is the Sinn Féin Equality Officer for the Leinster area and has also been involved with human rights work and was part of a human rights delegation that travelled to Colombia in June of this year to examine human rights abuses there.
CORK EAST
          vote    % of poll
1997    1,534    3.56
2002    2,624    5.73
In 1994, Sinn Féin had no representation in Cork, but small victories in that year's local elections, followed up by a breakthrough onto Cork City Council in 1999 and further gains in the county's town councils have all lead to a growing belief that at least one of the Cork constituencies could be a breakthrough for Sinn Féin this time around.
Cork East contains Cobh, Mallow, Middleton and Youghal Town councils, all areas where there are now Sinn Féin elected councillors, with Youghal electing two in 2004.
One of those new town councillors, Sandra McLellan is the Sinn Féin Candidate for Cork East. Sandra is a working mother, acutely aware of the pressures on families in Ireland toady and is a passionate campaigner on equality issues.
Sandra, a Youghal Town Councillor, has worked in developing Sinn Féin health care policy particularly around the need to provide good preventative cancer care.
CORK NORTH CENTRAL
          vote    % of poll
1997    1,654    3.76
2002    2,860    6.34
Now a four seater, this constituency has changed considerably in recent years, with Progressive Democrat and Democratic Left TDs losing seats in 1997, followed in 2002 by Fine Gael losing the seat they gained at the expense of Labour/DL. This time around the constituency, reduced from five to four seats, is a target for Fine Gael and Labour who want to hold their seats. It would seem a tough task for Fianna Fáil to hold on to the three seats won in 2002 with just 41.48% of first preferences.
Also in with a strong chance is Sinn Féin's Jonathon O'Brien. O'Brien topped the poll in his ward in the 2004 local elections and at 31 is the youngest member of Cork City Council. He is a Sinn Féin Ard Chomhairle member.
Jonathan is a member of the management board of his local primary school and a trustee of his local secondary school. With young children himself he is acutely aware of the need for proper childcare services and has campaigned for better housing provision and the improvement of the local health services.
He has also been to the forefront of attempts to have a waste removal system based on recycling and re-use introduced and is vehemently opposed to incineration or super dumps being introduced into Cork.
CORK SOUTH CENTRAL
          vote    % of poll
2002    2,063    3.73
Another five seat constituency not contested by Sinn Féin in 1997 caused an upset for Fine Gael in 2002 when they lost one of their two seats to the Green Party's Dan Boyle. Fianna Fáil holding their three seats with 48.57% of first preferences will be a challenge and the decision of often outspoken PD chairperson John Minihan crossing the river from North to South Central adds a new dimension to this constituency. Labour too will be trying to win back a seat they lost in 1997. Sinn Féin's Roisin O'Sullivan won a seat on Passage West Town Council which is in the constituency in 2004.
Henry Cremin is the Sinn Féin candidate. A recent Evening Echo Red C poll put him at 6% of first preferences. A resident of Greenfields on the Model Farm Road, Henry is a very active member of his community, involved in his residents committee and a founding member of local fishing and youth clubs.
An experienced election candidate, Henry represented the party at the 1999 & 2004 local elections narrowly missing out on a seat in the 2004 polls. 
CORK SOUTH WEST
          vote    % of poll
2002    2,207    5.85
This three-seat constituency is one of the most geographically diverse in Cork, running from the suburbs of Cork City and Kinsale town in the east to Bantry and Glenbeg in the west.
Like Cork East there is strong Sinn Féin representation in the town councils of Bandon, Bantry, Clonakilty and Skibbereen where Sinn Féin has elected councillors. Sinn Féin candidates topped the poll in Bantry and Clonakilty where Cionnaith Ó Súilleabháin, the Cork East candidate for 2007  brough a second Sinn Féin representative onto the council.
Cionnaith is one of the most dynamic Sinn Féin local representatives in Munster and his work on a range of issues such as making Clonakilty a fair trade town, or the quality of local housing has a massive impact. He was first elected to Clonakilty Town Council in 1994 and doubled his vote in 1999.
As well as his council duties, Cionnaith is an active member of numerous local and national organisations including the Post Office Action Committee, Special Olympics Committee, Fairtrade Steering Group, Independent Workers' Union, Carbery Housing Association, Glór na nGael, the Peace and Neutrality Alliance (P.A.N.A.) and Cork Environmental Forum.
KERRY NORTH
          vote    % of poll
1997    5,691    15.91
2002    9,496    24.24
2007 will mark a decade of Sinn Féin growth in Kerry, with the election of Martin Ferris in 2002 just one of the recent highs. Ferris's victory was all the more impressive considering this was a hotly contested three-seater and that he was subjected to constant Garda harassment in the run up to the 2002 poll.
In 2004, Sinn Féin cemented their electoral growth in the constituency by holding their town council seats in Listowel and Tralee, narrowly missing out on a second seat in Listowel. In the 2004 County Council poll, Sinn Féin not only held their Tralee seat, Toiréasa Ferris topped the poll, while the party took a new county council seat in Listowel.
This time round Martin Ferris seeks to hold the seat for Sinn Féin. Martin is a Sinn Féin Ard Chomhairle member and Leinster House spokesperson on Agriculture, Rural Development, as well as Marine and Natural Resources.
KERRY SOUTH
Sinn Féin has not contested this second Kerry three-seater in recent years but did contest two of the three Kerry South county council wards in 2004 as well as Killarney Town Council. This time around the party will run Lynn Ní Bhaoighealláin.
Lynn is Public Relations Officer for Sinn Féin in Kerry and is a committed activist, republican and environmentalist and a vital part of the Sinn Féin team in South Kerry. Born in Dublin in 1976, she was reared in Tallaght and following her leaving cert completed a certificate in journalism before pursuing studies in environmental management and ecology. Lynn came to Killarney in 1997 as a volunteer on the rhododendron clearance programme in the National Park, and over the course of the next few years co-ordinated this programme during the summers before obtaining full time employment as an Ecologist in Killarney National Park Education Centre.
Lynn's local campaigns include working for road safety measures along the old bog road in Lahard, speed measures outside Faha National School. She supported the Joanne Delaney campaign and the Official Languages Act, opposed the rezoning of land in Aghadoe and made representations to Eircom regarding the lack of telecommunications in the Black Valley.
LIMERICK EAST
Again new ground is being broken by Sinn Féin who didn't fight this five-seat constituency in 1997 or 2002. The party did contest the 2004 local elections in two Limerick city council wards and Maurice Quinlivan, the Sinn Féin Leinster House candidate for Limerick East took 8.68% of first preferences in the Limerick No1 ward. Maurice, aged 40, is a Travel Agency manager originally from Ballynanty Beg but now living in the Thomondgate area of Limerick City.
Maurice emigrated to England after graduation for nine years and on his return rejoined Sinn Féin where held posts on both the Munster Cuige and the Ard Chomhairle. Quinlavan believes the voters' priorities in the area are health and crime and Sinn Féin in Limerick have just completed a very comprehensive policy document outlining proposals for addressing problems related to places like Moyross.
They are calling for local employment to be developed in Moyross itself and for tax breaks and incentives for people wishing to establish business enterprises in the area.
 TIPPERARY NORTH
Sinn Féin didn't contest Tipperary North in the 1997 or 2002 Leinster House elections, the three seat constituency has consistently returned two Fianna Fáil TDs and one Fine Gael up until the 1996 resignation of the disgraced Fine Gael minister Michael Lowry who has topped the poll in the last two elections as an independent.
The party did contest the 2004 local elections electing councillors in Thurles and Nenagh town councils. In Nenagh, Sinn Féin's Seamus Morris topped the poll, with 10.57% of first preferences and he is the candidate for Tipperary North in 2007.
In the county council elections Sinn Féin contested two out of the four wards and took over 1,000 votes so there is a realistic possibility of a strong showing in the constituency this time around.
Seamus Morris, whose full time job is as a postman, has worked on the council to see local democracy strengthened and brought closer to people in a meaningful, effective and efficient way.
The critical issues in Tipperary North in this election for Seamus are job creation, policing and the justice system, rural and urban planning, the environment, education, health, and tackling the drug problem.
TIPPERARY SOUTH
          vote    % of poll
2002    1,210    3.3
Another three-seater it set an electoral precedent in the 1997 to 2002 period as the constituency had two by-elections, the first of which saw the election of independent, unemployment activist Seamus Healy who held the seat in 2002.
Sinn Féin contested four of the five county council wards in 2004 and took 1,709 votes showing ongoing growth from 2002. The party also won seats on Carrick-on-Suir and Cashel town councils.
Liam Browne is the 2007 Sinn Féin candidate and at 34, is one of the youngest candidates nominated in South Tipperary.
Liam grew up in Cashel, and now lives in Rosegreen in West Tipperary. His father Michael currently serves on Cashel Town Council.
Liam's particular interests are in the areas of Rural Development and overall economic policy, and has served on various Sinn Féin sub-committees, and workshops in these areas. Liam's core campaigning issues in South Tipperary are the high cost of housing, the deterioration of health services as well as crime and public safety.
WATERFORD
          vote    % of poll
2002    2,955    6.35
A strong showing for Sinn Féin's David Cullinane in 2002 was built on in the 2004 local elections when he was elected onto Waterford City Council, along with Joe Kelly. The Sinn Féin vote was further strengthened by the election of party colleague Brendan Mansfield onto Waterford County Council and Dungarvan Town Council.
As well as his council work David Cullinane works as a researcher for Sinn Féin attached to Leinster House. In Waterford, he chairs the Ward 3 Area Committee and the Local Traveller Accommodation Consultative Committee as well as serving on the Housing and Environment Strategic Policy Committees. He is a director and Management Committee member of the Larchville and Lisduggan Community Development Project.
David has been a member of Sinn Féin's Ard Chomhairle since 2003, He was involved in the campaign for Public Radiotherapy provision at Waterford Regional Hospital and has particular interest in housing and health issues.
WEXFORD
          vote    % of poll
2002    4,964    8.22
Sinn Féin's vote surged in the 1999 local elections with represesentatives elected to Enniscorthy, Gorey, New Ross and Wexford town councils. In 2002 John Dwyer polled impressively in this five-seater and in the 2004 local elections Sinn Féin retained the four seats won in 1999, topping the poll in Gorey and taking two new county council seats and over 5,100 votes when the total valid poll had fallen from 66% in 2002 to 56% in 2004.
Councillor John Dwyer who lives in news Ross is again the Sinn Féin candidate. A trade union official for 17 years, he is involved in campaigns against incinerator proposals, dangerous phone masts, 'super dumps' and low pay.
John has consistently made representations to New Ross UDC, Wexford County Council, the Department of Environment and the South Eastern Health Board on behalf of constituents from all over Wexford highlighting the poor state of roads, urban and rural disadvantage, housing problems and bad planning.
He has been publicly promoting creative solutions to a wide range of problems e.g. getting the local council to purchase private developments for social housing needs and a council levy on derelict sites.
WICKLOW
          vote    % of poll
2002    1,527    2.8
Substantial population movement, the stepping down of sitting TD Mildred Fox and five seats make Wicklow one of more difficult constituencies to predict an outcome. John Brady is the Sinn Féin candidate. He won a seat for Sinn Féin on Bray Town Council in 2004, but the party also grew throughout the constituency taking 3,564 votes across the five wards, giving the party over 6.5% of first preferences in the constituency.
At 33, John Brady is the youngest Wicklow councillor and is also the youngest candidate in Wicklow. He is self-employed and runs his own wood-working business.
Director of Elections in the 2002 election, John also played a major role in building the party in Wicklow, serving as chairperson of the Delaney/O'Rahilly Cumann in Bray and as secretary of the Comhairle Ceantair.
Since his election John has built a reputation for being a hard worker and has drawn praise for his stance on environmental issues, the housing crisis and the drugs problem, which has destroyed many communities in Wicklow.
John is currently heading a campaign in Wicklow to have a General Hospital located there, which would provide Maternity, Paediatric and Accident and Emergency services.

An Phoblacht Magazine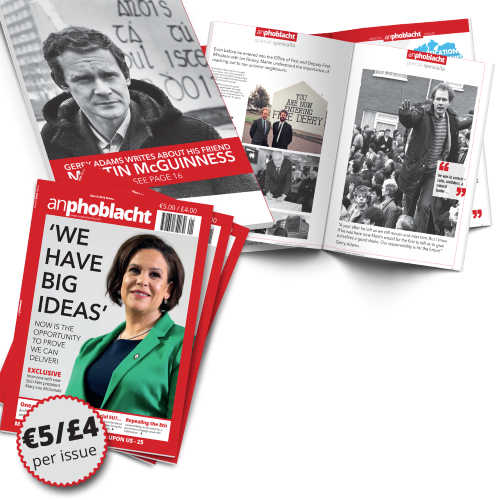 AN PHOBLACHT MAGAZINE:
The first edition of this new magazine will feature a 10 page special on the life and legacy of our leader Martin McGuinness to mark the first anniversary of his untimely passing.
It will include a personal reminiscence by Gerry Adams and contributions from the McGuinness family.
There will also be an exclusive interview with our new Uachtarán Mary Lou McDonald.
test