26 April 2007 Edition
Media View
Pity the poor consultants
Socialist republicans, trade unionists, feminists, travellers, immigrants and all those who are subject to vicious media campaigns whenever they are in struggle, should feel a pang of sympathy for the media's latest target – hospital consultants.
The media hatred and distortion of these maligned 'workers' who are being ground down by the Thatcherite policies of Mary Harney has stirred the folk memory of Dublin workers who remember the lash of William Martin Murphy's Irish Independent against Larkin and his union members. Already, boats are being requisitioned to ferry the children of these starving proletarians to England where 'Surgeons in Solidarity' with their Irish brethren are preparing soup kitchens and dormitory accommodation for the little chisselers from Foxrock and other parts of the South Dublin ghetto now under siege. We can, of course, expect the yellow press to whip up a storm against the passage of Irish Catholic children to Pagan England where their morals will be corrupted and their little minds twisted by Communist agitators.
The 'union', IHCA (Irish Hospitals Consultants Association) is battling with grit and determination against this vicious distortion of the consultants' demand for a living wage and have pointed out that Mickey Mouse, not to mention the Seven Dwarves – Heigh Ho, Heigh Ho, it's off to golf we go – would not tolerate such abject working conditions and wages. The 'Mickey mouse' soundbyte will go down in the annals of those other exploited victims – public relations consultants – as one of the own goals of all time in their distinguished profession's history.
Fear not. The fightback has started. Following some typical distortion of their plight by one or two columns in the dailies, the consultants have waged war via the letters page of  The Irish Times. They are not interested in mere money, you understand. They are concerned with the strictures against their ability to speak out in favour of patients (no such measure is proposed); they are worried about undermanning (a situation contrived by themselves to ensure scarce, highly paid consultants) and they are concerned at the imposition of a majority of non-medics on the Medical Council (ie, they are to be made accountable).
Brave voices have been raised in the letters pages of The Irish Times where a Cork surgeon wrote with passion about consultants' "scarcity, the brutality of their training and the bureaucracy in which they are daily mired". He wrote also of the plight of their British brothers and sisters who were, he wrote, the object of "a vicious, politically motivated smear campaign" and he reminded readers that "Doctors really are motivated more by professional values than by money."
The hate filled media cannot fool the people, though. Already, ballads reminiscent of Joe Hill and other Woody Gutherie numbers are being penned in the back gardens, sorry streets, of Rathgar and Stillorgan.
Consultants will learn the bitter lessons of this struggle, namely, that while the media normally belongs to the rich and privileged, every now and then the bastards remember that they, too, have professional values and are, occassionally, unable to deny the truth.

******************
Fintan O' Toole has been both saddened and heartened by the serious money that is being forked out by punters for memorabilia from 1916 and other periods of republican history. He is appaled at the vulgarity of the nouveau riche who would turn history, like art objects, into consumer goods.
But O'Toole is relieved that relics of "violent nationalism", like communist symbols from Moscow and Peking, have been rendered harmless and that therefore, both have been consigned to history forever.
Well. Let's hope so, Fintan. But further nightmares may be ahead for the Dublin working class boy who has forgotten his roots in both these traditions, as when he was an adherent of the Stalinist, 'Official Republican Movement'. There was a time when that organisation clung to the notion that progress towards Irish socialism could be effected by whatever means were forced upon the Irish people. Republicans of whatever vintage or revision have never made a fetish of violence, believing that Ireland could be claimed by its people by political means. The tactics were rarely, if ever, determined by republicans who merely responded to the measures of Britain and its local servants, North and South.
Republican violence has been discarded but republican politics are stronger than at any time in the last 90-odd years. Can we expect all those revisionists who were appalled by violence to now swing round to the republican ideal? Are O'Toole, Eoghan Harris et al now campaigning for a united Ireland now that the gun (republican, at any rate) has been taken out of the equation? Answers, please, on a post card to the editor.
 
An Phoblacht Magazine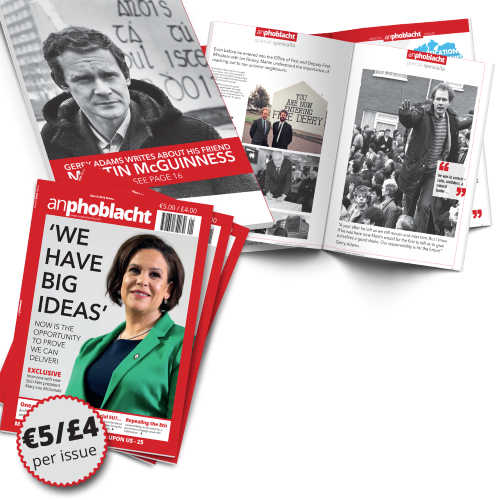 AN PHOBLACHT MAGAZINE:
The first edition of this new magazine will feature a 10 page special on the life and legacy of our leader Martin McGuinness to mark the first anniversary of his untimely passing.
It will include a personal reminiscence by Gerry Adams and contributions from the McGuinness family.
There will also be an exclusive interview with our new Uachtarán Mary Lou McDonald.
test