26 April 2007 Edition
The Matt Treacy Column
Begrudging admiration between Dubs and Royals
Unfortunately for Cavan the football playing, socialist space aliens failed to appear in Croke Park last Saturday. That ensured that the defeat of the forces of neo-Cavanism was inevitable. Still it was nice to see the royal blue jerseys back.
Cavan's cause was not helped by some strange positional play. Fermanagh exile Rory Gallagher spent most of the match a long way out from goal and even though he scored three points and won a fair bit of the ball this meant that oftentimes it was being kicked in to unmarked Roscommon defenders.
Roscommon in contrast were direct and this paid dividends especially in securing them vital goals at times when Cavan were threatening to take a grip of proceedings. Once voted The Team Most Likely to Make a Holy Show of Themselves, the Rossies have moved on from the days when late night nude pool tournaments were their favourite means of recreation and male bonding.
One well known player at that time felt so secure in his masculinity that he was filmed roaming around the team hotel in female lingerie. The best comment on the whole episode came from County Board Chair Stephen Banahan who said that while some of the stories had been exaggerated, some of them had not.
Manager John Maughan has taken them in hand – perhaps an unfortunate turn of phrase but how and ever – and most of the more highly strung and erratic chaps from a few years ago have been shown the door. Winning the minor All Ireland was a huge boost for the county last year and there is a new confidence about them.
Talking of misbehaving players puts me in mind of former Manchester City and QPR star Rodney Marsh. He had a bit of a reputation as a messer which probably prevented him from being picked many times for England. On the last occasion he was selected he was warned by the austere Sir Alf Ramsay that he was watching him and that he might pull him off at half time. To which Marsh replied, "Thanks Alf, at City all we get is an orange and a cup of tea."
Roscommon now face Meath in the final next week after the latter easily overcame a Monaghan side that never really looked like they were going to make an impression despite their great run in the divisional part of the league.
To all intents and purposes Meath had put the game to bed by the end of the first quarter when they led by eight points. Two goals from Joe Sheridan and Stephen Bray in the third minute were too much for Monaghan who in fairness battled back but were killed off by a third goal from Peadar Byrne ten minutes into the second half.
I have a soft spot for Meath – as does anyone who ever played against them, usually around the kidneys! – but I could feel a trickle of cold sweat last Saturday as I pondered their possibly meeting with Dublin in June. They are far from the finished article but a couple more games in Croke Park and a win against Kildare would tee them up nicely for a go off the Dubs. A confident Meath against a psychologically brittle Dublin will relish the prospect.
Meath manager Colm Coyle was forced to sit out the match in the stand as a consequence of having used bold words when abusing a linesman during Meath's league match against Wicklow. Coyle won All Irelands in 1987, 1988 and 1996 making him, along with the other great wing half back on that team, Martin O'Connell, the only Meath man ever to win three. And let's hope ever means ever!
Coyle was a particular 'favourite' of the Hill on foot of his tremendous battles with various Dublin half forwards. To say that those games were tough and uncompromising would be to grossly understate the issue. You'd nearly feel sore yourself just watching them.
Dubs and Royals tend to perhaps over-romanticise those great clashes but there was actually little that was nasty in any of it. Sometimes the football was dour but it was always exciting and the tension around them resulted in tight finishes in all except maybe two or three important matches over the years.
A begrudging admiration for one another also developed and I recall watching the 1996 final in a pub where the locals were genuinely surprised that the few of us Dubs there were all cheering for Meath against Mayo. The barman said to me "Jaysus, I thought ye lads hated them fellas." "Well we do but they kind of grow on you after a while!" 
There was also the thing that Meath in the 1990s had managed to achieve the unthinkable and become even more disliked than the Dubs whose serial spectacular disasters between 1989 and 1994 actually made people feel sorry for them! No one ever felt sorry for Meath and they'd have been worried if they had. Dubs empathised with our neighbours and offered them moral support. Especially when they were thumping the heads off lads!
Speaking of Mayo, their long run of losing finals in Croke Park continued last Sunday when they went down to Donegal who won their first ever league title. So naturally enough they are pleased with themselves and more importantly are looking forward with confidence to the Ulster championship which for them begins with a clash with Armagh on May 27 with a tough fixture against Armagh who have had the better of them in recent years.
Donegal will be confident of turning the tables on them this year and there are many who fancy them to go far this year. They will be contenders but Ulster will be no easier this time than it ever is. 

An Phoblacht Magazine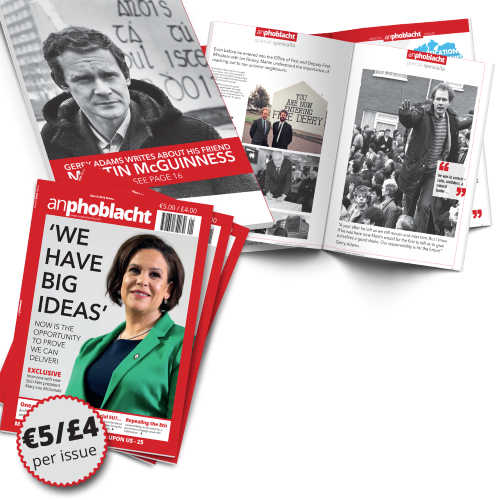 AN PHOBLACHT MAGAZINE:
The first edition of this new magazine will feature a 10 page special on the life and legacy of our leader Martin McGuinness to mark the first anniversary of his untimely passing.
It will include a personal reminiscence by Gerry Adams and contributions from the McGuinness family.
There will also be an exclusive interview with our new Uachtarán Mary Lou McDonald.
test