26 April 2007 Edition
Dáil General Election Profile : Ann Marie Carroll, Galway West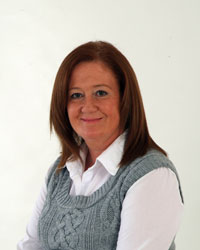 Working hard for Galway West
With an entire city living off bottled water and an epidemic of gastric ailments, the good people of Galway are rightly fed up with their current crop of bickering yes-men. Step up to the plate Ann Marie Carroll, Sinn Féin's candidate for Galway West.  Anne Marie, (45) is married to David for 24 years and they have five children, Donna (23) Liam (22) Laura (21) Steven (14) and David (11). Anne Marie knows all about hard work. Here, she chats to An Phoblacht's PHILIP CONNOLLY.
How do you like to relax?
I have to say that between family and party, I don't get much time to relax. Whenever I'm not at home working I'm out with the party canvassing.  I do like to get out for a walk or sometimes just drive around our beautiful coastline here in Galway.  My husband passed his test in the car recently so we are both looking forward to getting out a bit more than we have up to now. David has a disability. He is mobile, but he has had a very tough time. He contracted meningitis in 1990 and suffered two strokes while in a coma. As if that wasn't bad enough he also suffered a brain haemorrhage in 2004. It is very difficult to explain the demands that makes on the lives of those in the family.      

Are you a TV or reading type?
I'd have to say I'd be more of a telly person. I do like to read but I'm definitely more of a telly person. I love Eastenders. It's probably the one programme I don't like to miss. With so many demands on my time I suppose that telly is just the more convenient. I am reading a great book at the moment though. Its called A Short History of Tractors in Ukrainian.  Its written by a woman called Marina Lewycka. It's a great read, and a really funny book. I suppose what it says is that parents are people in their own right. Free to make mistakes. It's true, you don't get to choose your parents, but that doesn't stop them from being people in their own right.    

Whose job would your life experience qualify you to do?
I would say Kofi Anan's. I'm a great peacemaker. It comes from having five kids. I think all mothers need to have that skill. So I think there would be a lot of competition for the job. But for a job less head wrecking, I'd probably take Gordon Ramsey's job. I like cooking and it's something I do make time for when I can. I could probably get used to the swearing if I was getting paid for it! I love cooking for family and friends and I think I'm fairly good at it, if I do say so myself.

What is in your CD player at the moment?
It's a Best of the 60's.  I love 60's music. From Elvis to the Beatles. But I have a broad taste in music at the same time. Galway has a great tradition in music. Our own Mary Coughlan is my favourite local artist. 

What do you love most about Galway?
Well, apart from the people who make Galway what it is, I would have to say that I love the landscape here. I get quite captivated by it. If you drive along the southern coast of Galway for fifty miles, the chances are that you will have experienced a hundred shades of light and shadow. That is what attracts so many artists to Galway and the west coast.  I am not a wind-swept arty type, but there is a beauty to the place that cannot be denied. It's the beautiful landscape and it's the people of this place. That's what makes Galway such a beautiful place.    

How did you become involved in Sinn Féin?
Well, I don't come from a political family at all. I was involved with a local pressure group that was campaigning against the widening of Seamus Quirke Road.  Sinn Féin was also involved in the campaign as were other parties, but I liked the community ethos that was Sinn Féin's bedrock. I joined in 2002. I ran in the 2004 local elections and just lost out by 13 votes. It was a tough campaign for me because David fell ill in the middle of the campaign. I was travelling up and down to Dublin while still trying to run the campaign. I really don't understand it when people call politicians lazy.  A lazy person wouldn't stand a chance in the job. But the party here is very supportive. We have about 30 people who work really hard for Galway West. They give great support and I think it is their empathy for the ordinary people that I most admire. Sinn Féin is rooted in the community and that is its major strength.   

What do you think are the biggest problems that need addressing in Galway West?
Well, the obvious problem facing the county, and I would have to say the entire country, is the wholesale destruction of the environment. The water problem here in Galway is just what you get when you treat the environment as a bottomless cesspit.  The system of Nitrate Management Plans doesn't work and would not be tolerated in any other country.  The system is open to abuse. In Ballinasloe they are still spreading human waste on the land despite the fact that people are not even safe brushing their teeth with the water here. There's an advertisement on the radio at the moment appealing for donations for clean drinking water for third world countries.  The irony has not been lost on the people of Galway and there's a coinciding joke doing the rounds here too.  
There is a big problem with drugs here. If the drug problem were dealt with here then there would be a lot less crime. There has been a rise in gun crime here and it all links in to the same problem. A lot of the anti-social crime is purely around the drug problem, but there is nuisance crime too, which is easily dealt with once communities take a strong stand together.
There is also the issue of the FF/PD's giving land to the private sector to build private hospitals. Personally, I find that repulsive.
I think we need a better deal for women as well. Women always have to work much harder at what they do. Men can put on a suit and the job is already half done. Women have to go that one step further all the time. If a woman has kids, it automatically becomes an impediment. But if a man has kids, sure he's a great man altogether, out there providing. That has to change.  Irish women are made of much tougher stuff and they won't put up with that attitude. You don't have to be a rabid feminist to recognise bullshit when you see it. 

An Phoblacht Magazine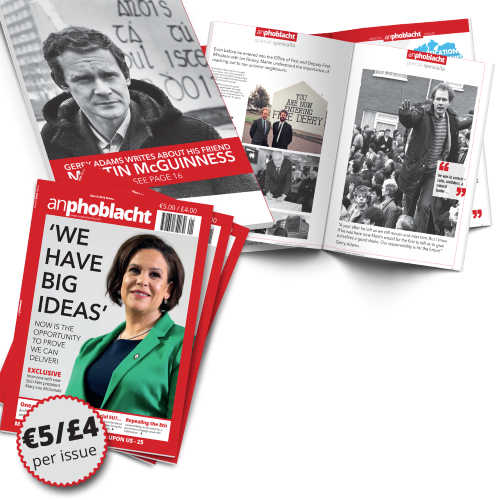 AN PHOBLACHT MAGAZINE:
The first edition of this new magazine will feature a 10 page special on the life and legacy of our leader Martin McGuinness to mark the first anniversary of his untimely passing.
It will include a personal reminiscence by Gerry Adams and contributions from the McGuinness family.
There will also be an exclusive interview with our new Uachtarán Mary Lou McDonald.
test