26 April 2007 Edition
Offences Against the State Acts have no place in Ireland's future
As An Phoblacht goes to press this week, provisions to the notorious Offences Against the State Acts, introduced in 1998, were being renewed by TDs in Leinster House. Sinn Féin, the Green party and two independent TDs – Finian McGrath and Joe Higgins opposed the move.
The apathy of most Opposition TDs on this important issue must be condemned in equal measure to the ill-advised enthusiasm of others for the measures.
Sinn Féin Human Rights spokesperson Aengus Ó Snodaigh TD urged all members of the Dáil who claimed to value democracy to vote against the government motion and then campaign for the repeal of the Offences Against the State Acts in their entirety.
The draconian nature of the Offences Against the State Acts (OASA), was demonstrated recently by the conviction of Cork man Don Bullman for IRA membership on the word of a Garda and by the four year sentence imposed upon him.
The OASA has had a corrosive effect on human rights, civil liberties and democratic life in the 26 Counties for decades.
The unreformed Garda Special Branch maintains the power to act as a political police force systematically harassing citizens engaged in open, legal and democratic political activity. The new Garda Ombudsman Commission has no power to hold Special Branch to account. The Garda Commissioner and the Minister for Justice have the power to deny the Ombudsman access to anything they deem to relate to 'state security'. Special Branch should be redeployed into Criminal Detective Units and all threats to public safety should be policed in a professional and equivalently accountable manner.
The non-jury Special Court, which operates under the OASA is an institution which has railroaded hundreds of political suspects into jails on trumped up charges over many years.
The continued use of such draconian provisions is untenable, particularly in light of the sweeping political changes that have occurred in Ireland in recent years. The peace process is being cemented, like never before. Armed conflict is being consigned to the past and in a matter of weeks an inclusive, power sharing Executive will be formed in the Six Counties. But 26 County Justice Minister Michael McDowell, supported by Fianna Fáil shows no signs of entering the new political dispensation.
The Minister and the Irish Government have a serious responsibility to live up to their obligations under the Good Friday Agreement to deliver security normalisation. Scrapping the Offences Against the State Acts is an indispensable part of this. The Offences Against the States Acts have no place in the future of Ireland.
An Phoblacht Magazine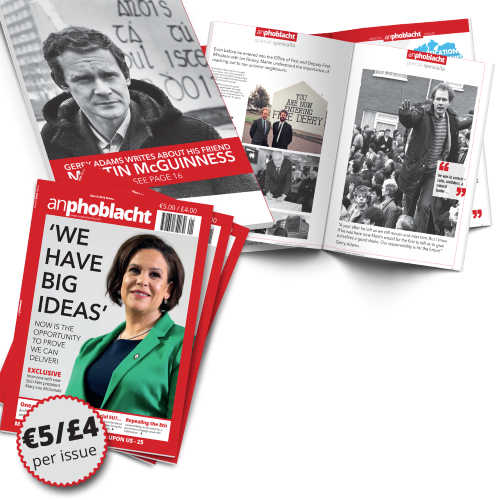 AN PHOBLACHT MAGAZINE:
The first edition of this new magazine will feature a 10 page special on the life and legacy of our leader Martin McGuinness to mark the first anniversary of his untimely passing.
It will include a personal reminiscence by Gerry Adams and contributions from the McGuinness family.
There will also be an exclusive interview with our new Uachtarán Mary Lou McDonald.
test