19 April 2007 Edition
Fifth Column
To boldly go where RTÉ has not gone before
Phasers (set on 'stun', of course) might be needed to calm Brendan O'Connor at the Sunday Independent when a Belfast arts festival shows an episode of Star Trek: The Next Generation that predicts Irish reunification by 2024 but has been kept off the terrestrial air by RTÉ and BBC.
In an episode called The High Ground, Chief Medical Officer Dr Beverly Crusher is taken prisoner while tending the wounds of victims of an attack by radical separatist fighters on a non-aligned planet.
Commenting on the plight of the Starship Enterprise medic, the android Data calmly notes that Ireland was reunited by 2024 as the outcome of a successful guerrilla campaign.
Although a censored version of The High Ground was shown by Sky One before an unedited version was run in May 2006, timid souls in Dublin 4 and the Beeb have been too scared to run it, mainly because it mentions Irish reunification! Mind boggling when you consider the countless contemporary dramas tacitly or overtly endorsing imperialist aggression.
The director of the Cathedral Quarter Arts Festival, Seán Kelly, says that next month's journey where RTÉ and the BBC have not gone before is not intended to be provocative.
"We're not showing it in a partisan way and we certainly don't want it to be seen as any kind of propaganda. We're showing it because of the issues it raises in relation to censorship.
"It dates from 1990, a time when songs – including one by The Pogues – were being banned and republican politicians' voices were being dubbed by actors."
The Cathedral Quarter Arts Festival runs from Thursday 3 May to Sunday 13 May. More details can be got from www.cqaf.com (but don't ask RTÉ or the BBC).


Not out of the Woods
Fianna Fáil TD Michael Woods is lashing out begging letters to voters in Dublin North-East, looking for their votes because he has been "honoured to play a part in the country's very successful social and economic development, serving in several important ministries".


Tell us more, Michael
But Michael modestly omits any details about his real role and successes so, for the record, they include:-
1)    Being Minister for Health in 1994, and therefore bearing some responsibility for failing to address the root causes of the ongoing crisis in medical care;
2)    Being Minister for Education (2000-2002), during which he signed the agreement with almost 20 religious orders involved in child sex abuse scandals and limiting their financial culpability to just €128 million when the bill is more than €1.3 billion – to be picked up by the tax-payer.
It's no wonder Michael Woods doesn't go into detail.


Youth wings target Shannon
It was heartening to see that there is some principled socialist opposition within Pat Rabbitte's Labour Party with Labour Youth joining last week's combined call from the youth wings of Sinn Féin and the Greens for a withdrawal of facilities for the US war machine at Shannon Airport.
Now all we need is a clear statement from Labour Party President Michael D Higgins and Rabbitte himself – unless they need the permission of their Fine Gael Big Brother and their Defence spokesperson, NATO groupie and Wicklow TD, Billy 'Duke Nuke 'em' Timmins.


Cornish patsy
My heart went out to one of the British military personnel captured by Iran's Revolutionary Guards, the hapless and ironically titled Able Seaman Arthur Batchelor, aged just a tender 20.
Albert, who was all at sea on HMS Cornwall, sold his sorry tale to the Daily Mirror for ten grand. He told how he "cried like a baby" in his cell during the "nightmare" of his captivity in Iran after his captors likened him to the TV comedy character Mr Bean! Is there no end to their dark mind games? Apparently not.
Arthur added:
"A guard kept flicking my neck with his index finger and thumb. I thought the worst – we've all seen the videos." The videos? Videos of what? Grange Hill? Monty Python? Malcolm in the Middle?
And what next? Chinese burns and wedgies?
Kiefer Sutherland's Jack Bauer can learn a thing or two from the Iranians about interrogation techniques.


Pipe dream
Did you hear Fianna Fáil Environment & Local Government Minister Dick Roche on RTÉ Radio last week telling Tom McGurk that he wouldn't be sacking any officials over Galway's contaminated water supply because he didn't want to "get into the blame game".
Somehow that didn't stop the Local Government Minister blaming Galway City Council for "disastrous mistakes" causing the problem.


Newry's not-so-noble honour
Tourist chiefs in Newry have named a £2.3 million museum after Sir Nicholas Bagenal, a 16th Century English aristocrat and murder suspect on what is supposed to be the site of a Cistercian abbey that he turned into his castle during the Plantation. Bagenal later went on the run after being accused of murdering someone by stabbing them! A bit like naming Bethnal Green Church after Ronnie and Reggie Kray.
Newry City Sinn Féin Councillor Brendan Curran said:
"We are of the opinion that Bagenal was actually a scoundrel who was over in Ireland seeking refuge from the allegations that he had murdered or stabbed someone."
The councillor added that Sinn Féin was opposed to the name Bagenal being used because he was only one of many inhabitants to occupy the premises."
Brendan says the Castle Street centre is a fine resource but he wants the Bagenal name binned.
"We are not saying reference should not be made to Bagenal but we feel it should be given a different name."


Going to the dogs
The disclosure of donations to TDs and senators shows that Fianna Fáil Senator John Hanafin has trousered parking passes at the Thurles Greyhound Stadium in County Tipperary to the tune of €2,200.
More than two grand! What's he parking there – a greyhound bus?


Grand National faller
Robbie Power, the jockey who rode Irish horse Silver Birch to victory in the Aintree Grand National, said afterwards:
"This is better than sex."
I do hope there wasn't a Mrs Power listening.

An Phoblacht Magazine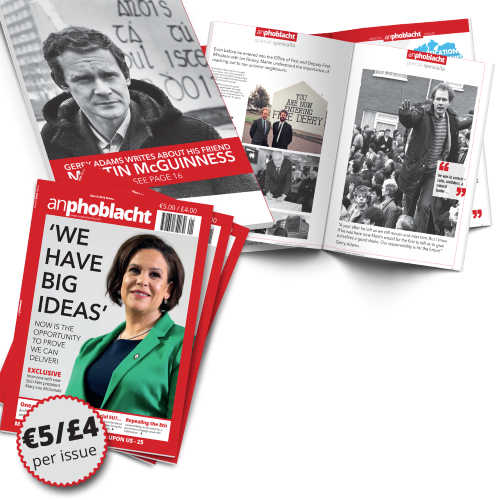 AN PHOBLACHT MAGAZINE:
The first edition of this new magazine will feature a 10 page special on the life and legacy of our leader Martin McGuinness to mark the first anniversary of his untimely passing.
It will include a personal reminiscence by Gerry Adams and contributions from the McGuinness family.
There will also be an exclusive interview with our new Uachtarán Mary Lou McDonald.
test