19 April 2007 Edition
Dáil General Election Profile : Pearse Doherty, Donegal South West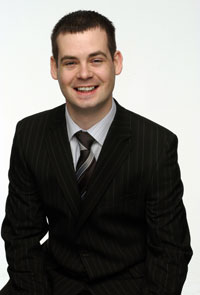 Donegal and the Tunnel Tiger
Pearse Doherty (29) is Sinn Féin candidate for Donegal South West and the youngest candidate standing in the county. In a constituency where the standing TDs have each been in place for twenty years and more, Doherty feels that the people of Donegal have an appetite for change. Coming from a background of enforced emigration, he believes that the haemorrhage of young blood from his native county has taken a terrible toll on the community and must be reversed. Here he talks to Ella O'Dwyer.
What do you think you as an individual bring to politics in your native county?
I think people want to see new, fresh blood – there's an appetite for change. The energy that some of the sitting TDs have is not the same as what is required now, especially when it comes to the challenges facing young people in this part of the country – right down to the most basics needs like employment. Even if you do find work here you're most likely going end up in low paid jobs.  My own family had to emigrate to Scotland to find work.

Tell me about that.
Although I was born in Scotland I don't remember any of it because we returned to Donegal when I was four. It was very common for Donegal people to emigrate to places like Glasgow – that goes back a very long way and the emigration is still a plague on us.  My father, like so many more Donegal men, went over to work in construction working on the tunnels. This was very common and in fact there's a term for Donegal men like him, they were called the Tunnel Tigers because they were so fast at the work.  It was hard to do what they did - raising a family - I have two brothers and three sisters. I'm married with two young children. We don't want my kids to have to emigrate to find jobs.

How and when did you join Sinn Féin?
I was about fifteen when I first wanted to join the party but the nearest cumann was in Letterkenny – 32 miles away –  we'd no car at home and public transport was abysmal so it wasn't feasible but when I went to Dublin to study civil engineering at Bolton Street the opportunity arose to join. I joined the Martin Doherty Cumann. I was seventeen when I joined but before that I worked in the butcher department of the supermarket in Gweedore for four years and a friend of mine was in college in Dublin so I got him to purchase An Phoblacht for me and bring it back to me every weekend when he'd come home. I can remember reading the Phoblacht for the first time and there was a story about a few young lads from a nationalist area in the North coming out from a night club and the harassment they got from the RUC of the time and photos of the brutality the young people got from them. I was a young fella myself then - about thirteen but I couldn't believe that stuff would still go on. So, even though there wasn't a local cumann to join, I started to organise fundraisers for the prisoners and I began selling An Phoblacht in the area.

So when did you get involved in elections?
In 1999 Pat Doherty approached me and asked me if I'd be interested in going forward for elections at a future date down the line. I thought about it and decided to leave Dublin and go home to Donegal to help build up the party locally. We set ourselves a ten-year strategy – 2002-20012 with a view to being in a position to take a general election seat in 2012. We accelerated that plan and I stood in the general election in 2002 and we did very well. I was the last person to be eliminated which took many people by surprise. Then in 2004 I stood for the local elections and took the second seat. I also stood for the European election which was on the same day. We weren't surprised at taking the council seat – we had the work done on the ground. I took 65,000 votes in Connacht-Ulster the EU election. The EU election was a great opportunity to challenge the status quo on the neglect of this region at local and national level and to get the profile built up. There's a name and face recognition at this stage.

An issue you've already identified for Donegal is unemployment and emigration. What are the other problems?
It's a kind of a cause and effect thing here in that the sheer lack of infrastructure at every level aggravates the emigration factor and the drainage of young talented people from the area further thwarts the prospects for development. Young people leave the county to go to places like Dublin, Galway or abroad. We have four times the national average in unemployment at 16%  and that's the statistic for the young people who have remained here. The lack of an adequate transport system means that people can't commute back to places like Gweedore so they're forced to live where they can find a job. Donegal is isolated – on the island overall there's five counties that aren't serviced by train links. That's Donegal, Cavan, Monaghan, Fermanagh and Tyrone. The North West is a totally neglected region. We've challenged the government on this and they've allocated money for the upgrading of the N2-A5 roadway but we're calling for a motorway from Derry to Dublin.   We also lead the campaign to reintroduce rail services to Donegal and the North West and a feasibility study has began in relation to that proposal. Another issue is Broadband access. In a parish close to me here in the Gaeltacht area for instance broadband is not available. I've been contacted by people trying to set up their own businesses in the Gaeltacht as one way out of the unemployment trap but they can't do it without Broadband. Nobody likes the word 'poverty' and people shy away from it but the reality is that if you live in Donegal you're 90% more likely to live in poverty than if you live anywhere else in the state. We're a low wage economy. That's the legacy but it's a legacy I want to break.

But it's not all doom and gloom in Donegal
Far from it. I love this place  – Gaoith Dobhair. I love speaking the Irish language and strolling around the countryside or going for a pint with friends in the local. The craic is good and it's a great place to grow up. We just need to find a way to let our young people stay here and enjoy it. 

An Phoblacht Magazine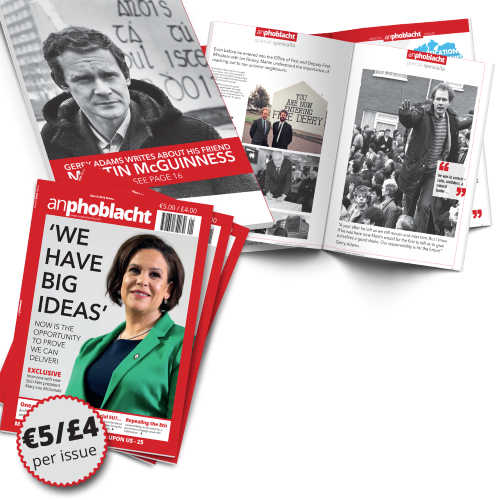 AN PHOBLACHT MAGAZINE:
The first edition of this new magazine will feature a 10 page special on the life and legacy of our leader Martin McGuinness to mark the first anniversary of his untimely passing.
It will include a personal reminiscence by Gerry Adams and contributions from the McGuinness family.
There will also be an exclusive interview with our new Uachtarán Mary Lou McDonald.
test