19 April 2007 Edition
Dáil General Election Profile : Mary Lou McDonald, Dublin Central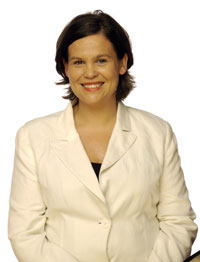 All eyes on Dublin Central
Dublin Central, taking in most of the capital's north inner city, will probably be the most keenly-watched election count in the General Election. Taoiseach Bertie Ahern is odds-on to hold his seat with a huge majority but can he bring in the customary second Fianna Fáil candidate in this four-seater and will MARY LOU McDONALD MEP cause an electoral tremor in Leinster House by taking a seat for Sinn Féin?
Sinn Féin Councillor Nicky Kehoe was just 79 votes short of the last candidate of the four elected in 2002. With Nicky and the equally tireless Councillor Christy Burke spearheading her campaign, Mary Lou is aiming to make the breakthrough this time.
Married to Martin and with two young children – "Gerard, just a year now, and Iseult, who is three and three-quarters (the fraction is important)" – Mary Lou knows how hard it is for working couples but she wants more people like them and activists from the community sector to be represented in mainstream politics to deliver for their communities.
When the Sunday Tribune went on the canvass trail with Mary Lou in Cabra last week, it seemed a little taken aback at the level of support and recognition for Sinn Féin, Mary Lou and Nicky Kehoe. It also noted Mary Lou's easy way with people, her humour and her natural friendliness: "Her eye contact is Clintonesque, unwavering."
Mary Lou, the Tribune notes, "is a serious operator in her own right [who] doesn't go for the easy answers" to hard questions on the doorstep.
BRENDAN KERR caught 20 minutes with Mary Lou between the Stormont peace talks, the European Parliament and the canvass trail.
You're really up against it, trying to take a seat in Dublin Central, aren't you?
There's no doubt that it is a very competitive constituency but Sinn Féin has been working hard in the constituency not just for the past several months but for decades. We have a very strong track record of delivering for the community, we've two extremely hard-working councillors in Christy Burke and Nicky Kehoe, the response is good and an awful lot of people want to see a Sinn Féin TD representing Dublin Central.

What's it been like being the MEP for Dublin?
Great. It's an honour to represent the Dubs in Europe.
I've found in meeting people that they don't just vote for you and that's it but they take you into their trust and that's a very great privilege. I'm not sure there are too many walks of life where you develop that kind of a relationship with people.
Apart from the new experiences from working with MEPs from 27 different states, one of our big achievements is that we've helped bridge the gap between the European Parliament and the people we represent. We've had countless delegations out here from across the city.

Some cynics might dismiss these as just day-trips for friends and supporters.
No, they're not. That's not to say that there's not a social side to the time in Europe but these are working visits with information briefings, contacts, meetings, and actions that people bring home to Ireland.
Bringing people into the parliaments, seeing what MEPs and TDs do, questioning them and policy makers is what politics should be about.
When people get back to Ireland we hold follow-up conferences and meetings and they use the information gleaned in Brussels to make an impact on policy makers and the government in Dublin.

Patricia McKenna of the Green Party lost her European Parliament seat to you, she's one of your rivals and she's reportedly been critical of your record in Europe.  What's your response?
Let's be clear: some elements of the Establishment media are trying to create a controversy by pitting Patricia against me in a bickering match.
People are entitled to their views but I stand over my record. The public will adjudicate on who is delivering and who isn't.

If Europe is so important, why are you running for the Dáil?
At this stage, I think I can be most effective in the Dáil. I have a very able replacement if I'm lucky enough to be elected.
Because many countries operate on a list system, it's not unusual for the faces to change and people to move between the European Parliament and their national parliaments. And, of course, the dual mandate is gone so we can't serve in two parliaments.
I also think that's a healthy thing, to bring the experience you gain from one place to another.

It might be in the centre of Dublin – at the heart of the Celtic Tiger – but Dublin Central is a huge constituency still with its share of problems, isn't it?
We still have pockets of acute disadvantage. We also have neighbourhoods where people, on the face of it, are doing really well. And, in the middle of it all, we have what I call "the coping classes", people who are working very hard but are just getting by.
Very often these are termed "the middle class areas" but you wouldn't believe the number of "middle class" doors I've been at canvassing where parents have told me that if their child is sick they have to make the calculation as to whether or not they bring them to the doctor, and that's because of financial circumstances.
That's why Sinn Féin wants the medical card extended to every child and young person under 18.

Women are the backbone of many communities in times of adversity, no less than coping with decades of social, economic and educational neglect and the heroin scourge that swept here in the 1980s, yet all four sitting TDs are, yet again, men – do you see that as an issue?
The lack of women in the Dáil overall is an issue.
I'm not saying vote for me because I'm a woman but if you want a truly representative government then you have to reflect that society and go for gender balance, so I think it's very important that Dublin Central elects a woman TD.
I would like to see at least one woman TD returned in every constituency.

Which initiatives do you think TDs here should be fighting for?
A big one for Dublin Central is housing. We have 5,200 people on the social housing list. Christy, Nicky and I are working with people some of whom are on the housing list for years.
The over-crowding in some places is horrific and I wonder sometimes if some of our political representatives live in a parallel universe.
The housing list needs to be cleared. There needs to be a clear, deliverable over three or four years to clear that list.
We're not producing enough social and affordable housing. Efforts need to be stepped up there.
On childcare, the state needs to pull its socks up, recognise and fulfil its obligations to make provisions for very young children. It's an ironic situation that the state assumes responsibility for kids when they are four or five but completely ignores its responsibilities up to that time.
Sinn Féin is looking for early childhood intervention, universal provision of a place for each child before they go to primary school.
Capital funding for crèches is relatively accessible but the state must address the need to provide staffing and running costs of these facilities.

You're Sinn Féin Party Chairperson. Coalition government with other parties – any chance?
On 8 May, we will be in government in the North – again – where a very able team of Sinn Féin ministers will take up office under the leadership of Martin McGuinness and we will be in government in the South at some stage.
For other parties, this time it may eventually come down to numbers after the election and how the people have voted. For Sinn Féin it will be considered only on the basis of a programme for government that delivers on the issues – public services, health, education, childcare, housing, drugs, suicide, the needs of young people and elderly people, and safety in the community.
It's about the policies, it's about delivery, it's about investment.
The formation of a new government has to be about the needs of people on the ground.
It shouldn't be about political egos – it should be about people's needs.

An Phoblacht Magazine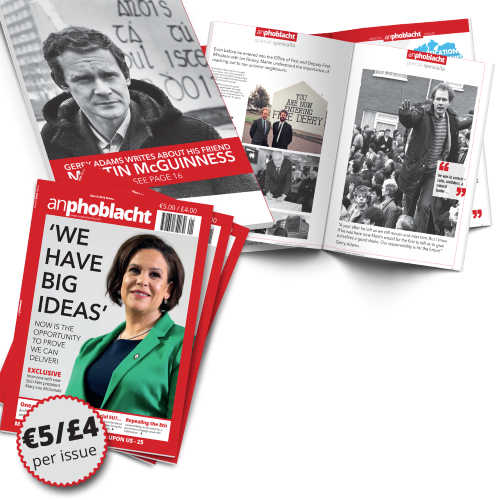 AN PHOBLACHT MAGAZINE:
The first edition of this new magazine will feature a 10 page special on the life and legacy of our leader Martin McGuinness to mark the first anniversary of his untimely passing.
It will include a personal reminiscence by Gerry Adams and contributions from the McGuinness family.
There will also be an exclusive interview with our new Uachtarán Mary Lou McDonald.
test