19 April 2007 Edition
Irish history goes up for sale again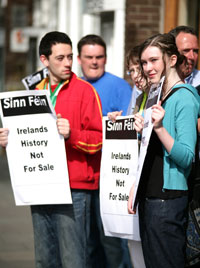 Sinn Féin held a protest outside the offices of James Adams Auctioneers on St. Stephens Green on Tuesday morning to oppose the sale of important historical documents from 1916 and the Tan War.  The items included an original letter to British General Maxwell handwritten by Pádraig Pearse on the eve of his execution on 3 May 1916. Concern has been expressed that the letter was formerly in the possession of the Pearse family and was bequeathed to the State, yet Adams Auctioneers provided no evidence of how it came into the possession of the anonymous owner who put it up for auction on Tuesday.
Sinn Féin Ard Chomhairle member Councillor Pearse Doherty took part in Tuesday's protest and said "important historical documents should be the property of all the people of Ireland and not sold off to the highest bidder". He said:
"This time last year there was huge anger as irreplaceable historical documents were sold off.  But twelve months on the government has not intervened and important documents are once again being sold. These include a letter from Pádraig Pearse written only hours before his execution and the Workers Republic articles handwritten by James Connolly. Such documents are vital to future generations and should be kept in the ownership of the people.
"Under current legislation the Government is able to compulsorily purchase items such as the Ardagh Chalice, Tara brooch and paintings of national importance. The owners of these items are compensated by the state. However there is no legislation for the government to do this with written documents or archives.
"Last year Sinn Féin tabled an emergency motion in the Dáil to demand legislation to prevent the sale or export of such irreplaceable and significant documents or artefacts. The government refused to bring it forward. Such legislation is urgently required."