12 April 2007 Edition
Dáil General Election Profile : Dessie Ellis, Dublin North-West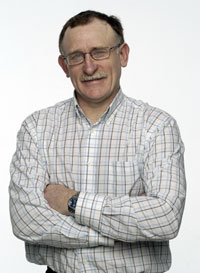 An uncompromising, committed worker
COUNCILLOR DESSIE ELLIS (54), from Finglas, is the Sinn Féin general election candidate for Dublin North-West. A life-long republican, former political prisoner and community activist, Dessie has an uncompromising commitment to equality at all levels, one he aims to take to Leinster House. He talks to ELLA O'DWYER.
You've been a republican most of your life. What got you involved?
There's a history of republicanism in my family. Both my grandfathers were in the 1916 Rising and I myself have been involved in the struggle since I was 18.  There was always political conversation going on in the house and I was involved in community work, the anti-drugs campaigns and the trade union movement for a lot of years.
Before that, I was involved in the Civil Rights Movement in '69 and went to marches around Newry and Derry after Bloody Sunday and internment.
I went to college in Kevin Street where I studied to be a technician and I was interested in student politics then.

You spent time in prison in Ireland and England and even in the US. Can you tell me a bit about that and your fight against extradition?
I was arrested in 1981 on the morning that Francis Hughes died. I was charged with possession of explosive devices. I got bail that time and I went to the US but I was lifted over there in 1982 – in Buffalo – and served a year in different American jails. The jails there were rough – Buffalo was worst.
I was flown back to Ireland in 1983 and sentenced to eight years for the possession charge. Then, when I was released from Portlaoise in 1990, I was issued with an extradition order to England on a conspiracy charge. I went on hunger strike in protest against the extradition order. I was moved from Portlaoise to the Curragh while on hunger strike and then flown over to England. I was put in Brixton Prison in London and remained on the fast for a few days but my solicitors were very confident that I would beat the charges (they were right), so we decided that I would come off the strike.
Pearse McCauley and Nessan Quinlivan were there on remand in Brixton at the time, on a different wing. I was there when they escaped. After a year in English jails I was acquitted of the charges and flown back to Ireland and I got back into political activism.

You got involved in elections in 1999.
Yes, I threw myself into the process of developing Sinn Féin here in Dublin North-West and in 1999 I stood for the local elections in the Finglas ward and took a seat on the city council. Then, in 2002, I stood for the general elections and we took 4,800 first preferences but the transfers let us down. Things are different this time round. We've about a third of the constituency canvassed and our first preferences have gone up and we will be getting transfers this time. At the last local elections in 2004, Councillor Ray Corcoran – standing for Ballymun – and I both topped the poll.

So how do you think things are looking?
The election team is out every night and the campaign is kicking in for us. We're pretty confident. We've done the work on the ground but it'll be up to the people to decide at the end of the day. It's a three-seater constituency currently with two Fianna Fáil and one Labour TD. We in Sinn Féin are contenders for any one of those three seats and we can take a seat if the people so decide.

And the issues for Dublin North-West?
The big one here, like everywhere else in the country, is the health service.
The waiting list even for minor treatments is ridiculous. Most people here would attend Beaumount, the Mater or even Cappagh Hospital and the waiting lists are very, very long. We've one of the worst problems in the city in terms of people on trolleys waiting for beds.

Transport and crime are also bothering people, aren't they?
The grid-lock around Santry, Whitehall, Ballymun and Finglas is very bad.
There's a prospect of a Metro service being delivered for Ballymun but the plans for the Metro need to be extended well beyond that. I'm calling for a Metro service to be  extended to cover the Finglas area.
We're calling for more bus routes and we need at least 500 more buses on the different routes.
There's a high rate of crime in parts of this constituency and we need a visible garda presence here to give people back their confidence because people feel intimidated.

You have an office in Finglas. Is it hectic?
Yes, it's busy. My wife, Ann, runs the office. We get all sorts of problems from getting the kitchen sink fixed to chasing up on tax or housing issues.
It's busy but it can be very rewarding when you get results. It's hands-on work where you do get a lot done but on a smaller level than in the Dáil where you can make an impact on the issues at a national level like the health crisis, housing and the privatisation of state bodies.
Then there's the whole national question itself - the reunification of the country and the resolution of the long-standing issues around that.
I was looking on the news last night at the outcome of the McEntee Report on the Dublin and Monaghan bombings. I was in Dublin that day when the bombs went off.

Really?
I was on my way to a stag party when I heard the bang. I guessed that it was some kind of explosion or a bomb.
I remember all these people running in the direction I was coming from but I wanted to make my way to North Earl Street to see if the people I was to meet were OK. It was chaos. I was jumping over rubble. Strangely enough, when I reached my friends in North Earl Street they hadn't known about the bombings.  There was carnage outside on the streets and the information was only beginning to filter through to people. I feel for the families that are trying to get to the root of what actually happened that day. Dublin has taken its own toll over the decades, and Easter Sunday reminds you of that.

What about your work on Dublin City Council?
Great progress is being made nationally and locally. The Sinn Féin councilors in Dublin meet on a regular basis. We stick together and like to bounce ideas off each other. But we've a fairly good relationship with the other party councillors too, even though it's a bit frosty at times. But they know we work hard at what we do and they respect that.

Someone once said to me that Dessie Ellis is what we like to feel every republican should be. That's some compliment!
It is all right [laughs].
My impression of a republican is the likes of James Connolly – an activist who fought and worked for the people on the ground on fundamental issues of equality and I feel very strongly on equality across the board, especially gender equality. We have great Sinn Féin women candidates here in Dublin and throughout the country but I'd like to see more women standing for elections.

An Phoblacht Magazine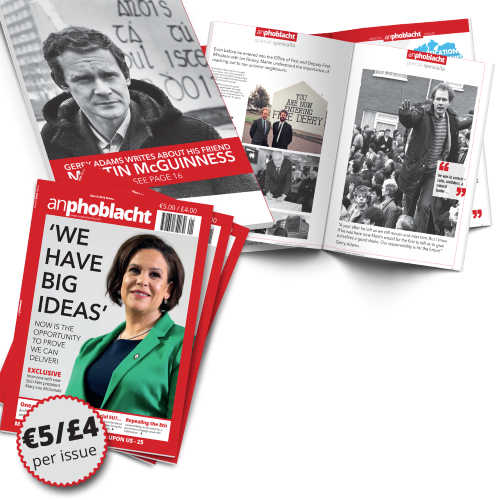 AN PHOBLACHT MAGAZINE:
The first edition of this new magazine will feature a 10 page special on the life and legacy of our leader Martin McGuinness to mark the first anniversary of his untimely passing.
It will include a personal reminiscence by Gerry Adams and contributions from the McGuinness family.
There will also be an exclusive interview with our new Uachtarán Mary Lou McDonald.
test