29 March 2007 Edition
The Matt Treacy Column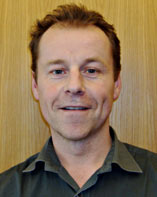 Grace under pressure
Ernest Hemingway defined courage as grace under pressure. He was much preoccupied with the whole issue and wrote about those who he thought epitomised that virtue in war or in the bull ring. I doubt if he ever saw a game of hurling but it would have been interesting to know what he would have made of it.
He would surely have found some outstanding instances of courage there. And less I be accused of glamourising it, he would also have found examples of cowardice and thuggery. Some of our finest hurlers over the years have been the victims of both, even up to recent months with Galway and Portumna's brilliant Joe Canning.
Hemingway would surely have been impressed with Derek O'Reilly the Dublin left half back. Smiley as he is known to his admirers had to be blood substituted in the second half of last Sunday's match with Limerick and received several stitches to a gash over his eye on the sideline. Personally that would be me out for the day and probably a few more days. I make a great martyr.
But Smiley is made of sterner stuff and came back on to resume an outstanding display that was crucial to Dublin's victory. His attitude encapsulates the sheer grit and heart that is in this Dublin team. Dublin teams have often had that but now it is combined with the skills that are necessary to take on the elite. Perhaps even to force their way into the elite.
The relentless and meticulous work that has been done over the past ten years or so at underage level is beginning to bear fruit. All Irelands and Leinsters have been won by Dublin teams for the first time in many years and the graduates of those county, club and colleges teams are heavily represented on the current panel. In the past where Dublin players often had no experience of winning against the top teams, for some of the younger fellas it is no longer remarkable.
An intense covert war has waged within Leinster between Kilkenny and Dublin for several years now at under age level. Kilkenny have shaded the honours and clearly have no intention of surrendering their place at the head of the table. Their unfaltering commitment to the highest standards on and off the field is the benchmark set for Dublin. But the greatest tribute to be paid to them will be beating them on the big day.
Dublin are now in the remarkable position of  having secured their place in the new Division One and needing just two more points from their remaining two games to qualify for the play offs. The most likely source of the points is against Antrim in Casement Park on Wednesday evening. Which is a day or two ago to yourselves but still tomorrow to me! So, as Al Pacino said in 'Scent of a Woman', I'm in the dark here.
As someone pointed out to me recently my record of predictions has not undermined the value of any major bookmakers but I will tentatively stick my neck out and say that Dublin will beat Antrim. Maybe with a bit to spare but who knows. Both teams have been down in the bear pit together over many years and Antrim will not stand on ceremony. On the other hand they are young, seem to lack the hard edge traditionally associated with the saffron, and have conceded an average of 2 - 20 in their matches to date. Dublin will not need that much to prevail.
If that happens then Dublin will travel to Nenagh on Sunday in the unusual and happy position of having the upper hand on Tipperary who will need to beat Dublin to qualify for the quarter finals. Indeed depending on results elsewhere and winning margins, a defeat for Tipp might consign them to the invidious position of having to play off in order to avoid relegation. Babs would not like that!
There would be lots of people all the same who would be delighted to see the 'Premier County' in trouble. More to do with Babs than anything else and he will have won few new chums by his bizarre claim that Galway had intimidated his poor young fellas last Sunday in Pearse Stadium. I don't think he has ever forgiven Ger Loughnane for committing the unpardonable offence of managing Clare to beat Tipp!
If that does come to pass then one of the teams that Tipp might have to play is Wicklow who are in the unusual position of being in prime spot to win Division 2A, having won all their four matches to date and needing to beat Derry at home on Sunday to insure going into the Division Two final, probably against Westmeath.
That is a remarkable feat and is one of the big stories of hurling so far this year. A long way removed from the glamour of the championship but proof that, despite the Cassandras of doom, there are bright shoots in the undergrowth of hurling.
The intended victim of my constant text updates of Dublin's margin over Fermanagh maintained a stoic silence. Which took the good out of it to a great extent from my point of view. And nowhere near constitutes vengeance for the same person having been the very first to text me last August as Dublin went down to Mayo. If I recall correctly, and I tend to remember these things, her comforting text said "Boo hoo, dry your eyes."
Well Fermanagh had plenty to dry their eyes about last weekend although whether they could have executed the required level of hand/eye co-ordination to achieve such a feat is moot. Sorry, sorry, sorry. That was uncalled for. 
Seasoned Dub watchers tend to chalk these things down to the movement of the planets. Good day for Dublin, bad day for Fermanagh? Or a combination of both. Only real significance is that it may condemn Fermanagh to Division Three which would be sad. At the other end of the table, Dublin's large tally could be an important factor if teams finish on the same points and are tied for the second semi final place.

An Phoblacht Magazine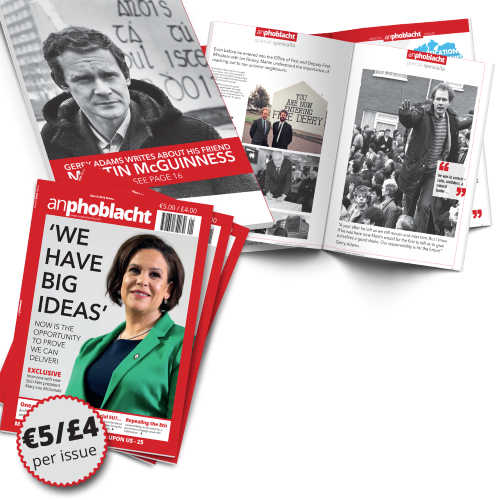 AN PHOBLACHT MAGAZINE:
The first edition of this new magazine will feature a 10 page special on the life and legacy of our leader Martin McGuinness to mark the first anniversary of his untimely passing.
It will include a personal reminiscence by Gerry Adams and contributions from the McGuinness family.
There will also be an exclusive interview with our new Uachtarán Mary Lou McDonald.
test