29 March 2007 Edition
OPINION : Electoral boundaries and population growth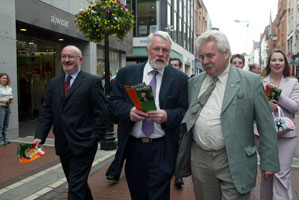 To Change or Not to Change
BY TALLYER
Electoral boundary revisions are a dangerous business.  A heady mix of political shenanigans, legal niceties and constitutional minefields.  Most politicians treat boundary reviews in a similar fashion to a Brit in Basra being presented with a bunch of flowers.  Seems quite attractive but experience says it could blow up in your face.
Anyone old enough to remember the famous Tullymander?  No?  Not to worry.  The South's Constitution says we must have a boundary commission at least every twelve years, so who knows what delights lurk around the next corner.
The last boundary commission in the 26 Counties reported in 2004 and its recommendations have not as yet been used in an election.  It is the constituency configuration that is proposed to be used in the next election. That is, of course, unless we have a successful legal challenge against it.
You see, the problem is that the constitution links the electoral boundaries to population size and that brings in the issue of the census.  Annoying stuff this representative democracy.  Causes politicians no end of worry.  I mean how is any self-respecting, budding Fianna Fáil politician going to know who to pull a stroke for if he can't be sure of the boundaries of the constituency?
So the census has a role to play and last July the Central Statistics Office (CSO) published the preliminary results from the census taken in April 2006.  This publication led to many calls on the Government to act in relation to electoral boundary revisions before the coming elections.
If you remember, the argument related to the constitutional requirements for the ratio of TDs to voters.  It was argued that the preliminary census figures showed that population changes meant that many constituencies appeared to fall outside of the constitutional provisions.
At that time, Labour huffed and puffed, the media had a field day, and the Government requested advice from the Attorney General.  The Attorney General told them all to calm down that everything was okay, that because the figures were preliminary they could be happily ignored.  They all breathed a sigh of relief and forgot about it. Until now, that is.
The final census report will be published in stages over the next few months and no doubt you can expect another bit of bluster in relation to this issue.  For that reason I decided to have a look at the issues involved and see if I could make sense of them.
The Constitution states that the number of TDs should lie between one TD for each 20,000 voters and one TD for each 30,000 voters.  That seems okay because the preliminary census figures show that the number of TDs across the 26 counties is one TD for each 25,512 voters.
However, that's a 26-county average.  Some constituencies are above, and some are below, that figure.  That's where the rows start.  For example, Dublin West under the new arrangements will have almost 31,000 voters per TD, whereas Dun Laoghaire has only 22,787 voters per TD.
It would be amazing if every constituency had 25,512 voters per TD, so some variation is expected.  The constitution says it should be the same for every constituency "as far as practicable".  Great phrase that, "as far as practicable".  The clever people on Boundary Commissions use a measure called the variance to judge this difference.  In essence variance is a measure of how far from the 26-county average a particular constituency is.  A negative variance means you have too many TDs, a positive one means you haven't enough.
In 2004 the boundary commission used population figures from the census of 2002.  They allowed a variance of up to 7% above or below the 26-county average.  The problem of course is that there has been a lot of population growth since 2002 and this growth was measured in 2006.  Using 2002 census figures Dublin West would have a variance of +3.38%.  Using 2006 preliminary figures it has a variance of  +21.2%.   That's a large variance and no doubt there will be another boundary commission in the next year or two.  But how come things are changing so fast?
Census are held every five years, and as we know the population has been growing rapidly.  Technology now ensures that the results of a census are available relatively quickly.  So, should we have a boundary commission following every census?  As things stand, that may be the case.  But there's another consideration.  The variance is also affected by the number of TDs per constituency.
Under the latest electoral boundary review, there are 18 three-seat constituencies, 13 four-seat constituencies and 12 five-seat constituencies.  So there is a predominance of three-seat constituencies.  This of course is supported by the bigger parties.  Three-seaters tend to work against smaller parties.  But it also has an effect on the variance as mentioned above.  Population changes effect the variance of three-seat constituencies more than four or five-seaters. 
For example, take a population growth of 1,000 voters in any constituency.  Adding a thousand voters to a five-seat constituency will increase the variance by approximately 0.8%.  Add a thousand to a four-seater and you increase the variance by approximately 1.0% and in a three-seater it increases the variance by approximately 1.3%.  These figures take into account that the extra thousand will also affect the 26-county average, if only slightly.   So the five-seat constituency is not affected as much as the three or four-seater.
Seems to me the obvious solution to the expanding variance problem is to have larger seat constituencies.  This is not a constitutional issue.  The constitution says nothing about it.  We used to have six, seven, eight and even one nine-seat constituency.  All it would require is a short amendment to the 1997 Electoral Act.
What about six-seaters?  Works okay in the North, at least for Sinn Féin.  Hmmm.  Okay but how about more five-seat constituencies?  It will take population growth longer to affect them in relation to variance and so lessen the need for continuous, dangerous, pesky, constituency reviews. 
Over to you Bertie, or is it Enda, or...  Ah feck it, Caoimhghín for Taoiseach!  Up and at them!
An Phoblacht Magazine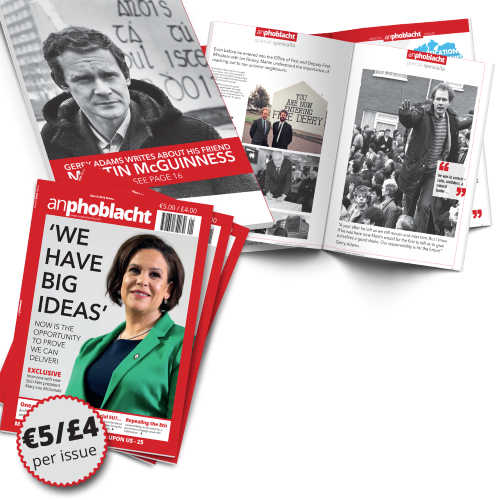 AN PHOBLACHT MAGAZINE:
The first edition of this new magazine will feature a 10 page special on the life and legacy of our leader Martin McGuinness to mark the first anniversary of his untimely passing.
It will include a personal reminiscence by Gerry Adams and contributions from the McGuinness family.
There will also be an exclusive interview with our new Uachtarán Mary Lou McDonald.
test