22 March 2007 Edition
Cuireann Gaeilgeoirí fáilte roimh Thuairisc Chomhairle na hEorpa
Cháin Comhairle na hEorpa Rialtas na Breataine inné de bharr a cur chuige 'lag-bhríoch' maidir le teangacha mhionlaithe.
Agus caithfidh an rialtas níos mó a dhéanamh lena chuid dualgaisí a chomhlíonadh chun teangacha réigiúnacha agus mhionlaithe a chosaint, de réir Comhairle na hEorpa. Foilsíodh an ráiteas seo seachtain i ndiaidh a dhiúltaigh Rialtas na Breataine an gealltanas aontaithe a thug siad i gCill Rímhinn chun Acht Gaeilge a achtú a chomhlíonadh.
Chuir pobal na Gaeilge fáilte roimh thuairisc Chomhairle na hEorpa, tacaíocht idirnáisiúnta don lochtú láidir a thug siad do Rialtas na Breataine don loiceadh mí-mhacánta, náireach s'acu maidir leis an Acht Gaeilge sna sé chondae.
The Council of Europe has warned the British Government that it must do more to meet its obligations to protect its regional, minoritised and stateless languages. This statement was highly topical coming as it did hard on the heels of last week's public refusal by the British Government to fulfil its agreed St Andrews commitment to enact an Irish language act in the 6 counties following a 12 week public consultation. The understandable outrage of the Irish language community in the North at what was effectively a political sop to unionist bigotry has now been fully vindicated by this call by Council of Europe. This  came as part of the their monitoring of the European Charter for Regional or Minority Languages (ECRML), which came into force in the UK in July 2001. It commits the Government to safeguard and promote Welsh, Scottish Gaelic, Irish, Scots, Ulster-Scots, Cornish and Manx Gaelic.
The Committee of Ministers recommendations based on the Report drawn up by the committee of experts (COMEX) stated that the British government should act to promote and develop minoritised languages "as a matter of priority". The report is based on the monitoring of the UK's minoritised languages situation between December 2005 and February last year.  The monitoring exercise had revealed wide differences in the treatment of minoritised languages within the confines of the British state.  It also stated that in the 6 counties, which it recognised was currently facing difficulties because of the failure to enact an Irish Language Act; representatives of Irish speakers had encountered problems promoting Irish because of unrealistic demands for equal treatment for Ulster Scots.  Because parity for Ulster Scots was not practically possible, it resulted in no action being taken to promote the Irish language at all.
The damning report concluded: "What seems to be symptomatic and recurrent (for minoritised languages in the UK) is a lack of standardisation or codification needed for the use of the language in many aspects of public life, often a low prestige attached to the language, and finally a lack of an over-arching language strategy and plan thus giving credence to the widespread belief that current British government policies were 'merely half-hearted'
The Council of Europe report has been broadly welcomed by the Irish language community in the North as an international endorsement of their strong criticism of the British government's disgraceful bad faith in relation its failure to fulfil its agreed commitment to enact an Irish language Act in the 6 counties. Spokesperson for national campaigning group ACHT, Jake Mac Siacais stated yesterday, "We view this report as a comprehensive approval of our view that the British government have displayed bad faith and half-heartedness with regards the Irish language in the North. We also see it as a source of inspiration which strengthens our resolve to campaign relentlessly until we achieve rights-based language Act in the 6 counties as vocally demanded by several thousand Irish language activists who took to the streets of Belfast in protest last month."  
An Phoblacht Magazine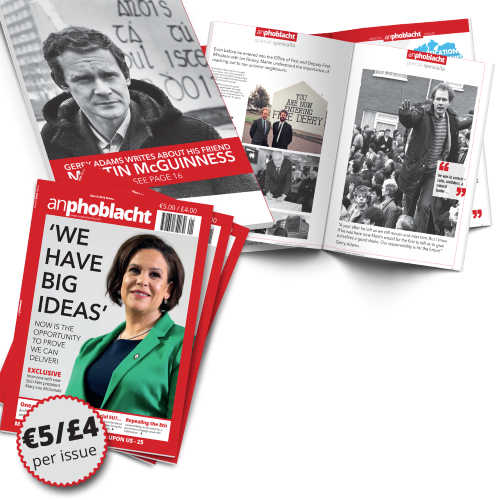 AN PHOBLACHT MAGAZINE:
The first edition of this new magazine will feature a 10 page special on the life and legacy of our leader Martin McGuinness to mark the first anniversary of his untimely passing.
It will include a personal reminiscence by Gerry Adams and contributions from the McGuinness family.
There will also be an exclusive interview with our new Uachtarán Mary Lou McDonald.
test