8 March 2007 Edition
Sinn Féin Ard Fheis 2007 : Housing and the economy debated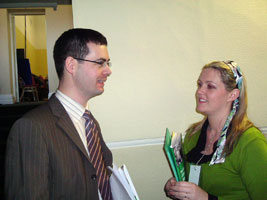 Delegates endorse new housing policy
BY PHILIP CONNOLLY

Seán Crowe TD opened the Ard Fheis debate on housing with an endorsement of the new policy document Housing is a Right. Crowe lambasted the Fianna Fáil/PD Government's non-strategic, laissez-faire approach at a time when buying a home is beyond the means of most.
Crowe went on to say that six out of every ten people on housing waiting lists have been on it for over a year, a problem exacerbated by developers buying their way out of social and affordable housing initiatives.
Dun Laoghaire/Rathdown Council alone has collected more than €3.5 million from developers buying their way out of their social and affordable housing responsibilities, leaving over 3,500 families waiting.
Delegates were told that 12,000 new public housing units are needed each year, in addition to already-planned social housing schemes, until the year 2012.
Pearse Doherty drew attention to the "glaring failure" of government plans to reach economic and development targets in the border, midlands and western counties. These counties have Ireland's highest levels of unemployment and poverty, he told the conference.  Public-private partnerships (PPPs) have not and cannot deliver the levels of investment needed and do not make economic sense.
Doherty pointed to the fact that 39% of investment in national transport is now provided by PPPs, which he described as not cost-effective. He said that the Government is effectively abandoning its responsibilities.
Motion 167, which was passed unanimously, opposed the privatisation or break-up of the Electricity Supply Board and the raising of electricity costs to make the energy market more attractive to outside investors. 
Colum Kinsella said that the ESB and its customers are now under attack from this government and accused auditors Deloitte and Touche of fabricating smears against ESB employees, contrary to the facts in the ESB annual report, in order to downgrade the service in the eyes of its customers. Other successful motions sought the introduction of a ceiling of 5% on all home heating fuel and the re-nationalisation of Aer Lingus.
There was huge support expressed for the rights of the people of Rossport in the fight against Shell. The Ard Fheis called upon the party to formulate a 32 county campaign to reclaim our natural resources.
A West Limerick Sinn Féin delegate decried the wholesale destruction of the native hazel tree due to its classification as scrub. Motion 165 adopted the principle that hazel be preserved along with other native species.
Motions were also passed calling for an end to age discrimination in regard to means testing of pensioners under the age of 70 and for the removal of  VAT from ESB, gas and phone bills for the elderly and those suffering from long-term illness.    
Delegates voted to cap greenhouse gas emissions and fuel imports at 2006 levels and to annually reduce them by 3% thereafter, with the shortage in supply to be filled by renewable energy.
Opposition to local service charges was reaffirmed and there was a call for waste disposal services to be placed back in the hands of local authorities. A motion from the Ard Chomhairle and National Elected Representatives Forum mandated all representatives to consult with the Ard Rúnaí in advance of voting on local authority estimates.

An Phoblacht Magazine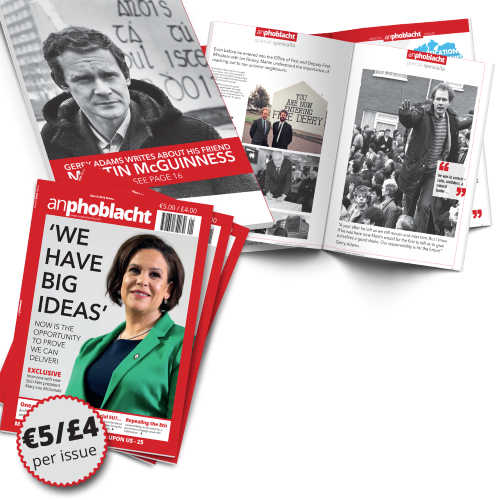 AN PHOBLACHT MAGAZINE:
The first edition of this new magazine will feature a 10 page special on the life and legacy of our leader Martin McGuinness to mark the first anniversary of his untimely passing.
It will include a personal reminiscence by Gerry Adams and contributions from the McGuinness family.
There will also be an exclusive interview with our new Uachtarán Mary Lou McDonald.
test