8 March 2007 Edition
Sinn Féin Ard Fheis 2007 : the All Ireland Agenda
BY
 ROBBIE SMYTH

The all-Ireland agenda was the first debate of the Ard Fheis weekend and it was opened by Seán Oliver, head of the Sinn Féin All-Ireland Department. Oliver told the delegates that it was fitting for this section to kick off the conference, as it showed the party "building policies for the type of Ireland we want".
Oliver highlighted some of the small steps made on the all-Ireland issue, including the British and Irish Governments' publication of a joint strategy for the all-island economy and the substantial all-Ireland dimension to the new 26 County National Development Plan. This, he said, was a "historic step".
The challenge now is to "drive forward our own political agenda" and expand the all-Ireland remit. In particular there is, according to Oliver, a need to focus on establishing a Consultative Civic Forum as envisaged in the Good Friday Agreement and to use the Sinn Féin Green Paper on Irish Unity to "put it up to other parties who claim to support a united Ireland".
Seán Oliver highlighted the role that Sinn Féin can play through our representatives on almost every elected institution on the island. They can bring the other parties to task on the all-Ireland issue, he said.
Anna Prior, Sinn Féin's candidate for Clare, took up the case of the Consultative Civic Forum: "We must ensure that opinions of people on the ground are heard and included in politics," she said, as the "right-wing establishment are making choices that don't have the welfare of the people at heart".
Jim Monaghan spoke on Motion 3, which invites the unionist community to recognise the benefits of economic unity and to work with us to ensure that "the political framework of economic unification is one based on equality and human rights".
Monaghan said that "the rebuilding of the economy of the whole island would benefit all". He added, "We want to include the unionists in rebuilding an economy of social justice and equality, not one of brown envelopes and a dog-eat-dog culture."


Natural Resources
Foyle Assembly candidate Martina Anderson spoke in support of Motion 4, calling on the Irish and British Governments to set up an "all-Ireland Area of Co-operation with a remit for national resources development".
Anderson said, "Ray Burke gave away oil and gas reserves valued at €51 billion, with no royalties, no tax benefits for the Irish people." The reserves were not his to give, as they "belong to the whole people of Ireland".
Wexford delegate Síle Mhic Reamoinn, speaking in favour of Motions 7 and 8 on all-Ireland transport and the National Development Plan, commended the party's "relentless work for reunification". Mhic Reamoinn said that equality must be delivered across the whole island.
Rose Dugdale, one of the party's most stalwart activists, also spoke about natural resources and the Rossport campaign. The real scandal, she said, lay in the original contract for offshore drilling. Dugdale told delegates that the Shell contract is invalid and "needs to be renegotiated on behalf of the people of Ireland".
All of the all-Ireland agenda motions were passed.
An Phoblacht Magazine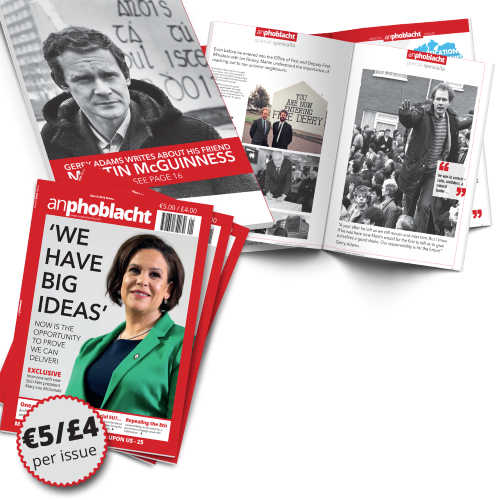 AN PHOBLACHT MAGAZINE:
The first edition of this new magazine will feature a 10 page special on the life and legacy of our leader Martin McGuinness to mark the first anniversary of his untimely passing.
It will include a personal reminiscence by Gerry Adams and contributions from the McGuinness family.
There will also be an exclusive interview with our new Uachtarán Mary Lou McDonald.
test