8 March 2007 Edition
Sinn Féin Ard Fheis 2007 : SIPTU President addresses delegates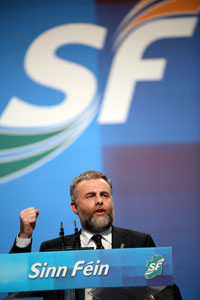 BY
 STEPHANIE LORD
The issue of workers' rights was to the fore at the 2007 Ard Fheis with delegates endorsing a new policy document on the issue. Introducing the document on behalf of the Ard Chomhairle Arthur Morgan TD, Sinn Féin spokesperson on Worker's Rights, said it had long been a priority area for the party.
Workers' Rights in an Ireland of Equals, sets out Sinn Féin's determination to build a society where workers are enabled to use their power for the collective good and their contribution to society is acknowledged through fair working conditions and return on their labour. The document also displays the determination of Sinn Féin to stamp out exploitation of workers in Ireland and across the globe.
Morgan outlined how the document proposed "progressive harmonisation of employment law on an all-Ireland basis and establishment of a full stand alone Department of Foreign Affairs in the 26 Counties and departmental responsibilities in the Assembly to be structured in the same way, in order to create direct Ministerial counterparts in the All-Ireland Ministerial council."
The Louth TD described how Sinn Féin is to intensify its engagement with the Trade Union movement, "a movement which is to be a key ally in bringing about social and economic change and Irish reunification".
A number of workers' rights related motions were passed including one welcoming the re-establishment of the SF Trade Union Department. Caoilfhionn Ní Dhonnabháin, on behalf of Sinn Féin's Trade Union Department, welcomed the drive by the trade union movement to refocus on campaigning and organising and said that Sinn Féin and the trade union movement were "natural allies in struggle to deliver real social and economic change ".
Cuncillor Daithí Doolan, Sinn Féin general election candidate for Dublin South East, urged all workers and party members to join and become active in trade unions and with  "a union card in one hand and a ballot paper in the other" to gain a progressive workers' rights framework alongside a campaign against privatisation of public sector companies.
A motion was passed mandating the party's Leinster House team to publish Corporate Manslaughter legislation before the next Dáil election. An issue that they have been consistently campaigning on, the motion passed directs them to work alongside the trade union movement to campaign for the passing of such legislation.
Justin Moran said that while there was a phrase that "a hard day's work never killed anyone", the reality was that in Ireland it does.
"In 2005, 74 workers died in the workplace. In that one year, 74 people went to work and never came home again", Moran said.
Historic address by trade union leaders
In a historic and significant development the Ard Fheis was addressed for the first time by senior trade union leaders. Jack O'Connor General President of SIPTU, the largest trade union in Ireland with over 200,000 members and Patricia McKeown of Unison addressed the issue of the relevance of trade unions in 2007.
Jack O'Connor said he was glad as the first leader of Jim Larkin's union in a long time to address a republican gathering.
He congratulated Sinn Féin on the political progress made, and "the courage of its leadership in working towards a just and lasting settlement of the issues that have divided the people of this island for so long". He also paid tribute to the support of Sinn Féin activists and representatives in various struggles for the rights of workers in Ireland.
"We have unprecedented levels of prosperity but are also experiencing the most sustained assault on the gains made by working people here, and across Europe since 1945", O'Connor said.
He said this offensive was carried forward under the banner of market liberalisation, exploiting millions of vulnerable people who had no alternative but to work for half nothing.
The assault was conducted with the assistance of a neo-liberal creed that depicted the world as locked in a battle between the "good guys" and the "bad guys".
"The 'good guys' are consumers and the 'bad guys' are producers. The 'good guys' are champions of free choice and competition, while the bad guys are protectors of selfish vested interest in this virtual universe. Naturally, workers are among the 'bad guys'."
This was a completely artificial division of humanity because workers and consumers were the same people.
Despite our prosperity and being spoilt for choice as consumers, many things people took for granted in less prosperous times, such as occupational pensions, a 39-hour week, security of employment and being paid the rate for the job were being systematically dismantled.
O'Connor said he was very conscious of Sinn Féin's dedicated commitment to a free and independent Ireland and drew attention to Connolly's dictum that the struggle for Irish freedom had two aspects – the national and the social. ... Nationalism without Socialism – without a reorganisation of society on the basis of a broader and more developed form... is only national recreancy'. He said, adding to huge applause:
"Present day patriots who violate the rights of ordinary working people are certainly recreants by Connolly's definition. For them the Tricolour is nothing more than a flag of convenience."
An Phoblacht Magazine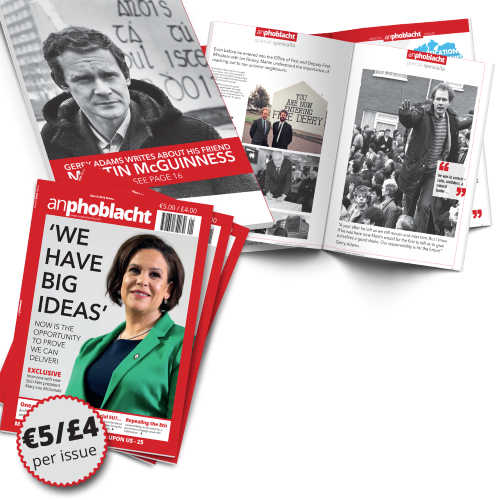 AN PHOBLACHT MAGAZINE:
The first edition of this new magazine will feature a 10 page special on the life and legacy of our leader Martin McGuinness to mark the first anniversary of his untimely passing.
It will include a personal reminiscence by Gerry Adams and contributions from the McGuinness family.
There will also be an exclusive interview with our new Uachtarán Mary Lou McDonald.
test