8 March 2007 Edition
Sinn Féin Ard Fheis 2007 Presidential Address by Gerry Adams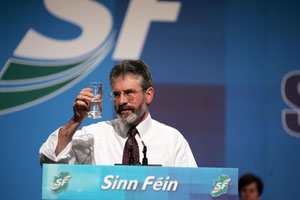 Ready for government North and South
The policing debate was only five weeks ago. This was without doubt the most difficult, most problematic, most historic initiative Sinn Féin has taken. It proved once again the willingness of republicans to embrace change and to make radical decisions.
Next week, our candidates go before the people in elections to a new Assembly in the North which will lead to a powersharing government involving Sinn Féin ministers in an executive with the main unionist parties.
Our task as a party is to ensure that policing is a public service, democratically accountable, depoliticised, transparent and non partisan.
The exclusion of MI5 from civic policing is a considerable achievement.
But the steady flow of revelations about the level of collusion by MI5, with the RUC and unionist death squads, in the killing of hundreds of citizens during Britain's prolonged dirty war in Ireland, has confirmed what republicans have known for many years.
The British state has yet to acknowledge the truth about this.
At times, I have expressed my deep disappointment at the role of the Irish government –  its absence from the real negotiations; its silence in the face of British cover-ups, its unwillingness to promote Irish national interests. The Government may deny this, but it knows that this is the truth.
Of course, the PSNI needs to win the confidence of citizens, and as part of that necessary process, Sinn Féin will continue to actively encourage people to deal with the police to achieve fully accountable civic policing and to enhance community safety measures.
Next Wednesday, when the people of the Six Counties go to the polls, they will re-elect an Assembly which met only briefly in its last term and had no power.
Instead, there was direct rule and bad government from unaccountable ministers sent over from London.
There were education cuts, the introduction of additional water charges, an increased rates burden and a virtual ban on rural housing. The lesson is clear.
People of all political persuasions want to send these British ministers home.
In the last executive, Martin McGuinness and Bairbre de Brún provided effective leadership in the departments of education and health. Sinn Féin faced up to the challenge of these difficult portfolios.
Other parties, the SDLP, the DUP and the UUP, ran away from health and education. They chose easier options.
We are up for the challenge again. Sinn Féin is ready once more for government in the North.
On the doorsteps, there is a clear demand that locally elected politicians face up to our responsibilities. That is also the Sinn Féin position. There is no reason why this should not happen by 26 March.
There is a duty to oppose additional water charges and the unfair rates burden being imposed by British direct rule ministers.
We also continue to engage with the two governments to secure a substantial peace dividend. We take a strategic view about how to accomplish this. I set out the objectives for our negotiations.
These were:
•  To end the suspension of the political institutions;
•  To ensure there would be no dilution of the Good Friday agreement;
•  To secure delivery on the outstanding aspects of the agreement;
•  And to bring the debate on policing to a conclusion.

So, it is the DUP who have big questions to answer in the coming weeks. They must decide whether or not they are prepared to share power with Sinn Féin on 26 March. I hope they are. Irish republicans have been enormously patient with the DUP, because we want them to be part of the process of creating a better future for all of our people.
But this strategic and tolerant approach should not be mistaken for political weakness. Let me be absolutely clear. If the DUP refuses to join with the rest of us in the political process, then the process will move on without them. They have no veto. They cannot stop the process of change. Ian Paisley asked for this election. He has a duty to accept the outcome. There may be more theatrics in the time ahead; more bluster; more posturing, but the fact if the DUP prevent the executive and Assembly from being established, then Ian Paisley will have to explain to unionists why he got rid of the only institution that unionism argued for.
Whatever decisions Ian Paisley makes, he knows that he will have to deal with us. And he knows that while we are ready to deal and to work with him – it will be on the basis of equality. Let me also say that we will deal fairly with the unionists. We are avowedly anti-sectarian and we will never, ever treat anyone the way that nationalists have been treated in the North of Ireland.
We will never exploit anyone the way the unionist and loyalist working class were exploited and used by their political leaders. Ours is a generous philosophy.
Irish Republicanism is about citizenship. It's about uniting orange and green. It's about building upon our common needs and in the common good.
Myself and Alex Maskey recently had the sad duty to extend condolences to Jeanette Ervine, the wife of the late PUP leader David Ervine and their family.
Can I take this opportunity to thank the Ervine family and the mourners and the loyalist people for the gracious way they welcomed us to David's funeral service.
That day in East Belfast and in the Methodist Mission Hall was a reminder of how much things have changed.
Just as we are ready for political power in a new executive in the North, we are also seeking a mandate for Government in this jurisdiction. Let there be no doubt about this. Sinn Féin wants to be in government in both parts of this island because that is a means to fulfil our historic mission to bring about a truly national republic and a truly national government. But we are not prepared to wait until then to tackle the many issues which bear down upon the people of Ireland.
We want people to have a better life now. So what price a decent quality of life, even for citizens on good salaries? This is the era of the Celtic Tiger. But it is also the era of the rip-off, of stealth taxes, gombeenism, corruption, strokes and scams.
We are accused by the conservative parties of being a high tax party. That is not what we are about. People on low and middle incomes should not be expected to pay excessive tax. But millionaires and tax exiles who currently pay no tax must be made to pay their fair share. We make no apologies for that. Sinn Féin is about tackling the super rich, the exploiters who make super profits by the clever use of tax loopholes or the direct theft of peoples' labour. In an era of revenue surplus, there is no case for increasing the overall tax take.
In the last five years alone, there has been an exchequer surplus of almost €40 billion. The Government has the ability and the resources, if they so chose, to deal effectively with poverty and inequality. They chose not to do so.
And remember, this wealth was not generated by Fianna Fáil or the Progressive Democrats. It is not for the sole benefit of the golden circle of cronies and self seekers. It was and is created by all who work in Ireland. These men and women and their families are entitled to the fruits of their labour.
The big question for many people is whether the vast amount of revenues, generated from both the EU and taxation, are being put to the most efficient use? The answer to that question is "no".
Waste, official incompetence, failure to meet budget and completion targets is an established fact of life in Ireland. We are a party that has welcomed new immigrants and the contribution they make to the country's cultural, social and economic growth.
No one should be exploited. The race to the bottom can be stopped by upholding decent pay and decent conditions for all workers.
You are entitled to know that if your child gets sick, you will have access to a clean hospital or a clinic not too far from your home.
You have a right to free and universal healthcare, without having to wait on trolleys in overcrowded, often infected hospital wards with insufficient beds.
The nurses and doctors and the other carers who treat you are equally entitled to proper wages and working hours.
The health system consumes €16 billion of the annual tax take of some €40 billion. The problem is that it is being put in the wrong places and into the wrong hands. These resources should be used to build a localised health service, universally accessible by all on the basis of medical need.
So why is this not being done? It's very simple. The Government does not believe in a public health service. It believes in privatisation. So does the so-called alternative.
As part of this, the Minister for Health is pursuing a policy of handing over land in public hospitals to private developers. And the Government is offering tax-based incentives to these same developers to build their private for profit medical facilities.
The public health sector is being starved of proper resources and the private health business is being subsidised by the taxpayer, but available only to those who can afford it. And the patient who takes up private insurance is doubly taxed. That's not fair.
We demand that all health funding is invested in the public system.
We will stop tax breaks for developers of private hospitals. We demand a minimum of 3,000 acute hospital beds to ease overcrowding and waiting lists and to cut MRSA.
We will guarantee a medical card for every child under the age of 18. We will ensure all new hospital consultant posts are public only – Sinn Féin's commitment is to provide a public health service free at the point of use, and available as needed – not after years on a waiting list. We can afford this.
There is also a right to a quality education system. That means a dramatic reduction in class sizes. It means recruiting more primary school teachers. It means the reconstruction and refurbishment of those schools which are currently a health hazard for children and teaching staff alike.
And there is no excuse for the crisis that this Government has allowed to develop in the childcare sector. Childcare costs now represent a second mortgage for many families.
Sinn Féin wants to see accessible, affordable childcare and the introduction of a universal pre-school session of 3.5 hours a day for all children in the year before they go to school.
Last month, six young people died within two weeks of each other as a result of drugs in this same area. And those responsible for bringing huge quantities of drugs into this city are now engaged in deadly feuds.
Heroin and cocaine is freely available. Crack cocaine is also available.
But then inequality is a good thing, or so we are told. What arrogant, patronising nonsense, Tanáiste. Inequality is always wrong. Equality is needed here in the capital and everywhere else in this island.
In this State, there are nearly 44,000 families awaiting social housing - half of these families with children. Why is this so? It's because of Government policy. There is no Government policy to build social and affordable housing. There is mere lip service.
In 2005, this Government funded local authorities to build just over 4,000 social and affordable homes. For their part, charities provided another 1,400 - fair play to them.
Government policy favours private developers. How many houses did they build? 81,000 overpriced houses and countless expensive apartments.
The housing crisis needs an urgent and direct response. Will it come from this Government? No. Why? Because the wealthy property developers are their friends.
Will it come from Fine Gael? Not a chance.
Sinn Féin insists that there must be at least 14,000 social and affordable homes built for every year of the next government.
And the Planning and Development Act must be amended to remove the "get out clauses" for developers. All new developments should allocate 30% to social and affordable housing. Sinn Féin will seek the purchase of land banks to clear the disgraceful housing lists.
There were 577 reported deaths by suicide across this island in the year 2003 to 2004 and many, many more incapacitated. In 2005, 431 people died, here in the South from suicide.
Both depression and alcohol combine to encourage young people to kill themselves in greater numbers than ever before witnessed in this country, even with our long and often tragic history.
Ireland has failed miserably to meet the Kyoto targets on carbon emissions, and the dispute over the Corrib gas pipeline has exposed how much this Government and its predecessors have given away to the oil and gas multinationals.
This Ard Fheis salutes the courage of the people of Rossport and the Erris peninsula. Ireland needs rural regeneration – not destruction.
Over recent decades, there have been other countless scandals involving the abuse of children, the mistreatment of our elderly in nursing homes, of women in maternity hospitals, and the continuing crisis of domestic violence.
There is still a growing inequality between the richest and the poorest, in health, education and in job and career opportunity.
But there is great hope. Despite all the difficulties, the people of Ireland remain sound and hopeful about the future. Together, we have all come a long way.
Sinn Féin has also come a long way. That is due to the courage and resilience of the thousands of people who have given the best years of their lives to the republican cause. Our struggle is rooted in their sacrifice. But these heroes were always about the future. The great advances of our time are built on their efforts. They are the wind that shakes the barley.
Bobby Sands put it best when he said: "Our revenge will be the laughter of our children and the liberation of all." The war is over. The peace must be built.
We are the peace builders. We are the nation builders.

An Phoblacht Magazine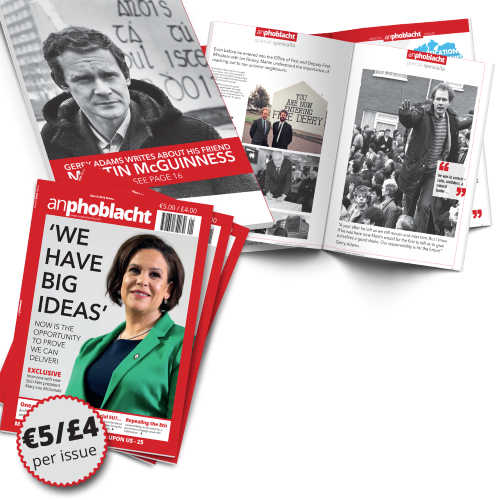 AN PHOBLACHT MAGAZINE:
The first edition of this new magazine will feature a 10 page special on the life and legacy of our leader Martin McGuinness to mark the first anniversary of his untimely passing.
It will include a personal reminiscence by Gerry Adams and contributions from the McGuinness family.
There will also be an exclusive interview with our new Uachtarán Mary Lou McDonald.
test