8 March 2007 Edition
Ready for government
As An Phoblacht goes to press, people across the Six Counties are casting their votes in what is a crucial election, not just for people in the North, but for the future political situation on this island.
In its previous existence, the Northern Assembly met only briefly and had no power. What people got instead was British direct rule and unaccountable British Ministers who oversaw education cuts, the introduction of additional water charges, increased rates and a virtual ban on rural housing.
Sinn Féin Ministers provided effective leadership in the last functioning Executive, and the party is ready once more for the challenge of government.
There is a very clear demand from people across the North, of all political persuasions, for a return to locally accountable government. There is an onus on local politicians to deliver on a range of pressing issues affecting people, to improve public services, tackle poverty and inequality, defend the viability of rural communities and undo the damage inflicted by direct rule.
Parties must face the British Government in a united front to secure a substantial peace dividend.
The DUP has a major decision to make in the days and weeks immediately ahead. Its leadership must decide whether or not it is prepared to share power with Sinn Féin on 26 March.
Such a development would be a major advance in getting previously rejectionist unionism onto the ground of accepting the Good Friday Agreement including the all-Ireland institutions. It would also represent an enormous step forward in a process of national reconciliation.
Republicans have been very patient with the DUP, because we want the political leadership of unionism to be part of the creation of a better future for all Irish people.
However if the DUP refuses to join in the political process then that process will move on without the DUP. Unionists no longer have a veto over the process of political change.
Change will continue either through the Good Friday institutions or, failing that, through the new partnership arrangements which Sinn Féin is already discussing with the Irish and British Governments.
Sinn Féin is pursuing a strategy aimed securing Irish unity and freedom. The party seeks a mandate for government in the South aswell as the North as part of that strategy.
Political change will continue because Sinn Féin, the agent and the engine of change is getting stronger, bigger, more influential and is involving greater numbers of people, North and South, in the project of building a united Ireland of Equals.
An Phoblacht Magazine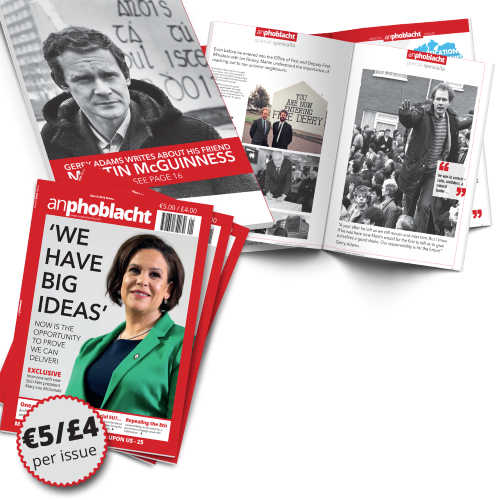 AN PHOBLACHT MAGAZINE:
The first edition of this new magazine will feature a 10 page special on the life and legacy of our leader Martin McGuinness to mark the first anniversary of his untimely passing.
It will include a personal reminiscence by Gerry Adams and contributions from the McGuinness family.
There will also be an exclusive interview with our new Uachtarán Mary Lou McDonald.
test