8 March 2007 Edition
Ó Donnghaile makes history in East Belfast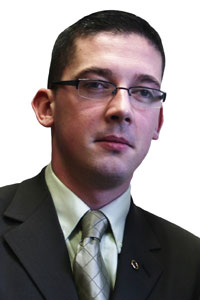 East Belfast Sinn Féin Assembly candidate Niall Ó Donnghaile made history on Tuesday night by becoming the first Sinn Féin representative to address a public meeting in the wider East Belfast area. Ó Donnghaile was taking part in a panel discussion with members of all of the other parties in East Belfast. The public meeting took place in Willowfield Church of Ireland Parish Hall on the Woodstock Road.
Speaking after the meeting Ó Donnghaile said:
" I would firstly commend the organisers of this public meeting in enabling all of the political parties here to set out their stall before the electorate of East Belfast.
"I was extremely pleased with the turnout at this meeting and the level of debate and discussion was of a high standard.
"This is probably the first time that a Sinn Féin representative has been able to discuss the political issues relevant to the people of East Belfast, with the people of the wider East Belfast constituency and the other political parties in the area. The response that we got was encouraging and I would hope that this will be the first of many such engagements".