1 March 2007 Edition
Fifth Column
UDA welcomes (some) Catholics
Polish immigrant families in Lisburn's loyalist Old Warren Estate have been assured by the UDA that their children can attend Catholic schools without fear of being attacked because of their school uniforms. How generous.
Colin Halliday, an ex-UDA prisoner, said the UDA has been reminding the less-enlightened elements in Lisburn that the Poles were Britain's war-time allies against the Nazis (although how that's gone down with the BNP-leaning boneheads in the UDA isn't clear).
"We were determined to counter-act all the bad publicity loyalist areas received in recent years about racial and xenophobic attacks," Colin said. "So we pointed out that you couldn't be loyal to Britain and be a racist."
Fiona McCausland, who helps run the Welcome House centre, said migrants must feel that Lisburn is their home too.
"We made it clear to them that, if they wanted to send their kids to the local Catholic primary school, there would be no hassle. Some Polish communities in Northern Ireland that reside in loyalist areas send their kids to state schools; they fear that the uniform of a Catholic school might mark them out for sectarian attack."
Now where on earth could they have got that idea from? Nothing to do with the UDA's tradition of anti-Catholic bigotry and attacks on Catholic school kids going to Ardoyne's Holy Cross School, is it?

Lisburn lessons
Colin Halliday has even risked letting one of his (Polish) Catholic friends meet the old UDA gang.
"The UDA in South Belfast has been studying what we do here. I have brought Daniel along to talk to fellow loyalists about how they can integrate the migrants into their communities.
"This is the way forward. It's all about combating ignorance and fear." Even in the UDA. Still, better late than never.

Collision over Shannon
Turbulence ahead over Shannon Airport for the Fine Gael/Labour Coalition of the Confused.
The Stop Bush Campaign is asking all party leaders and general election candidates in the 26 Counties to "give a firm commitment that, if elected, we will not participate in any government that allows Shannon Airport or other Irish facilities to be used by the United States to conduct war in Iraq or any other imperialist war".
And whatever about Fine Gael's Enda Kenny and his pet Rabbitte, what will the response be from a Green Party that declares itself to be 'Ready for Government' with the Blueshirts and (only if they really have to) with Fianna Fáil?

Statue of limitations
Left-wing British Labour MPs are outraged at the erection of an imposing bronze statue of Baroness Margaret Thatcher in the London parliament. At 7-foot 4-inches tall, the monstrous monument to monstrous Maggie would be more fitting for a basketball legend than the reviled Wicked Witch of Westminster.
Critics complain that former prime ministers have traditionally had to be dead before they get a statue.
Now, dear readers, no nasty thoughts, please.

Ex-UVF mugger kills pensioner
A former UVF man released under the Good Friday Agreement has been jailed in England for the manslaughter of a 93-year-old woman two weeks after he was freed from a jail term on drugs charges.
UVF stalwart Colin McCurry (32) attacked the pensioner after she got off a bus in Margate, Kent, hitting her on the back of the head and robbing her handbag. She died three days after the attack from heart failure, believed to have been brought on by the stress of McCurry's vicious bag snatch.
McCurry was sentenced to an indefinite prison term and will not be considered for parole for at least three years. Jailed for 15 years in 1995 for attempted murder, conspiracy to murder, arson and gun offences, he served less than four years before he was released in 1999 under the Good Friday Agreement.

Guerrilla research
Sinn Féin reps should heed the warning about spoof phone calls contained in impressionist Rory Bremner's hoax telephone call to British Foreign Secretary Margaret Beckett.
Bremner successfully mimicked Chancellor Gordon Brown, Tony Blair's anointed successor, duping the unwitting Madge into spending ten minutes gossiping to the TV impressionist in his Gordon Brown persona about which ministers and MPs are top of the pops at Number 10 and who isn't, including John Prescott.
At one point, Beckett, a longer-serving minister than Brown, said to Bremner in May of last year: "Being perfectly honest, Gordon, and I wouldn't say this to anyone else..." The conversation only ended when Bremner rang off.
Now there is a major row in Westminster and the media about the ethics of the hoax and whether it should be aired on TV or the internet. Even Tony Blair's semi-retired spin supremo, Alastair Campbell, personally rang Bremner to demand that the tapes are not broadcast.
Acknowledging that it's all a bit naughty and "schoolyard stuff", Rory Bremner calls it "extreme research... paramilitary research" for his new C4 series of Bremner, Bird and Fortune, which starts on Saturday.

RUC paramilitary clash with Met chief
Metropolitan Police chief Sir Ian Blair has upset unionist politicians by agreeing that the RUC was a paramilitary force.
Interviewed by a UTV reporter at a policing conference in Belfast last week, the top man at the Met said:
"You would have to be entirely insensitive not to have noticed that there has been change here.
"I pay tribute to all the people from so many different walks of life... in making the changes from what was, as you say, a paramilitary, almost completely paramilitary organisation, to an emblem of hope."
A Met spokesman added later, in response to complaints from the DUP and UUP that calling the RUC paramilitary was "an insult":
"He was responding to a phrase used by the interviewer and not drawing a comparison between the RUC and a terrorist organisation."
And as the unionist dogs in the street know, the 'B' Specials and the RUC were paramilitary forces, even when the RUC Special Branch wasn't running death squads under the flags of the UDA and UVF.


An Phoblacht Magazine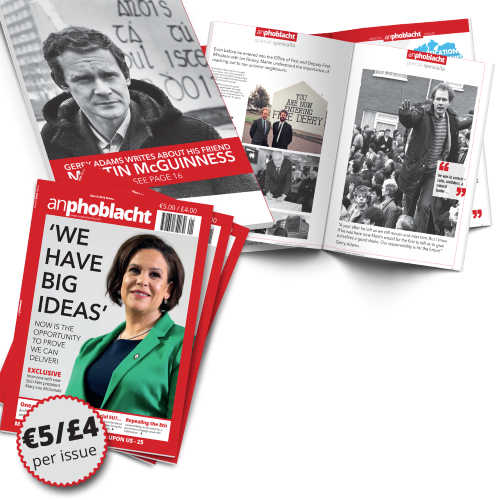 AN PHOBLACHT MAGAZINE:
The first edition of this new magazine will feature a 10 page special on the life and legacy of our leader Martin McGuinness to mark the first anniversary of his untimely passing.
It will include a personal reminiscence by Gerry Adams and contributions from the McGuinness family.
There will also be an exclusive interview with our new Uachtarán Mary Lou McDonald.
test