1 March 2007 Edition
Dáil general election profile: Joe Reilly, Meath West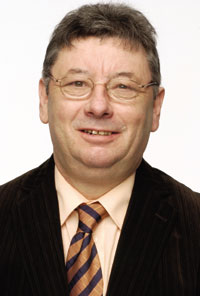 Standing up for Meath West
COUNCILLOR JOE REILLY, once a republican prisoner and a former Sinn Féin General Secretary, is the party's general election candidate for Meath West. Joe talks to ELLA O'DWYER about his background and his political path and the potential for taking a seat in this three-seat constituency.


Tell us a bit about your background and what caused you to become involved in Irish republicanism.
I come from a place called The Commons, two miles outside Navan town. My father was a machinist in a local factory and my mother worked in the home. I always had an interest in history at school but my political inclination arose during the 50th anniversary of the 1916 Rising, when I was 16.
My first political activity was while walking down a country road and I came across leaflets strewn on the ground. I was about 15. The leaflets were calling on people to join Sinn Féin. I stuck them onto the thorny bushes on the way home.
There was no history of republicanism in the family but you were expected to keep up with current affairs and read the daily papers. Then you had the civil rights movement in the US and the anti-Vietnam War movement of the late 1960s. That was all part of the political learning curve and, of course, there was the civil rights movement in the North.

What was school like?
I attended the De La Salle School in Navan, followed by the Vocational School in the town. I passed all the exams I sat but there was no outlet for someone like myself to do the Leaving Cert or go to college. You were trained purely for the factory floor. The expectation was that you would do nothing else but go to the factory. I would like to have gone to university.

You were arrested in 1975 and served ten years in Portlaoise Prison. You even escaped from Green Street Courthouse.
I was arrested in April 1975 in North County Dublin and charged with possession of explosives. In July 1976, my co-defendants and I made an escape attempt from Green Street. It was big news at the time. Unfortunately, we got caught [laughs].
I had been sentenced to four years in 1975 on the explosives charges and then, three weeks before I was due out in 1978, they charged me with the escape attempt. And then, on the very day I was due to be released, they sentenced me to another ten years!

What was Portlaoise like then for republican prisoners?
Portlaoise was a very difficult jail. There were heavy beatings and hunger strikes. In the years when I was in jail, between 1975 and '85, I had no physical contact whatsoever with my family on visits. A wire mesh separated prisoners from their visitors. Portlaoise was one of the most repressive jails in the whole of Europe at the time.
They were very hard times there under the Fine Gael/Labour coalition. It was the time of the Garda Heavy Gang, serious repression and a real attempt by that government to quash the republican struggle.

Who are the people who most impressed you most as a republican?
I had a real feel for Thomas Clarke. He was a Fenian and a quiet, determined man.
He served 12 years in solitary confinement in England. One of the stories I heard about him was that he would sit in one corner of the cell and put up an argument and then put up a counter-argument. This was his way of debating, keeping his mind alive and staying sane.
There were two women who I always admired – two women I felt who were neglected by the history books – Fanny and Anna Parnell. They were more radical than their brother, Charles Stewart Parnell. Their politics was community-based and they worked on the ground with people.

• Joe Reilly with the five Sinn Féin TD's

Tell us about your electoral experiences.
When I was released in 1985 there was a local election in Navan coming up three weeks later. Sinn Féin got 1% of the vote at that election; at the last election here we had close to 24%.
I stood for election in 1994 and got elected to Navan Town Council. In 1999, I topped the poll in Navan and got elected to the County Council. In 2004, I retained both seats and we went from one to six Sinn Féin councillors in Meath.
The by-election in 2005 was our best result. The media was coming down heavily on us and we fought the election in the worst possible conditions. But the people of Meath ignored the barrage of media criticism of Sinn Féin and our vote increased by 3%.

What are the issues for people in the run-up to this general election?
We've been running a campaign against the downgrading of Our Lady's Hospital in Navan by the Health Service Executive. We've collected over 6,000 signatures.
Transport is an issue. We're looking for a rail service from Dublin to Navan, via Dunboyne and then from Navan extending to Cavan and up to Derry/Donegal as part of an all-Ireland integrated transport system.
Childcare is another issue. I'm part of the Navan Childcare Committee and we're in negotiations to have a childcare and resource centre built in Navan to cater for up to 100 kids.
The population of Navan is 30,000 and the population of Meath is 162,000 so the demands on the infrastructure are huge and not adequately funded by government.  Meath is the fastest-growing county in the country and, in terms of services, can't keep up with the expansion for want of sufficient government funding.

How is the election campaign going in Meath West?
We have a very good election team. They're out on the doors canvassing every night. We've produced a newspaper called Nuacht Meath West. We've printed 25,000 copies and at least 15,000 are already distributed. The reception at doors is very good. We're building Navan into a republican town. There's two Fianna Fáil TDs and one Fine Gael TD. We're asking people not to elect two Fianna Fáilers – our message is "Don't give Fianna Fáil two seats."
It's a three-seat constituency and we're contesting the third seat.  

How do you cope with the pressure of the campaign and what do you do by way of relaxation?
I'm a kind of workaholic and have the support of my partner and my three sisters and two brothers. I love to read though and go to the cinema. My favourite film is One Flew Over the Cuckoo's Nest, particularly the bit where the man lifts the water unit and throws it through the window – I admire the effort it took to do it and I like the way the main character was constantly subverting the system in the hospital.
I'm also a member of the Meath Arts Centre – I love the theatre.
There's a quote I like from the Broadway actress, Helen Gahagan. She starred opposite Randolph Scott in the title role of the 1935 version of Rider Haggard's She ("She who must be obeyed"). She entered politics in the 1940s and represented California for two terms in the US House of Representatives before being beaten for a Senate seat by Richard Nixon. Gahagan said:
"I became active in politics because I saw the possibility – if we all sat back and did nothing – of a world in which there would no longer be any stages for actors to act on."
Meath Sinn Féin is saying: don't sit back and do nothing – do something and make your voices heard.

• If anyone wants to help in the election campaign in either of the Meath constituencies they can look up our website www.meathsinnfein.com  


An Phoblacht Magazine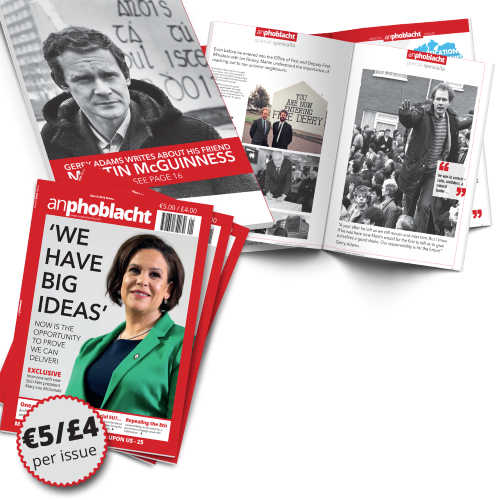 AN PHOBLACHT MAGAZINE:
The first edition of this new magazine will feature a 10 page special on the life and legacy of our leader Martin McGuinness to mark the first anniversary of his untimely passing.
It will include a personal reminiscence by Gerry Adams and contributions from the McGuinness family.
There will also be an exclusive interview with our new Uachtarán Mary Lou McDonald.
test