1 March 2007 Edition
Assembly Elections: Polling day 7th March 2007
From Fermanagh to Upper Bann
Last week we profiled the first 10 out of the 18 Assembly constituencies and this week ROBBIE SMYTH completes our candidate and constituency profiles with the last eight, which include four of the five Westminster seats that Sinn Féin won in 2005.
Also profiled are constituencies like Foyle, Fermanagh/South Tyrone and Newry/Armagh where a high turnout and well organised vote management could throw up the all important additional Assembly seats which under the D'Hondt method could mean more Sinn Féin ministers.
Fermanagh/South Tyrone
Sinn Féin first preferences and %
1998 Assembly    13,714    26.9%
2001 Westminster    17,739    34.1%
2003 Assembly    15,901    34.5%
2005 Westminster    18,638    38.2%
The election to Westminster of Michelle Gildernew in 2001 and the retaking of the seat originally won by Bobby Sands in 1981 was a seismic moment in Irish electoral politics.
In 2003 Sinn Féin had 2.41 quotas here and narrowly missed adding a third seat. With an increased vote share in the 2005 Westminster elections a third seat is a feasible target for the party.
Michelle Gildernew
Michelle Gildernew first stood for Sinn Féin in the 1996 Forum elections. In 1997 she was appointed Sinn Féin representative to London, and was part of the first Sinn Féin delegation to Downing Street in December 1997.
She is a member of the party's Ard Chomhairle and has served on the Equality sub-committee and the Women's Forum.
In the last Assembly she served as Vice Chair of the Committee of Social Development and was a member of the Committee of the Centre as well as statutory and ad hoc committees. She is party spokesperson on Housing.
Michelle Gildernew was elected MP for Fermanagh/South Tyrone in June 2001, re-elected in 2005 and re-elected to the Assembly in November 2003.
Seán Lynch
Seán Lynch has been an active republican since the early 1970s, he served 12 years in prison and was IRA Officer Commanding in the H-Blocks of Long Kesh from 1993 to 1996.
On his release from prison, Seán took the position of Constituency Organiser with Sinn Féin in Fermanagh/ South Tyrone and was instrumental in the 2001 election of Michelle Gildernew as MP for the constituency.
In the 2005 Fermanagh District Council elections Seán narrowly missed being elected as the fourth Sinn Féin councillor in his electoral area.
Seán is Cathaoirleach of the first Irish-language Primary School in Fermanagh. He has also lobbied for increased cross border co-operation and development in the Six County constituency with the longest section of border between the Six and 26 Counties.
Gerry McHugh
Gerry McHugh has been a district councillor in Fermanagh since 1993 and was elected as an MLA in 1998. As a councillor, Gerry has a strong reputation for his tireless efforts in representing the needs of his constituents.
Gerry is a life member of NIAPA and a leading Sinn Féin policy advisor for Agriculture and Rural Development. He was instrumental in achieving the retention of Acute Hospital Services in the County. He now is actively campaigning to reverse the anti-rural ruling of the British Ministers in PPS14 and to establish a more realistic planning regime.
FOYLE   
Sinn Féin first preferences and %
1998 Assembly    12,696    26.0%
2001 Westminster    12,988    26.6%
2003 Assembly    13,214    32.4%
2005 Westminster    15,162    33.2%
Sinn Féin has grown vote share in Foyle election after election and with 33% of the vote in 2005 could mount a stronger challenge for a third seat in this tightest of constituencies.
Martina Anderson
Martina Anderson is from the Bogside and has been involved in the republican struggle for over 30 years. Having spent over 13 years in prisons in England and Ireland she was released under the Good Friday Agreement.
Martina was a member of Sinn Féin's Assembly Business Committee, which oversaw the Party's Assembly operation. For almost three years she served as the party's All Ireland Political Co-ordinator promoting the all Ireland agenda. Following last year's Ard Fheis, Martina was appointed to the role of Sinn Féin's Director of Unionist Engagement, leading to a number of first public meetings between the party leadership and churches and opinion makers within unionism.
Lynn Fleming
Sinn Féin Councillor Lynn Fleming comes from the Waterside area of Derry. A committed republican, Lynn has been involved in politics most of her adult life. Lynn became the first woman Sinn Féin Mayor of Derry in 2005.
Part of a brother and sister councillor team on Derry City Council Lynn is also a member of the Port and Harbour Commission, Local Strategy Partnership and Waterside Neighbourhood Partnership.
Raymond McCartney
Raymond McCartney is a former POW who came to prominence during the 1980 Hunger Strike. Raymond became involved in republican politics after witnessing the events of Bloody Sunday. He was interned in the early 1970s and was later imprisoned in Long Kesh where he participated in the campaign for political status.
Following his release Raymond became involved in community politics and Sinn Féin structures. Raymond was co-opted onto Sinn Féin's Assembly team following the retirement of Mary Nelis and was a founding member of Coiste Na n-Iarchimí, the group set up to look after the interests of former political prisoners.
Raymond also represents Sinn Féin on the policing and justice issue in the Programme for Government Committee and is the party spokesperson on Regional Development and is on the Long Kesh monitoring group which is overseeing the redevelopment of the former prison site.
Lagan Valley   
Sinn Féin first preferences and %
1998 Assembly    2,000    4.3%
2001 Westminster    2,725    5.9%
2003 Assembly    3,242    7.9%
2005 Westminster    3,197    7.5%

Paul Butler
Paul Butler widened the gap between Sinn Féin and the SDLP in the 2005 Westminster elections and could take Sinn Féin's first seat in the constituency.
Paul is a Sinn Féin Councillor on Lisburn City Council and is a member of the council's Strategic Policy, Planning and Finance Committees. He is a member of the South Eastern Education and Library Board and the Lisburn Partnership, which aims to promote peace and build reconciliation throughout the Lagan Valley area.
As party leader on Lisburn Council, Paul spearheaded the party's support for City status and has continued to highlight the Council's discriminatory practices as part of Sinn Féin's pledge to make Lisburn into a new, inclusive city for all its people.
MID ULSTER   
Sinn Féin first preferences and %
1998 Assembly    20,305    40.8%
2001 Westminster    25,667    51.1%
2003 Assembly    20,194    45.5%
2005 Westminster    21,641    47.6%
Mid Ulster is second to West Belfast in the strength of the Sinn Féin vote which hit a high of 51.1% in the 2001 Westminster election. Performances in Assembly elections have not racked up such a first preference share, but there has been growth between 1998 and 2003 so there is still potential for more gains to be made here this time around. Sinn Féin took three seats here in 1998 and 2003.
Martin McGuinness
Martin McGuinness became involved in the Civil Rights Movement in Derry after 5 October, 1968 and joined Sinn Féin in 1970.
Since Martin was elected to the Ard Chomhairle of Sinn Féin, he has played a major role in promoting and supporting the party's peace strategy and is Sinn Féin's Chief Negotiator.
Martin McGuinness's electoral history begins in 1982 when he was elected to the Prior assembly. In 1997 Martin was elected MP for the Mid-Ulster constituency and re-elected again in 2001 and 2005. In 1998 and 2003 he was elected to the Assembly for the same constituency. He became Minister for Education in the new Assembly in November 1999.
Francie Molloy
From Tyrone Francie Molloy has been active in political and community life since his teens. He was one of the first people in his area to join the Civil Rights Movement and has been involved in local and national political life ever since. Francie is a member of Sinn Féin's Ard Chomhairle and the party's negotiations team.
During the 1981 Hunger Strike Francie was Director of Elections for Bobby Sands and Owen Carron, both of whom won a Westminister seat in Fermanagh/South Tyrone. He was elected to Dungannon Council in 1985 and is currently serving as Chairperson of the Council.
Elected to the Assembly for Mid Ulster in 1998, Francie is currently chairperson of the Sinn Féin Equality Commission and is the party spokesperson on Finance.
Michelle O'Neill
Michelle has held various positions on the officer board of the East Tyrone Chomhairle Ceantair, including the positions of Secretary and Finance officer. Michelle has also been a member of the Mid Ulster Daíl Ceantair.
Michelle has worked as a Political Advisor to Francie Molloy from 1998 up until she was elected to Dungannon Council in 2005, where in 2006 she was the first woman to take on the role of Deputy Mayor. Michelle has been a strong voice for equality and in particular in promoting the role of woman in community and public life.
Michelle has sat on the council's Development and Equality Sub Committees. She has been chair of the Coalisland Canal Group sub committee, and has been an active member of the Coalisland Regeneration group.
Newry/Armagh   
Sinn Féin first preferences and %
1998 Assembly    14,052    26%
2001 Westminster    17,209    30.9%
2003 Assembly    18,852    39.8%
2005 Westminster    20,965    41.4%
It was in Newry/Armagh that in 2005 Sinn Féin won their fifth Westminster seat when Conor Murphy was elected. It underlined a pattern of growth for the party which won two Assembly seats here in 1998 adding a third in 2003 with 2.79 quotas.
Cathal Boylan
Cathal Boylan was elected to Armagh Council in 2005. He is currently the Sinn Féin Party Group Leader for the Council and is a member of  a number of committees including the Internal Scrutiny, Public Services Scrutiny and the Public Parks Scrutiny Committees.
Cathal is also Vice chairperson of both the East Border Region Partnership and the Local Strategy Partnership (LSP). A lifelong resident of Keady, Cathal sits on the recently formed Keady Regeneration Committee, and for many years his membership of Keady Residents' Association has involved his participation in discussions with the Parades Commission. Cathal is the chairperson of the local McVerry/McElvanna Sinn Féin Cumann of which he was a founder member.
Micky Brady
For decades now, Micky Brady has quietly, sympathetically and professionally represented people from all backgrounds who have sought independent advice on social welfare issues.
Ballybot born, Micky Brady has a vast experience in representing individuals, families and community-based organisations which has left him deeply aware of the need for compassion and fair play in society.
Micky Brady stands out for defending the socially excluded and marginalised in society and is a community worker with a performance record second to none.
Conor Murphy
Conor Murphy was first elected to the Assembly in 1998 after serving as a Newry and Mourne Councillor for eight years. Conor was Party Chief Whip and also held the position of Group Leader of the Sinn Féin MLAs in the Assembly. He has also been Sinn Féin spokesperson on Education, Equality and International Affairs.
Conor is presently a key member of the Sinn Féin negotiating team with particular responsibility for institutional issues with the problems of de-militarisation and collusion being of particular concern to Conor.
Conor has lived in Camlough where he plays an active role in community life, working with the various community regeneration, development and Féile Festival committees. He was formerly Chairperson of the Bunscoil an Iúir Board of Governors.
STRANGFORD
Sinn Féin first preferences and %
1998 Assembly    614    1.43%
2001 Westminster    930    2.2%
2003 Assembly    1,105    2.97%
2005 Westminster    949    2.6%
Dermot Kennedy
Dermot Kennedy has been a member of Sinn Féin for more than 25 years and has worked within the Policy Development section of the Party and was involved in drawing up Sinn Fein's Education Policy. His background is in education and he worked as a College Lecturer for nine years.
As party representative for the constituency of Strangford, he has been chairperson of Strangford Sinn Féin for the past two years. Dermot is eager to provide local nationalists with a credible voice to speak on their behalf in the Assembly.
UPPER BANN   
Sinn Féin first preferences and %
1998 Assembly    7,216    14.3%
2001 Westminster    10,771    21.1%
2003 Assembly    9,494    21.8%
2005 Westminster    9,305    21%

Dara O'Hagan won this seat for Sinn Féin in 1998 and in 2003, running a two candidate strategy, John O'Dowd replaced O'Hagan. Sinn Féin had 1.53 quotas and are again attempting a two seat strategy.
John O'Dowd
Chair of Upper Bann Sinn Féin John is also leader of the Sinn Féin group on Craigavon Council.
A diligent constituency worker John has a proven record of representing the electorate on Craigavon Council. As well as acting as a Council Account Scrutineer, O'Dowd is a member of the Policy and Resources Committee and the Development, the Environment and the Public Services Liaison Committees.
As a Councillor he sits on the Craigavon Local Strategy Partnership body which is responsible for the distribution of European peace money.
John is active in community politics as a board member of a number of community projects and is an advisor to the Community Association and as a school Governor.
Dessie Ward
History was made in 2005 when Dessie Ward was elected as the first Sinn Féin Councillor to sit on Banbridge District Council.
Dessie worked as a Personal Assistant to Dara O'Hagan in the last Assembly and has been Upper Bann Press Officer and Secretary of the constituency executive.
Since his election Dessie has proven himself to be a very capable public representative with a reputation as a very able and a very energetic constituency worker.
WEST TYRONE   
Sinn Féin first preferences and %
1998 Assembly    15,666    34.1%
2001 Westminster    19,814    40.8%
2003 Assembly    16,111    38.6%
2005 Westminster    16,910    38.9%
Sinn Féin won two Assembly seats here in 1998 and 2003, while taking the Westminster seat in 2001 and holding it in 2005. With 2.7 quotas in 2003 a third seat for Sinn Féin is possible and the party are fielding three candidates this time around as they did in 2003.
Pat Doherty
Born in Glasgow of Irish emigrant parents from Donegal, Pat Doherty sets an electoral precedent for Sinn Féin in this election as he is the only candidate to stand for election in both the Six and 26 Counties. He was  a candidate in Donegal North East and in the Connacht/Ulster constituency in the EU elections in 1989 and 1994.
Pat was elected as Assembly member for West Tyrone in 1998 and was chair of the Enterprise, Trade and Investment Committee. Elected MP for West Tyrone in 2001 Pat is also in charge of the party's Agriculture and Rural Development Department.
Pat Doherty has been Sinn Féin Vice-President since 1988 and headed the Sinn Féin delegation to the Forum for Peace and Reconciliation and is a member of the negotiations team.
Barry McElduff
An Phoblacht columnist Barry McElduff is the most colourful and witty of Sinn Féin candidates in this election. A graduate of Queens University, Barry has a keen interest in the Irish language and culture. He is a member of Sinn Féin's Six County executive and is Chairperson of Sinn Féin in Tyrone.
Barry is also a member of Omagh District Council, winning a by-election in 2000 and was elected to the Assembly for West Tyrone in 1998 where he has been a member of several committees including the Education and Culture and the Arts and Leisure Committees. Barry was also a member of the Irish British Inter-Parliamentary group. He is the party's spokesperson on all-Ireland development.
Claire McGill
Widely acknowledged as one of the most capable, pro-active and hard working elected representatives, Claire McGill was first elected to represent Glenelly Electoral Area of Strabane District Council in 2001.
Claire is renowned for her work and delivery on bread and butter issues such as: education issues, planning, roads, water and sewage infrastructure, housing, community development and seeking assistance for small to medium sized job creation enterprises. 
Claire is also a member of the Tyrone Hospital Campaign Steering Group and champions the cause of all schools in West Tyrone on the Western Health & Library Board.
An Phoblacht Magazine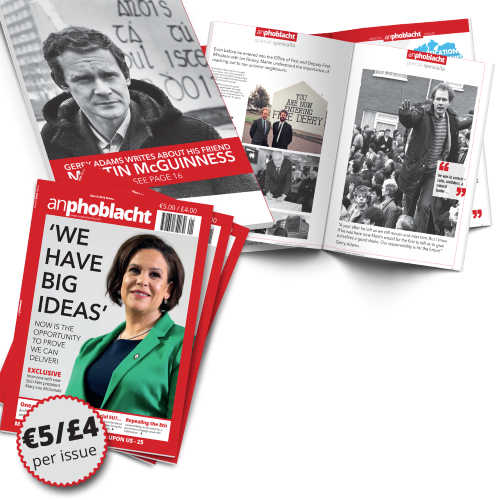 AN PHOBLACHT MAGAZINE:
The first edition of this new magazine will feature a 10 page special on the life and legacy of our leader Martin McGuinness to mark the first anniversary of his untimely passing.
It will include a personal reminiscence by Gerry Adams and contributions from the McGuinness family.
There will also be an exclusive interview with our new Uachtarán Mary Lou McDonald.
test