22 February 2007 Edition
Media View by John O'Brien
Shock horror — Indo carries news story
What's going on in the Independent group of newspapers. Ever since veteran reactionary Vinnie Doyle retired as editor of the Irish Independent about a year ago, new editor Gerry O'Regan has dragged the paper down to dumber than dumb level, claiming that he is selling a commodity not a newspaper.
How right he is. The Indo mix of vicious vituperation, dishonest selectivity and staples of anti-republican bile have now been added to by a clear Norman Tebbit bootboy contempt for real news and politics, in whatever guise.
Imagine the astonishment then to find that this week's Sunday Independent actually led with a news story, speculating that Bertie Ahern might have made a mistake in not calling the election earlier. The story was nonsense, but it was a genuine political story.
Then on Monday, the daily Indo also published a news story, this time giving a serious analysis of the PDs proposals about stamp duty.
Worst of all, this analysis was bang in tune with what Sinn Féin TD Seán Crowe had to say on the same subject. I don't know who's more embarrassed - Seán or the Sindoists!
Meanwhile back at the paper of record, The Irish Times had the decency to make no comment at all. They just reported the PD proposal flatly without any analysis.
It seems that while that paper can attack Fianna Fáil and Sinn Féin with abandon, it finds itself incapable of criticising the PDs. For the Madam of Tara Street, it seems that the only thing wrong with the PDs - the party for which she was once elected a TD - is that they are keeping Fianna Fáil in power.
Michael McDowell did explain that the PDs have no problem with Fine Gael itself, but with Fine Gael's choice of coalition partner.
So, as we strip the rhetoric away from the 26 County establishment media's coverage, we see yet again that their priority is to keep republicanism at bay first of all, to limit the appeal of even Fianna Fáil nationalism in the second place, and ensure a dominant influence for the right wing politics that both Fine Gael and the PDs stand for.
********************
I see too that The Irish Times is exercised by human rights — in Turkey!
This must come as an example of the crassest hypocrisy given the almost complete silence of the paper of record concerning the hunger strikes in Turkey a couple of years ago protesting against the appalling conditions in which political prisoners are held there.
Of course, the Turkish democrats committed an unforgivable sin as far as the Times was concerned by comparing their protest to that of republican hunger strikers in Ireland protesting against the conditions in which political prisoners were held here.
This was enough to ensure that they were given no coverage.
It does call into question, however, how serious the Times is about its present day concern for human rights in Turkey, but perhaps the novelist Orhan Pamuk is too big a player on the international scene for Tara Street to ignore.
Instead they just pretend that the haven't been ignoring human rights in Turkey up to now.
********************
But far and way the most nauseating piece of the week was that mock battle about the British national anthem being played in Croke Park.
Resident anti-republican, intellectual guru and fount of all that is Right and Proper, Fintan O'Toole, was pitted against Dr Gerald Morgan, an Englishman who teaches in Trinity College.
Fintan, as is his wont, told us that it was about time we grew up and gave up this anti-English phobia from which we suffer. No mention, of course, of what might have caused it, or the fact that the British still occupy part of our country against the democratic will of the Irish people.
It was left to the Englishman Morgan to point out that the Welsh and Scottish play their own anthems — at home and abroad — and that the English are left as if they were synonymous with the British. Which actually they are. Irish Unionists, please note.
But, if the Times really wanted a debate about this, why didn't they get somebody who opposes O'Toole's self-hating anti-Irishness to explain what the debate is about from an Irish perspective.
But giving a platform to Irish nationalists, even on such a minor issue, is obviously beyond the moral compass of the journalists of record.
********************
Focal Scoir: Biggest laugh of the week, however, was the comment that it was "unfair" that Sinn Féin are not grilled on their social and economic policies. All the media ever ask them about, apparently, is 'the North'.
Now whose fault is that, I wonder? Could it possibly be that the southern media want to suppress the idea that Sinn Féin has well worked out and well researched social and economic policies?
An Phoblacht Magazine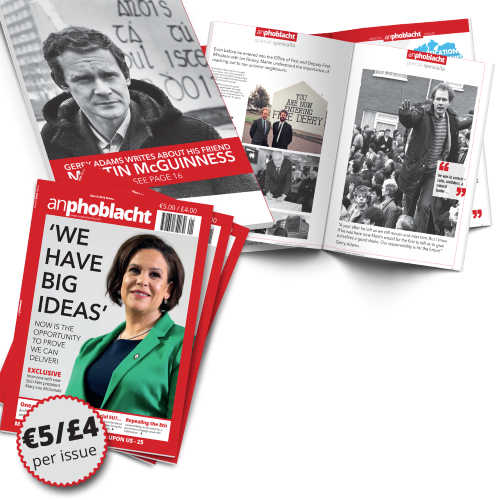 AN PHOBLACHT MAGAZINE:
The first edition of this new magazine will feature a 10 page special on the life and legacy of our leader Martin McGuinness to mark the first anniversary of his untimely passing.
It will include a personal reminiscence by Gerry Adams and contributions from the McGuinness family.
There will also be an exclusive interview with our new Uachtarán Mary Lou McDonald.
test