22 February 2007 Edition
Remembering the Past
Clonoe ambush
By Aran Foley
Fifteen years ago, the SAS launched a deadly ambush on an Active Service Unit of the IRA's East Tyrone Brigade, killing four Volunteers - one with his hands in the air to surrender.
The series of events that led to the slaughter began at 10.30pm on Sunday, 16 February 1992. Two East Tyrone ASUs positioned themselves in the centre of Coalisland to carry out a daring attack on the heavily-fortified RUC barracks in the town.
The unit that would actually carry out the attack was armed with a Russian-made DHSK 12.7mm heavy machine gun and AKM assault rifles. The machine gun was mounted on a tripod on the floor of a flatbed truck. Daringly, the attack unit drove up to the barracks and strafed the main observation post with a sustained burst of tracer fire from the heavy machine gun. Another IRA unit provided cover.
With the attack over, both units withdrew and headed towards the nearby Dernagh Cross before driving to the rendezvous point at St Patrick's Church in Clonoe, where the weapons were to be checked in prior to being returned to their dumps.
The Volunteers began stripping down the heavy machine gun.  After the weapon was immobilised, the SAS, lying in wait, opened fire.
Local people describe firing going on for at least ten minutes, with no fire returned by the Volunteers. An independent eyewitness saw one Volunteer attempting to surrender but cut down by withering SAS fire.
The backup unit, which had split into two cars and was travelling along different routes from Dernagh Crossroads, also came under sustained fire but all the Volunteers managed to escape.
The execution of the IRA Volunteers took place a week after British Prime Minister John Major had met with unionist and SDLP leaders. The unionists had been elated, expressing confidence that a new military crackdown was on the way. Ulster Unionist Party leader James Molyneaux claimed heartily that there were some "unpleasant surprises" in store for the IRA. Only John Hume appeared ill at ease after the meeting.
After the executions, Sinn Féin President Gerry Adams challenged the SDLP leader to explain if this was one of the unpleasant surprises promised by the Ulster Unionist leader.
The four executed volunteers were Kevin Barry O'Donnell (21), Peter Clancy (also 21), Patrick Vincent (20) and Seán O'Farrell (22).
As the remains of the Volunteers were being escorted from Craigavon Hospital to their homes on Monday, 17 February, mourners were savagely attacked by the RUC.
An Phoblacht Magazine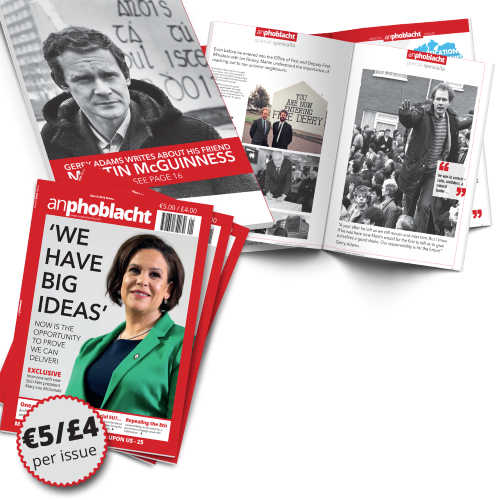 AN PHOBLACHT MAGAZINE:
The first edition of this new magazine will feature a 10 page special on the life and legacy of our leader Martin McGuinness to mark the first anniversary of his untimely passing.
It will include a personal reminiscence by Gerry Adams and contributions from the McGuinness family.
There will also be an exclusive interview with our new Uachtarán Mary Lou McDonald.
test