22 February 2007 Edition
The Matt Treacy Column
Bearding the Cats
In my near lifetime of following the Dublin hurlers, last Sunday was only the third occasion that I can recall us getting a result against Kilkenny. So bear with me! We did beat them in a league game in 1989 but I missed that one due to my campaigning at the time for an Ireland of Equals with best international practice. Although we didn't call it that at the time.
The first occasion was in the late '70s, when my uncle was one of the selectors and Dublin drew with them in a league match in an almost deserted Croke Park. My main memory is of Kilkenny goalkeeper Noel Skehan being put out over the Cusack Stand sideline, with a hefty shoulder, as he essayed a manic solo run as time was running out. I think that got the biggest cheer of the day.
Then in school the next morning our teacher, Mr Roche from Ballybunion, noticed my uncle's name under a big headline that read "Boggan's Braves". Ah the heady days of success! The only other occasion was four years ago when Dublin beat Kilkenny in the Walsh Cup final. Ciara was six and had already lived to see a victory over the "Bees". Truly she was born in extraordinary times. If it was Tibet she would have been named the next Dalai Lama. Instead, all she got was an orange juice in Vincent's.
The minors beat them two years ago, when they won Leinster, and the under 21s have gone close on several occasions. The fact that many of those on the team last week have come up through underage is standing to them. The old deference to the Cats is gone. They are Dublin's benchmark and there is huge respect and admiration for them, but Dublin hurlers no longer fear them and no longer subconsciously feel that they cannot beat them.
It was a marvellous match, played in front of the biggest crowd for a Dublin hurling league game I can recall in a long time. Maybe 6,000 or 7,000. That made a difference as the enthusiasm of the crowd lifted the team, especially in the last ten minutes when they came so close to winning. Strangely, no one felt the desire to begin a chorus of "Come On Ye Boys in Blue"! Indeed, that might have earned you a sharp clip around the ear.
Kilkenny began well, with Eddie Brennan in fine form and popping over points with ease. For a moment it looked as if our worst fears would be realised and that the usual thrashing was about to be handed out. Then, after seven minutes, John Kelly of Mark's got onto the end of a long delivery to goal and Dublin drew level, only to see Kilkenny add six unanswered points before the break.
Kilkenny extended their lead to seven halfway through the second half but again Dublin rallied, mainly thanks to heroic work in defence, among whom Smiler, Tomás Brady and Ronan Fallon in particular stood out - although all excelled. The gap was gradually narrowed before Kevin Flynn earned a penalty which was converted by Kevin O'Reilly, who shortly afterwards put over the levelling free.
Eoin Larkin had the chance to put Kilkenny back in front after a brief melee but was clearly unnerved by the crescendo of noise around the park. Dublin hurling supporters do not often get the opportunity to exercise the vocal chords but, by jaysus, when we do we make the most of it! Dublin immediately launched a counterattack during which Liam Ryan was clearly fouled within range of the posts but, possibly to defuse the tension and figuring that a draw was a fair result anyway, referee James McGrath blew up and legged it!
In the great scheme of things we were happy but we had them beat. And so was born another legend of Dublin hurling. In years past this would have sustained us for a long time, but these boys will not be satisfied with such feats. You heard it here first.
Of next immediate interest was the mauling that Antrim received at the hands of Galway, playing their first league game under the management of Ger Loughnane. Antrim and Dublin realistically need to beat one another and hope that the other loses all their matches in order to avoid automatic relegation to the oblivion of Division Two. So all will depend upon the outcome of their match in Casement on 4 March.
But even avoiding finishing last is no guarantee, as there will be a play-off to decide which of the fifth-placed and the Division II winner stays in the new Division I. Dublin's point against the Cats could well turn out to be vital but equally they could end up rueing the fact that James McGrath did not listen to the advice of the screaming hordes in Parnell!
In football, Crossmaglen continued their amazing sequence of achievement in the club championship by defeating St Brigid's of Roscommon to reach their fourth All Ireland final in eleven years. It was nice to see Francie back in action and the final on St Patrick's Day will be worth watching.
Cross have to await the replay of Crokes and Moorefield to find out who their opponents will be. The Kildare team did well against a much-fancied Kerry side and indeed, had it not been for a typical Gooch goal, they might well have won. The replay is on Saturday at Nenagh.
Another amazing winning sequence was sustained in the Intermediate semi-final when Ardfert defeated Confey of Leixlip to reach the All Ireland final, having won the Junior title last year. They play Derry champions Eoghan Ruadh of Coleraine, who beat Tourmakeady in Cavan last Sunday.
An added attraction is that the Intermediate and Junior football finals will be held under lights at Croke Park on March 10. What price Ardfert to complete a treble on Paddy's Day 2008!
An Phoblacht Magazine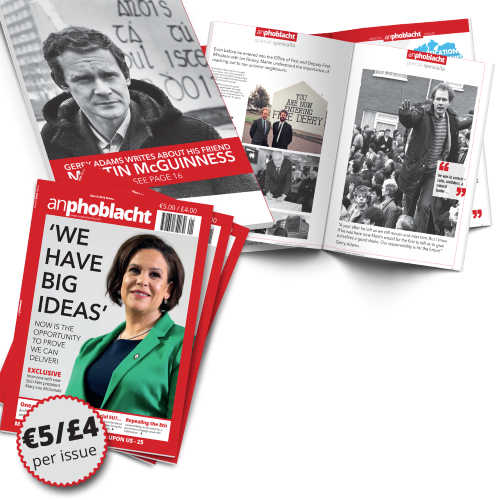 AN PHOBLACHT MAGAZINE:
The first edition of this new magazine will feature a 10 page special on the life and legacy of our leader Martin McGuinness to mark the first anniversary of his untimely passing.
It will include a personal reminiscence by Gerry Adams and contributions from the McGuinness family.
There will also be an exclusive interview with our new Uachtarán Mary Lou McDonald.
test