22 February 2007 Edition
Hogan and Martin remembered in Dunloy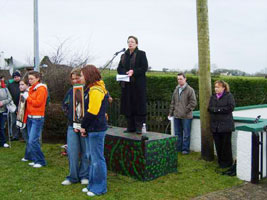 Sinn Féin MEP Bairbre de Brún delivered the main oration on the 23rd anniversary of the deaths of Volunteers Henry Hogan and Declan Martin in the North Antrim village of Dunloy.
Hundreds attended the commemoration parade in memory of the Volunteers, who were cut down as they confronted an undercover SAS squad.
Said de Brún, "The Hogan and Martin families should draw great strength from the large attendance here today - especially the large numbers of young people, who are determined to see the achievement of the republic for which Henry and Declan sacrificed so much.
"As always throughout our history, young people continue today to play a very active and important role in the republican struggle. In the late 1960s and in the 1970s it was young people like Mairéad Farrell and Francis Hughes who emerged and captured the revolutionary spirit of the time.
"In the 1980s and 1990s it was Volunteers like Henry Hogan and Declan Martin and political activists like Sheena Campbell and Bernard O'Hagan who spearheaded the struggle for freedom and emancipation.
"Today, it is young people who continue to play a leading role in the advancement of the republican project at both a local and national level. Young people like our local councillors and republican leaders here in North Antrim - Philip McGuigan, Daithí McKay and Cara McShane - or our other young leadership figures throughout all 32 counties, including Pearse Doherty in Donegal, Mary Lou McDonald in Dublin and Toiréasa Ferris in Kerry."