22 February 2007 Edition
Prisoners' magazine: Volumes lodged at Linen hall library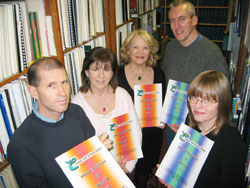 An Glór Gafa collected works to be published
In 1989 the first issue of An Glór Gafa/The Captive Voice was published by republican prisoners. Written and edited within the jails and printed and distributed outside by Sinn Féin's POW Department it was intended to be a quarterly but was never published more than three times in any one year. The magazine was very important in marking a stage in the political and educational development among republican POWs.
Over the course of its ten year history a total of 26 editions of the magazine were printed, containing political analysis, short stories, poetry, art, satire, and updates on prison campaigns. Sensitive or controversial issues such as homosexuality and gay prisoners, and relationships between prisoners and their partners on the outside were not shied away from.
Coiste na nIarchimí, the umbrella organisation for republican ex-prisoners, is currently involved in publishing a collected works of the material from the 26 editions. On Wednesday, 7 February Coiste presented Yvonne Murphy, Librarian of the Political Collection at the Linen Hall Library Belfast, with copies of the first two volumes containing political articles relating to the conflict in Ireland.
Later publications will focus on other content - editorials, creative writings, a history of prison campaigns etc.
• Copies of the first two volumes of the collected works entitled, 'Political Issues in Ireland' are available from Coiste na nIarchimí, 10 Beechmount Avenue, Belfast. Price £3 per volume or both volumes for £5 plus p&p.