15 February 2007 Edition
The Mitchel McLaughlin Column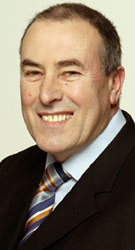 Dialogue essential to political and economic stability
Political dialogue and discourse between the parties, especially between the DUP and Sinn Féin, is the single absolutely essential step-change required to achieve political and economic stability.
While the DUP's intentions following the elections are still uncertain one thing is crystal clear — the people support locally-accountable government. It is only in the institutions voted for by the people in the Good Friday Agreement that we can effectively address the issues that affect day-to-day life.
Every party, including the DUP, has claimed opposition to water charges. They have also voiced opposition to the massive increase in the regional rates, rural planning policy, closure of rural schools, health and education cuts, lack of investment in infrastructure and a sluggish and under-developed private sector.
It is only by entering an Executive based on electoral mandates that we can hope to agree an all-party approach to the negotiations with the British Treasury.
This is a pre-requisite if we are to secure an adequate financial package to rectify the decades of failure and neglect by successive direct rule administrations in key infrastructure such as roads, schools, hospitals and water services.
If we are to reinvigorate the economy it will not be achieved by allowing unaccountable British ministers to drive more and more people into poverty by punitive service charges and rates hikes.
There needs to be all-party pressure on the British Government to pay the capital cost of building a modern water and sewage infrastructure that meets European standards. Water charges have always been a portion of the regional rates and rate-payers in the North have been prepared to pay fair rates for good quality public services.
There is an onus on the DUP — the only party yet to commit to power-sharing arrangements — to stop playing petty politics on these issues and get on with delivering.
Is the DUP so afraid of the weakness of their constitutional position and arguments that they are prepared to abandon the people to the Whitehall-centred fiscal policies of the Exchequer rather than accept their responsibilities and the onus on them to govern alongside Sinn Féin?
A prior commitment to set up a power-sharing Executive will immediately pressurise the British Government to respond to the economic imperatives in a more realistic manner.
The Six-County economy is failing and the British Government is aware that an incoming Executive will require the necessary additional financial resources to bring about economic regeneration.
Political dialogue between the parties are essential if we are to make the economy and services work.
An Phoblacht Magazine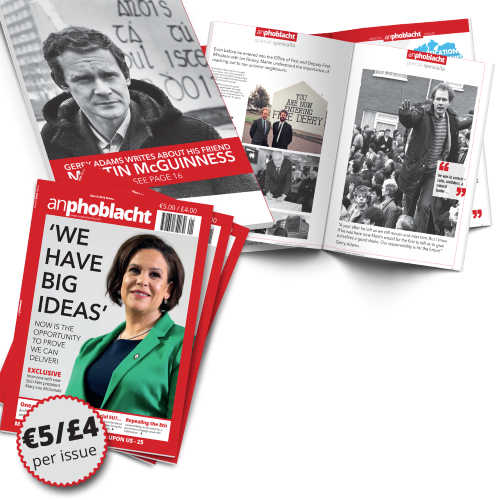 AN PHOBLACHT MAGAZINE:
The first edition of this new magazine will feature a 10 page special on the life and legacy of our leader Martin McGuinness to mark the first anniversary of his untimely passing.
It will include a personal reminiscence by Gerry Adams and contributions from the McGuinness family.
There will also be an exclusive interview with our new Uachtarán Mary Lou McDonald.
test