1 February 2007 Edition
Extraordinary Ard Fheis: Attendance by senior trade unionists 'siginificant'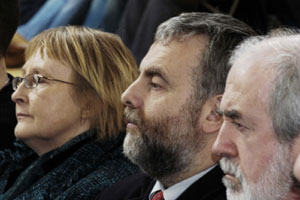 Solidarity
BY CAOLIFHINN Ní DHONNABHÁIN
Amongst those guests in attendance at Sunday's Extraordinary Ard Fheis were representatives of the trade union movement in Ireland.  Seated amongst the delegates were SIPTU General President Jack O'Connor and its National Industrial Secretary responsible for Commercial Semi-States, Mick Halpenny.  ATGWU Regional Secretary Mick O'Reilly  and Patricia McKeown, Regional Secretary of UNISON were also in attendance as were Kevin Doherty of ICTU and the Belfast Council of Trade Unions and Kerry Flack of the Belfast Council of Trades Unions. 
Sinn Féin Spokesperson on Workers' Rights Arthur Morgan TD speaking to An Phoblacht  described the attendance of the trade unionists as "very significant" saying that it demonstrated the progress that was being made in building alliances with those with whom Sinn Féin shares common objectives.  Morgan said that the solidarity which the trade union leaders demonstrated by taking time to attend was "much appreciated" by the party.   According to Morgan there is a very real desire amongst trade unionists to see progress take place in the peace process. To illustrate this he pointed to the fact that in October Jack O'Connor, in a letter carried in a number of the broadsheets, had urged all parties to work for the restoration of the institutions decrying the fact that their suspension had denied local people a voice in decisions affecting their daily lives.  "Direct rule has proven bad for the economy, bad for workers and bad for democracy" O'Connor wrote at that time.
An Phoblacht Magazine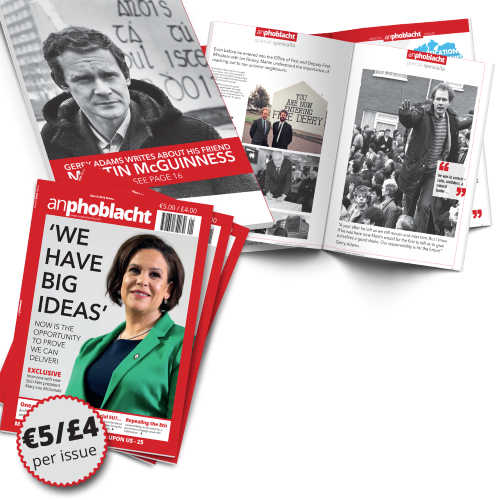 AN PHOBLACHT MAGAZINE:
The first edition of this new magazine will feature a 10 page special on the life and legacy of our leader Martin McGuinness to mark the first anniversary of his untimely passing.
It will include a personal reminiscence by Gerry Adams and contributions from the McGuinness family.
There will also be an exclusive interview with our new Uachtarán Mary Lou McDonald.
test