25 January 2007 Edition
Media View
The Good, the Bad and the Ugly
BY JOHN O'BRIEN
I must confess that a week ago I had never heard of Jade Goody. While the average punter might have thought that what a British racist said and did was of marginal significance, it dominated the airwaves and the print media alike. No less a personage than Fintan O'Toole, Ireland's resident intellectual and last arbiter of appropriate public discourse, entered the fray with some esoteric waffle that the "issue" wasn't really about race but about class.
God, Fintan, I must be dumb not to see that.  Still, as anyone who has ever lived in Britain knows, and particularly any member of an ethnic minority unfortunate enough to have been brought up there can confirm, Britain is a deeply racist society, permeated by delusions of superiority; and where the most frequent choice is between the ugly bigots who spout hatred and the nice ones who patronisingly put their foot in it time and time again.
Now, how did Fintan miss that?
But did Goody really deserve to dominate the news the way she did?  Or does it say something about the way that the controllers of news like diverting attention away from real issues into the comedy spectacle of fake 'reality'?
***************
In the Real World, of course, the big issue was Pat Rabbitte.  Will he, won't he – after the next election: (go in with Fianna Fáil, of course).
This is really a no-brainer.  Pat wants to be in power (or at least in office) and this is his last chance given his age.  He will prefer to do so with Fine Gael, and doesn't want to say anything that might undermine the appeal of the 'alternative'.  But equally, he doesn't want to rule out going in with Fianna Fáil too emphatically in case he has to.
You don't have to be an opportunist to see the clarity of that.
But look at the way the media have handled the issue.
The Irish Times, paper of record and right-thinking, has resolutely refused to countenance anything other than a Fine Gael-Labour alliance.  From Stephen Collins down, the paper has dismissed reports that suggest that Rabbitte might, even tentatively, be keeping his options open.
The reason for this is that the Times really wants to see Fianna Fáil out, and they don't want Labour to get fuzzy about it at the last moment.  And since the Labour Party draws its politics from what the Times says, the Times takes its role very seriously and has weightily dismissed any idea that Rabbitte might rat on the right-thinking people of Tara Street.
But the Independent takes a broader view.  Middle Abbey Street would like to see Fianna Fáil out, of course, but they're not too taken with Labour either, and Sir Anthony would definitely prefer the PDs.
But there is a spectre haunting the dreams of the wealthy and propertied, and that is Sinn Féin.
Imagine the scene at a dinner party in Foxrock, with the Chateau Lafitte being sipped amidst elegant discourse – until a jarring note is struck.  If Labour rules out Fianna Fáil, could the latter party of rogues and chancers turn to Sinn Féin?  It's a blood curdling prospect, though the Independent never bothers to analyse what Sinn Féin members might themselves think of such a prospect.
So, the Indo wants to ensure that if the worst happens, and the Rainbow cannot prevail, at least the dreaded Shinners can be kept at bay by Labour doing the decent thing.
So, the Indo have spent the last two weeks hounding Rabbitte on this question, while the Times have spent the last two weeks trying to rubbish the Indo's stories.
This has even reached out to their respective colonies. The Sunday Business Post is now edited by failed Times editorial candidate, Cliff Taylor.  An article by that paper's political correspondent, Pat Leahy, was given the context that suggested that former Labour leader Ruairí Quinn was backing Pat Rabbitte's supposed stance against going in with Fianna Fáil.  The Times would have approved.
But what Leahy wrote, and what Quinn said, was that Rabbitte personally would have no credibility if he tried to go in with Fianna Fáil, not that someone else in Labour could not be found who would be able to do it.  Quinn was getting in a scalpel thrust to advance either his own or Brendan Howlin's leadership ambitions, but it suited Times-educated Taylor to turn the story around.
So, readers, beware, and read between the lines to see the different agendas at work.
***************
And while we're talking about different agendas, this columnist is just back from the United States where all life seems to be a monstrous Big Brother show.
Watching the news there, I got the impression that it was dumbed down to such a degree that only the truly subversive would have the perseverance to watch it at all.
But what struck me most was the coverage of the Iraq war.  Even on CNN the war party was openly derided.  But in all the discussion, never once was the number of Iraqis killed in this criminal enterprise mentioned.  Like the 'Red Indians' before them, they didn't and don't count.
The only figures mentioned were the number of US troop casualties, and the prospects of more Americans dying was a matter of grave concern, while the number of Iraqi dead was irrelevant.
When you think of it, is Jade goody that bad after all?
An Phoblacht Magazine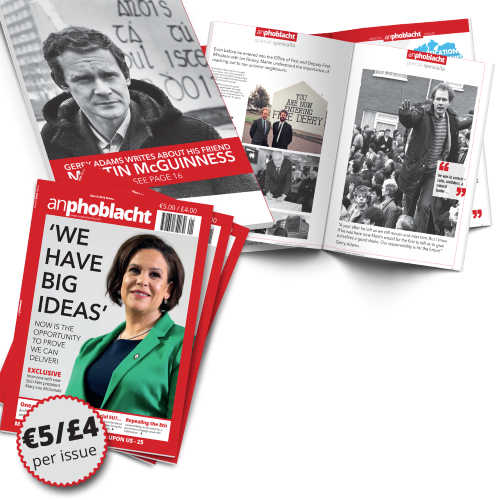 AN PHOBLACHT MAGAZINE:
The first edition of this new magazine will feature a 10 page special on the life and legacy of our leader Martin McGuinness to mark the first anniversary of his untimely passing.
It will include a personal reminiscence by Gerry Adams and contributions from the McGuinness family.
There will also be an exclusive interview with our new Uachtarán Mary Lou McDonald.
test