18 January 2007 Edition
The Matt Treacy Column
 'Hould your hour'!
It is only the middle of January but already the hype has started! Only this time the hype does not concern Dublin but near neighbours Wicklow. It is true that the fact that Dublin are down to play them in Saturday's O'Byrne Cup semi-final has added to the mix, but even if it were not for that Wicklow's climb to such dizzying heights would have attracted attention on its own merits no matter who the opposition was to be.
Last Saturday they added Wexford's scalp to their belt in a game played in atrocious conditions. Wicklow led by five points to no score at half time but you'd have fancied Wexford to get on top with the aid of the elements in the second period. For a while they did but Mattie Forde chose the day to turn in probably his worst ever performance for the county and missed several scoreable frees.
That gave Wicklow encouragement and once Wexford had drawn level they possibly realised that a 'backs to the wall' defensive strategy would not sustain them for the remaining 20 minutes.  They began to be slightly more adventurous and were rewarded with the two points from Paul Earls and Tony Hannon that provided them with the breathing space and the winning margin to see it out.
As he left the pitch with a large grin plastered over his face, Micko was asked who he would prefer to meet in the semi-final. Westmeath or Dublin? He barely broke his stride. "Oh, bring on the oul Dubs!" And so what would in most years be a run of the mill match that would barely register in the public consciousness – especially given RTÉ's virtual boycott of GAA matches between September and May – will take on enormous dimensions. Aughrim only holds around 5,000 so even getting in will be difficult. If not impossible.
Dublin secured their place with an easy win over Westmeath in Mullingar. Several thousand Dubs made the journey and a good day was had by all. Given your average Dub's Hobbit like aversion to travelling too far from home, these days out are cherished and provide us with the opportunity to visit distant lands and to meet with exotic strangers. And to eat large parcels of sandwiches beneath the unwitting eye of the purveyors of carvery lunches.
We do of course purchase our pints of stout legitimately from the said licensee even though your older Dub is convinced that only the stuff that is consumed within a few miles of James's Gate is in any manner palatable and will grimace with pain and nausea before settling down to drinking maybe seven or eight of them. And then maybe a few more after the match.
Although I was in the pub nearest to Cusack Park, literally three minutes walk, most of those who were there managed to arrive just as the ball was being thrown in. Now the Japanese economy is to a great extent based on such 'just in time' fulfilment of orders and so on, so we should not scoff.
The downside of course is that on the Dub's part, no cognisance at all is taken of the possibility that the carefully calibrated 'five minutes' to get from the pub to the ground makes no provision whatsoever for the fact that several thousand other people are also savouring leisurely pints on the basis of the very same calculation. But sure you might as well be talking to the bloody wall as them lads.
Anyway, the match itself proved to be somewhat of an anti-climax despite fervently expressed Westmeath hopes that some morsel of recompense might have been had for last year's All Ireland quarter final defeat. It was not to be. Dublin training matches are notoriously contested affairs and most of the lads playing last Sunday are chasing their places. Hence it was played at almost championship pace for the first half. By the end of it, Dublin were twelve points to the good and really the rest was academic.
From the point of view of the aficionado it was all good. When we took into account the fact that while Westmeath had started 10 of the team that played in the All Ireland quarter final, and that Dublin had only begun with five, we decided that progress was being made and new players beginning to come into their own.
Of these the most notable were Niall O'Shea, Ger Brennan, Declan O'Mahony, Derek Murray and Dermot Connolly. Daithí O' Callaghan is probably more familiar as a regular sub but he has been outstanding over the first three games of the new year and will almost certainly be a first choice forward in the league.
So all manner of plotting and scheming will be devoted to ensuring that the Metropolis is represented in respectable numbers at Aughrim. How that will be accomplished is anyone's guess but it is unlikely, despite the interest, that the game will be made all ticket.
The only alternative therefore may well be to arrive stealthily over the mountains. To emerge from the early morning mists like the blue-dyed warriors of Wallace and to take up a place in the vanguard while the gentle folk of Wicklow are still rubbing the sleep from out of their eyes.
That's all very well but sure we know that even if enough Dubs do manage to get up before dawn they will still be ordering creamy pints of porter and singing the 'Foggy Dew' when the referee is looking at his watch and checking to see that everyone is in their positions!
As Brendan might have said. Hould your hour.
An Phoblacht Magazine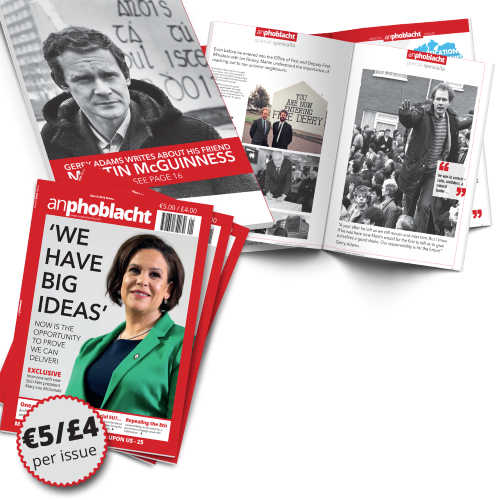 AN PHOBLACHT MAGAZINE:
The first edition of this new magazine will feature a 10 page special on the life and legacy of our leader Martin McGuinness to mark the first anniversary of his untimely passing.
It will include a personal reminiscence by Gerry Adams and contributions from the McGuinness family.
There will also be an exclusive interview with our new Uachtarán Mary Lou McDonald.
test