18 January 2007 Edition
Volunteer remembered in Castleblayney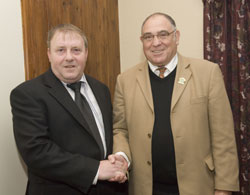 Hundreds of Republicans from Counties Monaghan, Armagh and further afield gathered in Castleblayney last Sunday to commemorate the 32nd anniversary of IRA Volunteer John Francis Green.
Green was born in Lurgan, County Armagh in December 1946.  He was an active member of the Civil Rights campaign in the late 1960s and later joined the IRA.  He was forced to go 'on the run' following the introduction of internment in August 1971 but was arrested a few months later and interned on the Maidstone prison ship.  He was later transferred to Long Kesh from where he escaped in September 1973.
Following his escape he lived in the Monaghan and Castleblayney areas. On the evening of 10 January 1975 he left Castleblayney and drove to a farmhouse at Mullyash, where he had been staying.  Just after he arrived there the farmer went off to attend to a neighbour's cattle.  When he returned he found his front door smashed in and John Francis dead at the bottom of the stairs.  He had been shot several times in the head and body.  His killers, widely believed to be a combination of British Army, UDR and unionist paramilitaries left a number of live bullets on his chest.
Under the stewardship of the local Sinn Féin cumann, named after John Francis Green, an annual commemoration, has taken place in the years since.
On Sunday a parade led by a piper marched from the Monaghan Road in Castleblayney to the Keady Road where they gathered at the memorial which honours John Francis Green. Three republican bands – Cullyhanna Youth Band, Burns & Moley Flute Band from Crossmaglen and The St. Patrick's Flute Band from Kilkeel participated.
Sinn Féin Councillor Jackie Crowe made an appeal on behalf of the Mid-Monaghan elected representatives for all Sinn Féin supporters to play a full and active role in the upcoming campaign to re-elect Caoimhghín Ó Caoláin TD.
The Main oration was delivered by Newry/Armagh Sinn Féin MP, Connor Murphy. Referring to the decision taken at the previous day's Ard Comhairle meeting to hold an extraordinary Ard Fheis to discuss a proposal to change the party's position on policing in the Six Counties, Murphy said: "Our objective is to secure a proper policing service and to hold that policing service, once achieved, fully to account.
He went on to urge people to join Sinn Féin to strengthen the party and hasten the achievement of the republican objectives of Unity, Peace and Justice, "objectives for which brave men and women, like John Francis Green, gave their lives" he concluded.
South African Minister
A Special guest of Honour at the John Francis Green commemoration was South African Minister, Ronnie Kasrils, a member of the ANC. Kasrils praised Sinn Féin and all those who strive for Irish unity and independence.  He recalled that, prior to achieving freedom, South Africans were engaged in a political process which was in many ways similar to what Irish republicans are now facing.  He urged republicans to remain united through the important decisions that will be made in coming weeks and months and he stated that he believed passionately that Ireland would soon join South Africa as a free and united nation and that Sinn Féin would continue to be the driving force behind that struggle.