18 January 2007 Edition
Dáil general election profile: Pádraig Mac Lochlainn, Donegal North-East
A team effort with a strong fighting chance
COUNCILLOR PÁDRAIG Mac LOCHLAINN (33), a former mayor of Buncrana, is the Sinn Féin candidate for Donegal North-East in the 26-County general election.
He is the son of the late Réamonn Mac Lochlainn, an IRA Volunteer who  was captured in England in 1974 during an operation which claimed the life of Volunteer James McDade. Imprisoned in English jails for nine-and-a-half years he was moved from jail to jail under the British policy of  'ghosting' prisoners. He died tragically at the age of 34 in a swimming accident in Shannon, County Clare
Here Pádraig Mac Lochlainn talks to     ELLA O'DWYER about what influenced his own decision to become involved in Irish republican politics, the priority issues for his constituency, and the 'all-county approach' that gives him and his fellow candidate, Pearse Doherty, a fighting chance to win more Dáil seats in Ulster.
What influenced you in becoming involved in republicanism?
I suppose that my father Réamonn and my uncle Colm featured most strongly in that. They were both committed republicans. My father spent ten years being ghosted from one jail to another in England; my uncle served time in Long Kesh and Magilligan.
I grew up during the conflict and from my late teens until my early 20s I was very involved in community matters. Community development was a big issue in Donegal and I was very conscious of the serious unemployment problem in my county.
I got involved in the Irish National Organisation of the Unemployed (INOU). I was on the executive of the INOU from 1996 until 2002 when I was co-opted as a Sinn Féin councillor for Buncrana town. I also stood for the general election that year and got 3,611 votes. In 2004, I was elected as county councillor for the Inishowen electoral area of Donegal. In fact, I topped the poll and I was also elected to Buncrana Town Council.
Were you in any way surprised at your electoral success in Donegal?
No, not really. The late Eddie Fullerton had paved the way. He had done great work. He was fantastic.
In the late 1990s we identified the need to reorganise in Donegal and we achieved this through what I would describe as an 'all-county' approach.
Myself and Pearse Doherty are fighting for two seats in Donegal. We have a good chance of winning and we're blessed to have a talented and eager team of activists. We're working to 'put the ball into the net' but we're only part of a very strong team. The Sinn Féin organisation locally is fantastic. We now just have to maintain that focus. But we want to see more women involved in the party here in Donegal.
As for the language, look at our Údaras na Gaeltachta representative, Gráinne Mhic Ghéidigh. She's a tremendous ambassador for Sinn Féin.
What were the issues for you as a community activist when you first became involved and what are the issues now?
My initial community involvement revolved around issues from early school leaving, the problems facing single parents, the elderly and youth development.
The issues facing Donegal people even now are extensive but my priorities are health services, jobs and basic infrastructure.
In Letterkenny Hospital there can be up to 30 people on trolleys in the coffee docks at any one time! The cancer care facilities are totally inadequate.  For instance, patients often have to travel to Dublin for chemotherapy treatment. We're calling for local facilities to deal with basic healthcare in these areas – the need for facilities like breast screening, cervical cancer and prevention treatment.
The second most commanding issue is the severe lack of employment in Donegal.  Our county has four times the state average for unemployment.
The lack of infrastructure is also undermining County Donegal's development potential. Sinn Féin representatives in Donegal have pushed for an integrated transport system. We badly need a cohesive transport infrastructure between Dublin, Belfast, Derry and Donegal.
What kind of reception did you get when you became an elected Sinn Féin member in your county, particularly in terms of your role as Mayor?
We entered the county council elections with a contract with the people. We advocated a power-sharing, inclusive form of local politics, where all voices would be heard and all mandates would be recognised. We promoted a power-sharing arrangement with the other parties whereby various roles would be rotated. The mayor's role had its own significance. We used the opportunity in the same manner as Alex Maskey has done in Belfast – an opportunity to establish our bona fides as an effective, campaigning party.
Donegal is a border county. What have been the ramifications for your community?
No county in the 26 has suffered as much through partition as Donegal has. We're on the hinterland, between Derry, Fermanagh and West Tyrone. But the 26-County government thinks partitionist: it doesn't have an all-Ireland approach. This has cost Donegal in terms of economic development in a grave way. The Celtic Tiger existed for the rest of the South but not for Donegal.
So what's the pace of life like now that you're a candidate for the general election? What would be your advice to other candidates?
It's phenomenally busy. On reflection I'd say all of us candidates need to look after our own health first – eat well and the like because it's a demanding responsibility. We must maintain the republican vision that people across this island have held for so many years.
Change is possible. It's possible in terms of affordable housing, healthcare, employment, childcare and services. By increasing our representation in Leinster House we increase our power to influence legislation and of course our power to be heard on behalf of the people who need their voices heard.
What motivates you?
I live in Donegal with my wife Cora and my son Díolmháin and I'm fortunate enough to be surrounded by beautiful beaches and hills, where I like to go for a walk and see how good this country is but think about how much better it could be for many more people.
I finished school early, when I was 15. My father had just died and it was a difficult time. I regretted not going further with my education so I resumed study later through distant learning and got a Diploma in Social Studies.
It's never too late to get back to education and it's given me the extra drive to represent the people of Donegal, one of the most neglected of the 26 Counties – a voice in the corridors of power.
An Phoblacht Magazine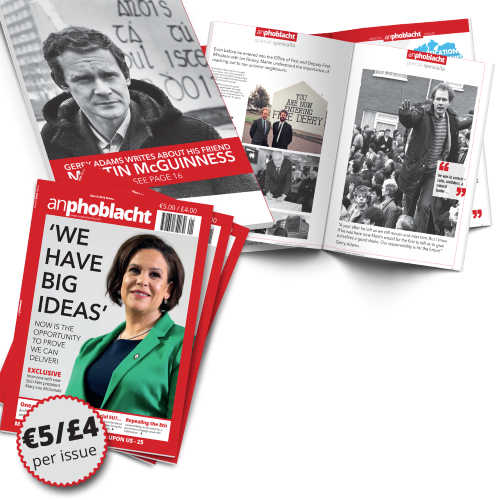 AN PHOBLACHT MAGAZINE:
The first edition of this new magazine will feature a 10 page special on the life and legacy of our leader Martin McGuinness to mark the first anniversary of his untimely passing.
It will include a personal reminiscence by Gerry Adams and contributions from the McGuinness family.
There will also be an exclusive interview with our new Uachtarán Mary Lou McDonald.
test